Features
Gateway Bronco Partners with Ryan Blaney on Charity Resto-Mod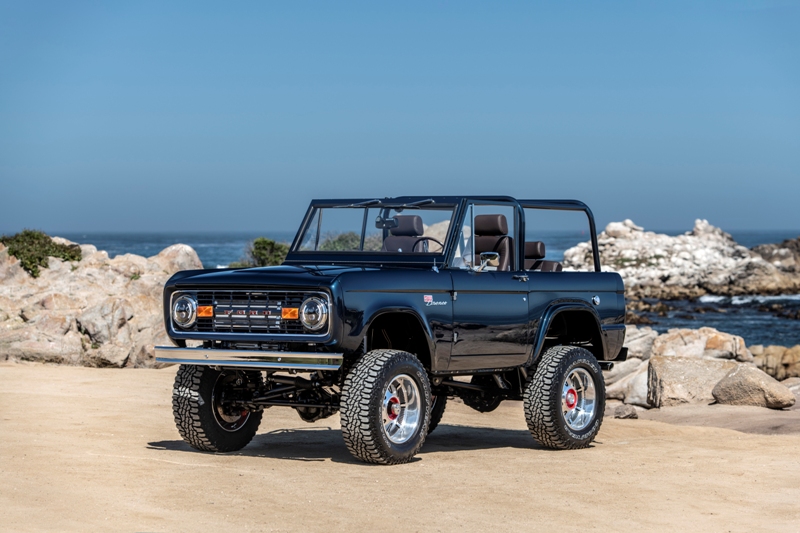 Seth Burgett has overseen the resto-mod of many first-generation Broncos at his Hamel, Illinois, facility, Gateway Bronco, but recently undertook the effort of crafting a 1974 Ford Bronco that is more than just a vehicle.
Originally contacted by the NASCAR Cup Series driver Ryan Blaney's Family Foundation about the build in Oct. 2018, the proceeds from the sale of the restored vehicle, which is set to be auctioned off next week, will be directed to the Alzheimer's Association, a cause that is close to both Blaney and Burgett, who have each been personally affected by the disease.
With his 20 employees working at the 60,000 square foot Gateway Bronco facility, Burgett began work on this one-off build in June, completing the job in time to preview the Bronco at the shows in Monterrey, California in August. The Bronco then showed up at the SEMA Show and will now be auctioned off on Jan. 18 at the Barrett-Jackson Auction in Scottsdale, Arizona.
Over the course of the build, completed entirely in-house, the 1974 Bronco was equipped with a 5.0-liter Ford Coyote V-8 engine, a six-speed automatic transmission, a four-link suspension with coilovers, disc brakes and a stainless steel exhaust. It also features a soft top convertible roof, power steering, windows and locks, air conditioning, heated seats, leather interior, wool carpet and a backup camera.
As with all of its builds, Gateway Bronco sought out an original paint Bronco for their restoration efforts. Burgett scours the countryside for original Broncos and his factory produces one unit a week. Typically, Gateway Bronco projects a deposit to delivery timeframe of six to nine months for new commissions. Burgett also does all powder-coating in-house in order to control the quality of the product.
In an interview with THE SHOP, Burgett acknowledged that Blaney is an 'authentic' Ford guy and 'authentic' Bronco owner, who aided in the design of the restoration.
Blaney spent time in a design session, Burgett said, helping to sketch out styles, colors and interior options for the build. The build and cause is near and dear to Blaney, as his grandfather, Lou Blaney, himself a Hall of Fame dirt track racer, passed away from Alzheimer's in 2009. The Bronco, Blaney said through a statement announcing the build, is a way to celebrate his grandfather's legacy and raise money for a noble cause.