HRE Wheels and GE Additive partnered to create what they say is the first titanium wheel created using EBM technology, a type of 3D printing.
The wheel, known as HRE3D+, is a prototype meant to demonstrate what the future of wheel technology may bring, and how advanced materials like titanium can be harnessed to create complex designs. The goal of the project was to test the capabilities of additive manufacturing in a practical application, and to create a highly-sophisticated wheel design with titanium, according to HRE.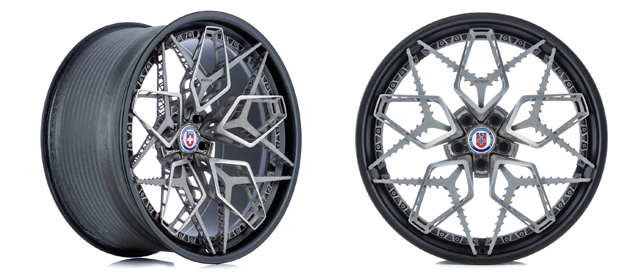 The HRE3D+ wheel by HRE Wheels and GE Additive was created using 3D printing.
---
In the making of a a traditional aluminum Monoblok wheel, 80 percent of material is removed from a 100-pound forged block of aluminum to create the final product. With additive manufacturing, only 5 percent of the material is removed and recycled, making the process far more efficient, according to HRE. Titanium also has a much higher specific strength than aluminum and is corrosion resistant, allowing it to be extremely lightweight and to be shown in its raw finish.
There was an intensive design collaboration between the Vista, California-based team at HRE and GE Additive's AddWorks team in Ohio. Using design queues from two existing models of HRE wheels, the two companies worked together to create a stunning example of what is possible with additive manufacturing.
The HRE3D+ wheel was produced on two Arcam EBM machines in five separate sections, then combined using a custom center section and bolted to a carbon fiber rim using titanium fasteners. "This is an incredibly exciting and important project for us as we get a glimpse into what the future of wheel design holds," said HRE President Alan Peltier. "Working with GE Additive's AddWorks team gave us access to the latest additive technology and an amazing team of engineers, allowing us to push the boundaries of wheel design beyond anything possible with current methods. To HRE, this partnership with GE Additive moves us into the future."

The futuristic styling of the HRE3D+ on full display.
---