Features
From the Mag: Relationships and Professionalism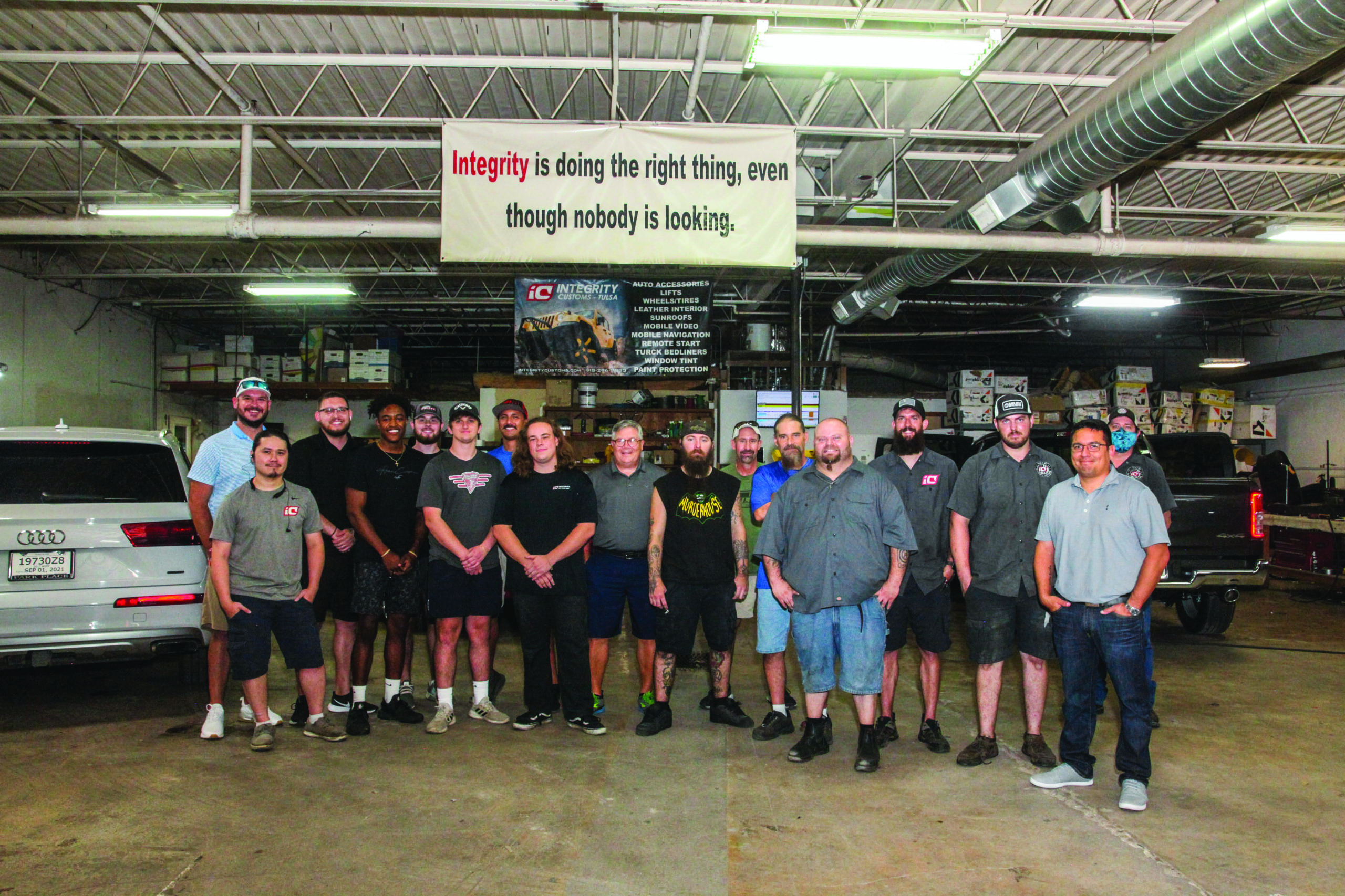 Integrity Customs of Tulsa, Oklahoma, and sister company National Auto Accessories in Oklahoma City sit about 100 miles apart on I-44, serving the restyling and customization needs of retail customers and car dealerships across the Sooner State.
Founded by Joe Hair in 2005, the business has grown to encompass close to 15,000 square feet with nearly 25 employees at Integrity, and another 11,000 square feet and about a dozen employees at NAA.
While the Oklahoma City location focuses about 85% of its work on local dealership clients, the Tulsa outlet is more evenly split between retail and wholesale accounts. Available products and services include truck accessories, off-road products, 12V electronics, wheels and tires, interior accessories, leather interiors, window tint, clear masks and more.
General manager Kevin Gillis, a longtime restyling professional who came onboard in 2015, oversees sales and installation teams that have earned a reputation for quality and service. For THE SHOP Magazine's October issue, Gillis agreed to share some thoughts on the industry and what it takes to grow a thriving aftermarket business with contributor Patricia Kaowthumrong.
Patricia Kaowthumrong (PK): Thanks, Kevin. Let's start with how things have been going through the pandemic.
Kevin Gillis (KG): When it all hit initially, we saw the biggest difference with our corporate dealerships. They were the first ones to really put the brakes on when this all started. That was our first glimpse of "Hello, wow, this is serious. So, we changed.
We started taking better care of how we pick up cars. I made my drivers wear masks long before they were mandated elsewhere.
We've also offered our dealerships the ability to deliver the car to the customer, then allow us to go make contact with the customer, pick up the car, bring it in for service and take it back to them. Sometimes customers feel a little safer with fewer people involved in the transaction.
Many of the things we've done, and the processes we've implemented, have made us a better company. We're more aware of certain things than we were in the past, and I think a lot of it will probably stick around for good.
Obviously, the pandemic is terrible, but if there's a silver lining it's that, in a way, this has brought out the best in our industry. In a time of struggle and turmoil, we as restylers stepped up to help our dealerships, our customers and our employees, and the industry is stronger because of it.
A lot of us found ourselves working together, and it's been amazing to see what all we can do.
PK: Any specific revelations?
KG: I think this year made us more aware of how important vendors are. Products have been hard to get, and that makes vendor relationships so important. Those guys have been going the extra mile for us, looking for parts we need. It's helped us immensely.
We typically have always been an order-as-we-need-it company. Now, we're keeping more products in stock, which allows us to service our customers better.
These days we're also educating more. With lower dealer inventories, we're coming up with ways for customers to visualize their vehicles outfitted with accessories. It's a little bit different than when inventories are full, and we're just going from job to job. Now it's more about helping the dealerships serve their customers with the vehicles they have available.
As things have gotten smaller, we've really had to work on our relationships. That's why I tell my guys to get to know as many people as you can at each dealership. The more people you know, the better you can respond to challenges.
This has forced us to get to know our dealers and our vendors better.
PK: What's your process for handling dealership work?
KG: We have outside salespeople that have customers they call on weekly. They are the first line of communication with the dealerships…
Click here to read the rest of the interview in the digital version of THE SHOP's October issue.