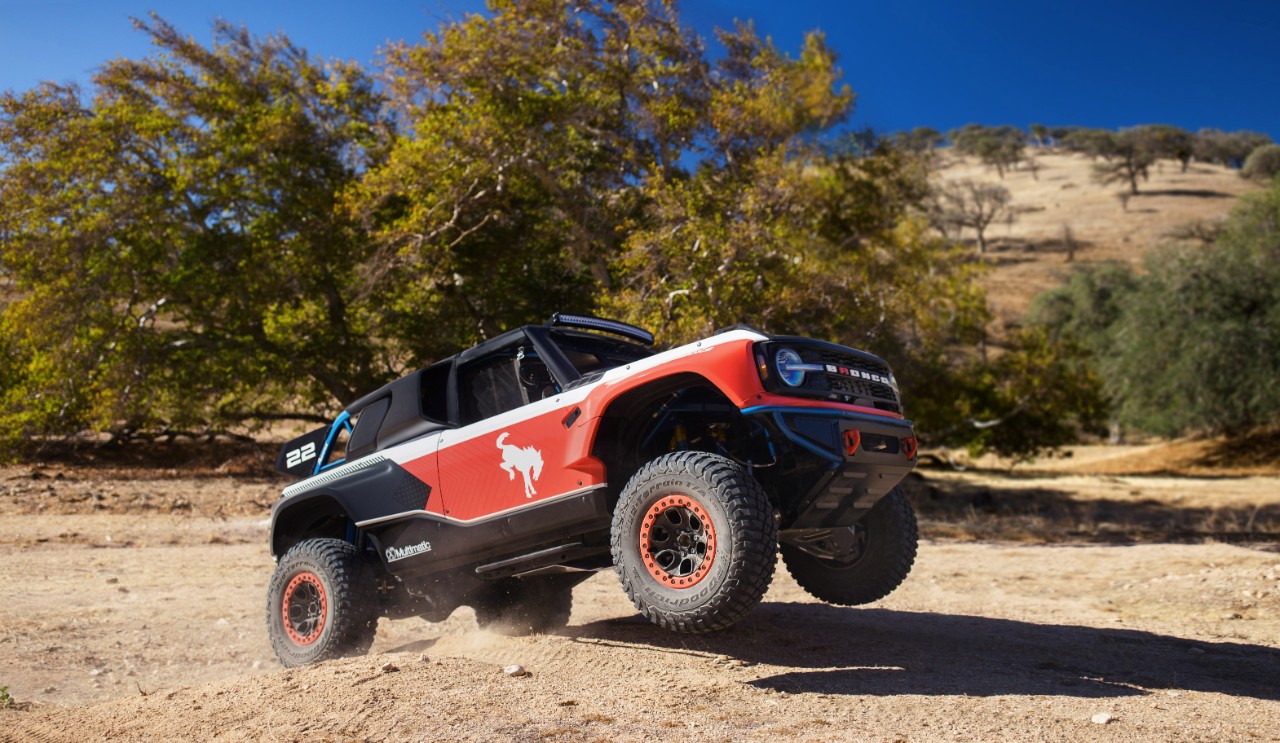 The Bronco brand will be offering turnkey a turnkey off-road racer with the all-new Ford Bronco DR, the company announced, a first-of-its-kind limited-production Baja 1000 desert race SUV based on the Bronco four-door SUV.
Purpose-built and turnkey, Bronco DR – Desert Racer – is intended for off-road use only. It builds upon the production Bronco with a third-generation, 400-horsepower Ford Coyote 5.0-liter V8 engine, Multimatic Positional Selective DSSV Dampers and a Multimatic safety cage, plus other racing hardware upgrades.
"Bronco DR is our ultimate turnkey off-road racing SUV, engineered to put enthusiasts behind the wheel of a desert racing force," said Mark Rushbrook, Ford Performance Motorsports global director. "This collaboration between Ford Performance and Multimatic continues the Bronco desert racing legacy that dates back to Rod Hall and Larry Minor's never-repeated overall Baja 1000 win in a stock Bronco in 1969."
The Bronco DR prototype will make its race debut in 2022 and is targeting entry in the 2022 SCORE Baja 1000, wearing Ford Performance red, white, black and blue livery honoring the Baja 1000 victory. The first 50 units of 2023 Bronco DR will be available for sale in late 2022 with a starting price in the mid-$200,000 range.
The Ford Performance team designed and engineered every facet of the Bronco DR to help endure the harshest elements during the SCORE Baja 1000 in Baja California, Mexico.
"Bronco DR exists to give hardcore off-road enthusiasts a Built Wild, turnkey 4×4 to compete in desert racing events, including the unforgiving Baja 1000," said Rushbrook. "It started with the Bronco four-door – the platform and chassis are production true, and then we modified and optimized every aspect and built the vehicle hardcore off-road enthusiasts want."
While final specifications will be shared closer to the on-sale date, Bronco DR packs a long list of hardware specifically for off-road desert racing, Ford said. Ford Performance collaborator Multimatic has enhanced the Bronco High-Performance Off-Road Stability Suspension (H.O.S.S.) system, adding Positional Selective DSSV Dampers with 80-millimeter bodies with finned fluid cooling channels, as well as Multimatic-designed billet aluminum lower control arms. Compared to a four-door Badlands series Bronco, Bronco DR is targeting 55.1% more front suspension travel, at 15.8 inches, and 58.6% more at the rear, 17.4 inches.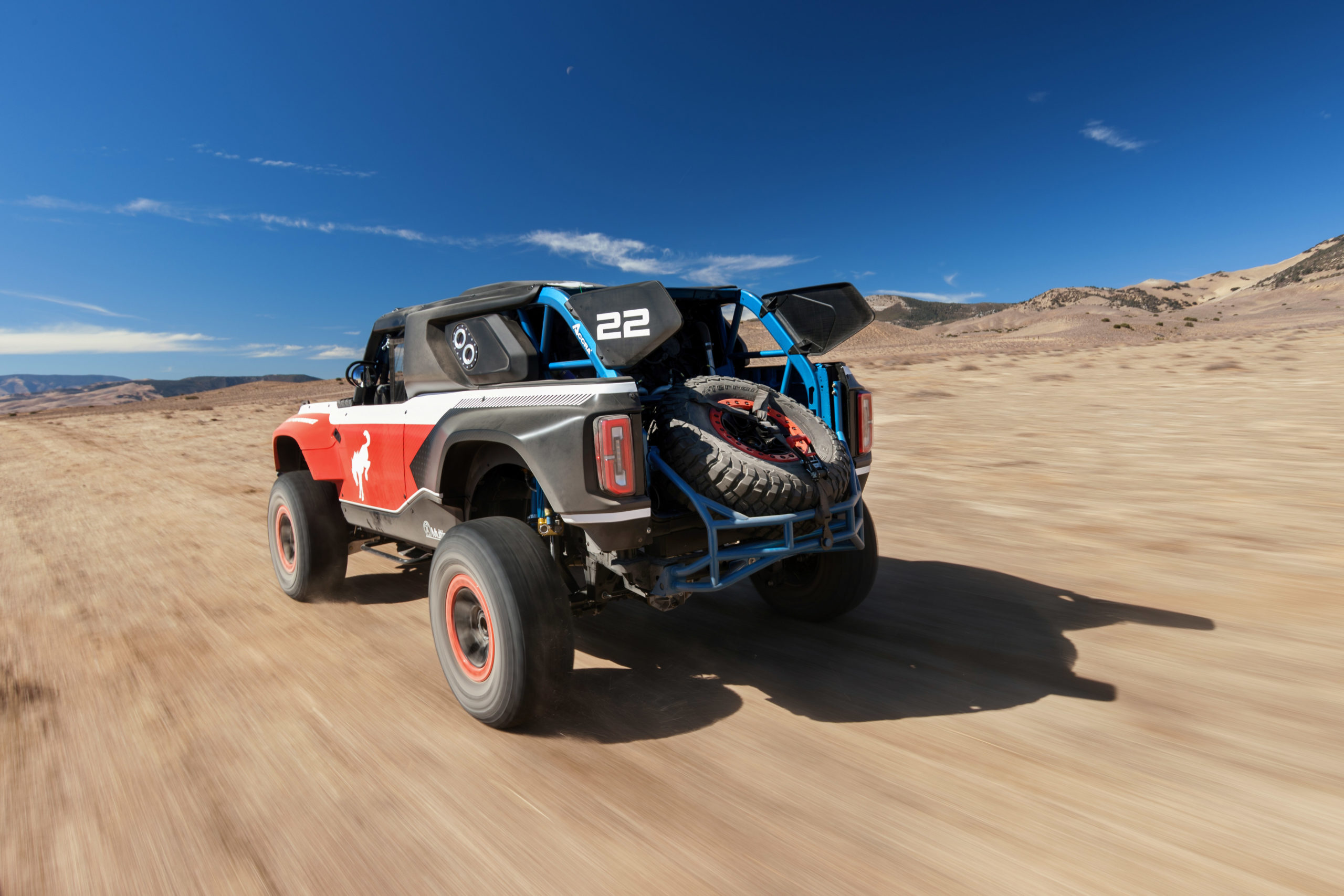 The vehicle – with a race weight of about 6,200 pounds – features an approach angle of 47 degrees, departure angle of 37 degrees and breakover angle of 33 degrees, in addition to a 73.7-inch front track and 73.3-inch rear track.
Bronco DR rides on 37-inch BFGoodrich Mud-Terrain T/A KM3 all-season tires (37×12.5R17) and beadlock wheels.
A Multimatic FEA-optimized full safety cage with integrated OE ACCRA tubes encases the two-passenger cockpit, which features a pair of race seats and Motec C187 display and CAN data acquisition system, with optional cloud-based data access.
Bronco DR is fit with the 10R80 transmission and electric shift on the fly transfer case from the Ford F-150. Torque is transmitted via independent electronically locking front and rear differential with 4.70:1 final drive ratios. Front half-shafts are unique RCV designs to ensure robustness for added torque capacity and suspension travel.
Large air intakes on the upper sides and another on the roof provide additional cooling air to the rear-mounted radiator. A 65-gallon fuel tank rides below the cargo area. Bronco DR carries over the four-wheel disc brakes from the production Bronco and adds upgraded pads, while the electric power-assisted steering system with upgraded inner tie rod joints makes for increased articulation.
Behind the resin transfer molded (RTM) fiberglass body panels, the Bronco DR retains the four-door model's frame and body structure. For desert racing optimization and weight saving, the air conditioning system, other interior amenities and all glass have been removed. The side panels, which take the place of standard doors, are influenced by Bronco R. The tubular metal front bumper, as well as a host of other features, draws a connection with the current production model. Bronco DR wears a single-piece grille, production round headlamps, taillamps and trail sights.
Its purpose-built and race-focused cockpit features the Bronco four-door's familiar instrument panel with signature grab handles and power dome.