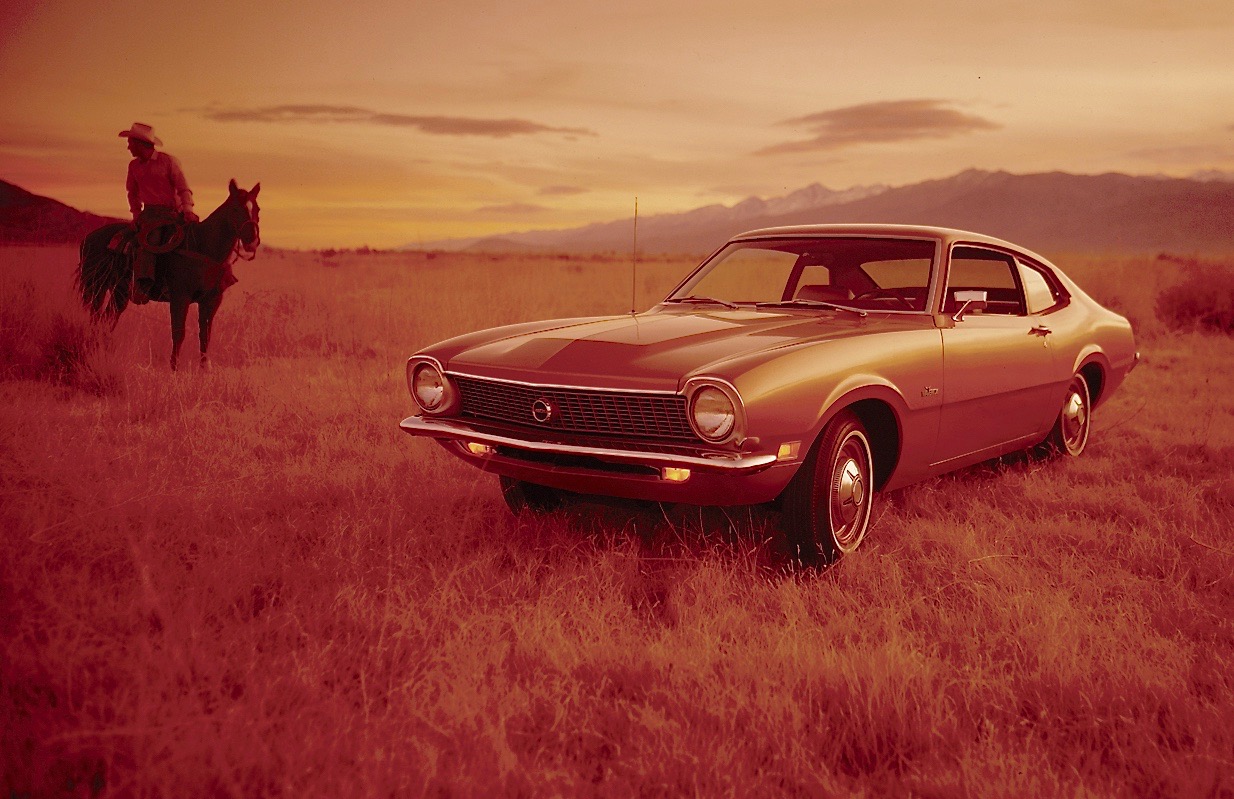 Marketed between the model years 1970 and 1977, Ford's Maverick had a mission to counter the import invasion that had been coming on strong, especially that of the Volkswagen Beetle. The car was conceived by Lee Iacocca, the man responsible for the Mustang some five years earlier.
Because of diminished Falcon sales activity, the work began in 1967 inside Ford's styling studios to create something new and fresh with the $100-million budget designated to the new car. It was originally known internally in the Ford styling studio as codename "Dragonfly II," and by October of 1967, the new car was well on its way to final clay modeling. Designer Tom Tjaarda is credited as being the creator of the Maverick body shape. By December of 1968, Ford Motor company had trademarked "Maverick" with the US Patent Office as the official name of its new vehicle.
While designing the Maverick, Ford decided the car would use a 103-inch wheelbase—7-inches shorter than the Falcon—and be some 325 pounds lighter than the Falcon. It featured a long hood, semi-fastback roof and short deck, as first popularized by the Mustang. The side glass was ventless, a popular trend of the era. It sat at 52.3-inches high. To keep costs down, pop-out rear windows were used (the car is a sedan and not a hardtop) and inside there was an open package tray instead of a traditional glovebox. The process resulted in a clean, simple appearance that was pleasing to the eye and somehow didn't look like anything ever produced by Ford in the past.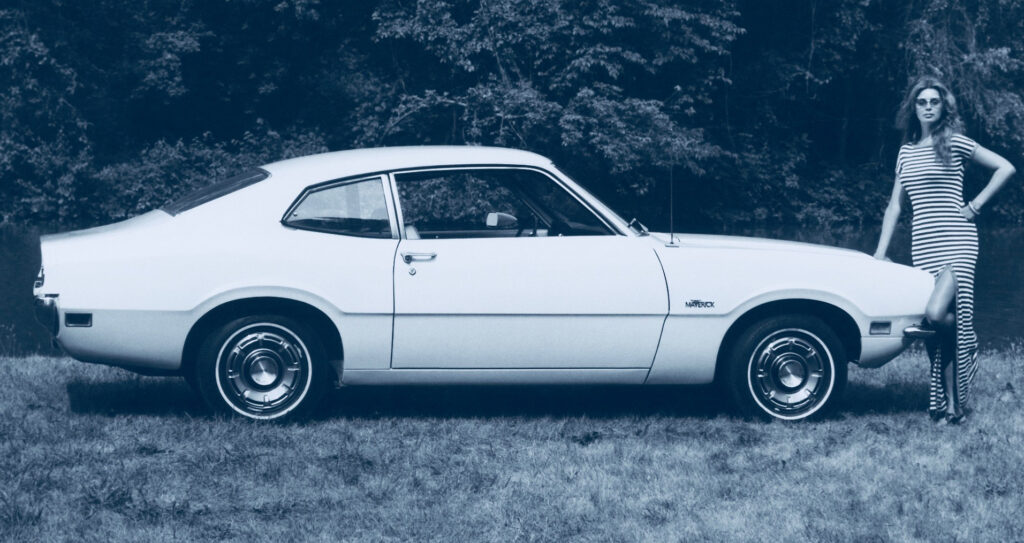 Mechanically, it was rear-wheel drive like the Mustang and Falcon with coil springs up front and leaf springs in the rear. Power came from the familiar 170-cid inline 6-cylinder as standard equipment. In fact, the underside of the Maverick consists of tried-and-true Falcon-Fairlane-Mustang suspension and braking components, another way of keeping manufacturing costs low. While not standard on the Falcon, a front anti-roll bar was used as
standard equipment. The Maverick used four-wheel drum brakes, with, at least at the start, no disc brakes available as optional equipment.
When Road & Track magazine did their evaluation of the new Maverick, they did query the Ford engineers about the lack of available front discs and received this response: "Today we are producing disc brakes only in combination with power assist and there's no need for for power assist on so light a car."
And with only the availability of a six-cylinder engine, here's how the R&T editors summed up their driving impressions of the Maverick: "What the Maverick excels at is smoothness, quietness, probability durability (with that gearing it has to be durable) and ride. Seems to us that its main appeal will be to secretaries and to older people who want a little style with their slow driving."
Car Life magazine tested an early production Maverick with the standard six-cylinder engine, and after running it through their performance testing procedures the editorial staff determined that it had proved to be an improvement over its Falcon ancestor, however they did complain about the car's handling and drum brakes, plus they said the seats were uncomfortable.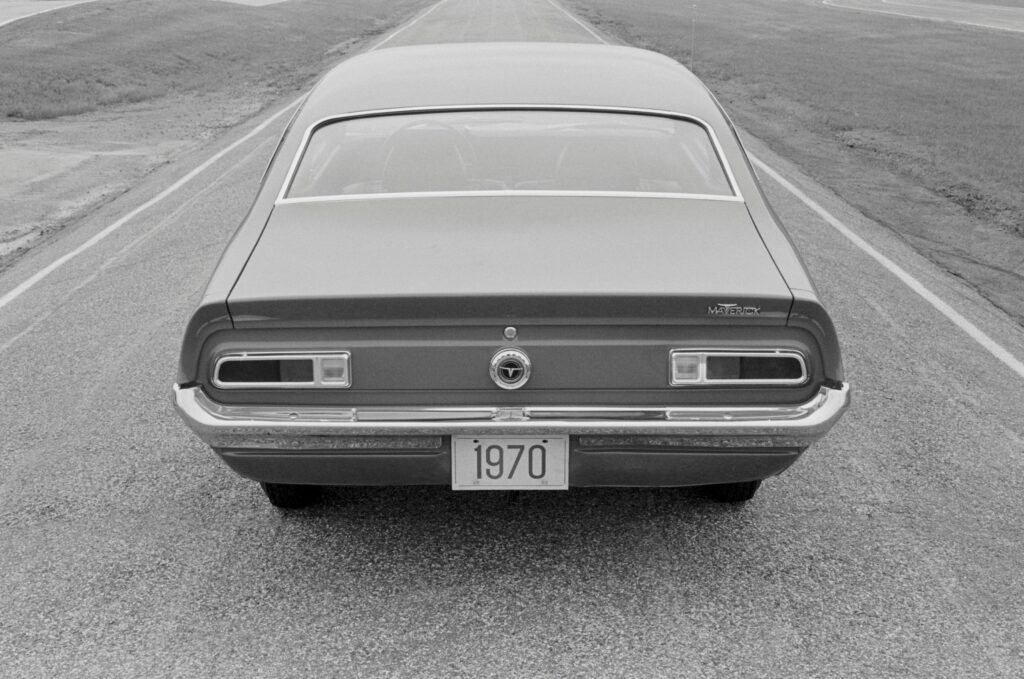 Motor Trend magazine got their hands on one and said this: "It's not a Volkswagen, but then it wasn't meant to be. It's not revolutionary, but it's basic and it will sell."
Ford described the Maverick as "the first car of the '70s at 1960 prices" and to back it up, a bare-bones 1970 Maverick had a base price of $1,995.00. (The original Falcon from 1960 started at $1912.00). The advertising
people had some fun with the Maverick's available new color names: Anti-Establish Mint, Hulla Blue, Original Cinnamon, Freudian Gilt, and Thanks Vermillion. Advertisements for the Maverick too aim at the off-shore competition: "The End of Foreign Intrigue. Ford Maverick $1,995." For a short time both of the Ford compacts, the new Maverick and the previous Falcon, were being sold at the same time in Ford dealership showrooms during 1969 (all first year Mavericks were titled as 1970 models, including the VIN). However, the debut of the Maverick meant the end of the Falcon line.
For the model year 1970, only six-cylinder engines were available in Mavericks (standard 100-horsepower 170-cid and optional 200-cid with 145 horsepower). However, just by looking at the engine compartment it was clear to see that there was plenty of room for a V8 engine to fit between the shock towers. In fact, during the long-lead press introduction to the various magazines, editors commented that by adding a V8 to the Maverick, it would provide for improved performance capabilities, making a fun car to drive. The thought of installing a V8 into the Maverick came to mind with the staff at Motor Trend.
It was while the earliest of the 1970 Maverick models were on the market, the magazine staff took matters into their own hands while working with Southern California Ford dealer Chuck Foulger. Listing all the part numbers to make it easy for readers who desired to do the same conversion, Motor Trend and Foulger installed a parts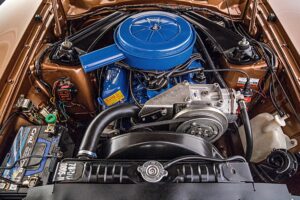 department Ford Boss 302 engine, plus a Mustang 4-speed manual transmission into a standard six-cylinder Maverick. In order to make it all work, larger heavy-duty drum brakes (borrowed from a 1969 Mustang) were used and the front springs were replaced with beefier units from a 1969 V8 Mustang (310-pound rate), cut to size, adding HD shock absorbers and the larger diameter front stabilizer bar (also a Mustang item).
In the rear, the stock differential was replaced with a high-performance 28-spline axle housing from a 1968 Mustang (Detroit Locker equipped), fitted with custom-made three-leaf leaf springs (535 pound-rate) and the addition of a staggered HD rear shocks. A new driveshaft was made by trimming 1.5-inches from a 1969 Cobra Jet Mustang unit. "It's a tight little package and it goes like hell," said the editors.
Quarter-mile times of 14.35 at 100.11 mph (using 3.91:1 gearing) and with the new engine, plus upgrades to the brakes, suspension and driveline, added 510 pounds, and that brought the overall weight to 3,101-pounds. Everything bolted right up!
While it was not a "Boss" powerplant, a 302-cid V8 engine (F-Code) option became factory available for Maverick buyers starting with the 1971 model year, equipped with a two-barrel carburetor, providing a tame 210 horsepower. Two different transmissions were available, a standard 3-speed manual and optional C4 automatic, both versions using 8-inch diameter ring gear differentials. 302-cid Mavericks had 5-lug wheels instead of the 4-lug units used on six-cylinder models. For all models, 1971 saw the introduction of the use of staggered rear shock absorbers.
While overall sales of the car were impressive, to expand the range of potential buyers even further, Ford decided to offer a 4-door sedan to the Maverick lineup in 1971. Built on a longer 109.9-inch wheelbase, the 4-door model measured 6.9-inches longer between the wheels. Four-door versions were considered a more practical car for families, and this new model sold well and helped solidify Maverick as a winner.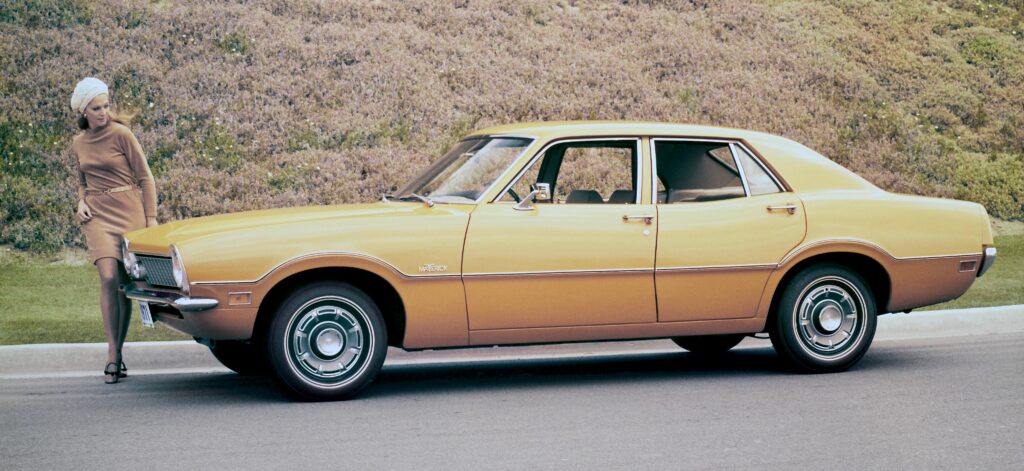 1971 also saw a more flamboyant Grabber, now fitted with a twin scooped hood, plus a grille that featured road lamps. The new look also included an offset "Maverick" emblem in the grille rather than the standard center-mounted round logo. Inside, high-back bucket seats were added as an option. 1972 Mavericks were basically carry-over models, however a unique one-year-only "Sprint" model (white in color with offsetting blue on the lower sides, hood and rear panel, and red pinstriping) added to the patriotic theme of the era, that being the Olympics. To go further with the American theme, there were "USA" stars and stripes logos placed on the rear quarter-panel.
For 1973, the Grabber model lost its scooped hood, and mid-year all Mavericks gained a real glove box. Bigger bumpers came as a result of federal government safety standards, with the front bumper noticeably larger and the rear extended out from the body. Also, the US auto industry switched from "gross" to "net" horsepower ratings, which, for the 302 V8 engine option, resulted in a lower rating of 143-hp (combined with a half-point drop in compression, dropped from 8.5:1 to 8.0:1). The standard 170-cid engine went away that year, while front disc brakes came starting in September 1973. All Mavericks, regardless of engine size, now had 5-lug wheels.
Grabber cars lost their rear spoiler starting in the 1974 model year, and for the first time, front disc brakes became optional equipment. Front and rear bumpers grew in size. By the time the 1975 Mavericks came out, the 4-door versions were out-selling 2-door models. The 302 V8 engine rating was further reduced to just 129 horsepower, and catalytic converters were added in order to meet the emissions requirements.
Originally, Ford had planned on dropping the Maverick line for 1975 model year (replaced by the Granada), however sales figures were still strong and the car hung on for two more years.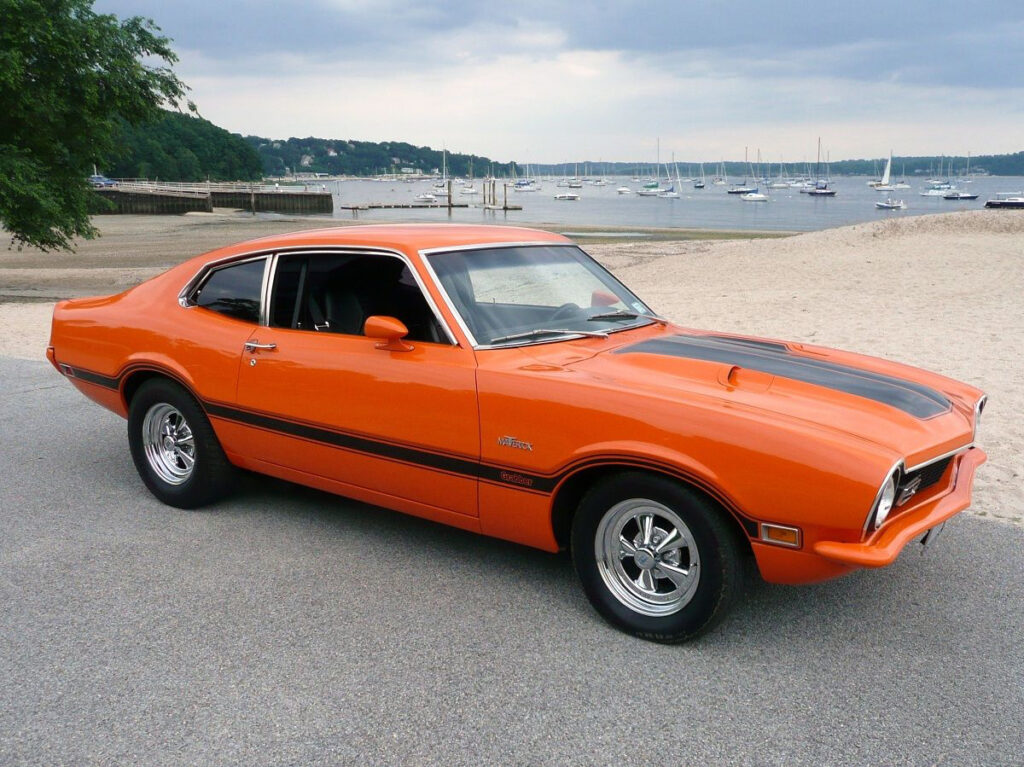 1976 saw the Grabber replaced with a new 'Stallion" model (one year only), and the Maverick survived through the 1977 model year run. The final year of Maverick (in the USA) saw the availability of reclining bucket seats and new body side vinyl-inserted trim. However, the Maverick survived in Brazil through 1979.
Mavericks were never promoted or manufactured as a "performance car" and there was never a 4-speed manual transmission available from the factory on any model. Some called the car "The Poor Man's Mustang." The 302 V8 was only available with a 2-barrel carburetor and at no point in time did Ford offer 9-inch rear ends in Mavericks.
That said, there's great potential to add excitement to a Maverick with more power, better handling, stopping power, and improved seating and instrumentation. With today's available Coyote crate engine, a wide variety of performance suspension, heavy-duty driveline components, big disc brake systems and a variety of wheel/tire combinations available, the Maverick body shell surely can be considered an ideal "blank canvas" for creating a modern-day street machine with style.
While overshadowed in the past, today a Maverick (or its Mercury Comet sister car) can be built-up as a head-turning vehicle with a large supply of readily available parts and accessories.
In addition, the aftermarket offers fiberglass components for these cars including hoods (flat, Grabber and raised cowl), fenders, doors, deck lids, front and rear bumpers (early style), headlight buckets, bumper to grille panels, gravel panels, rear valances, dash boards and three-piece rear spoilers. Selected items are also available in carbon fiber.
From mild to wild, a Maverick project done up with planning and a quality build can rival a Mustang in boulevard appeal, and at a lower initial cost. It's an "underdog" that can be built into something of substance!