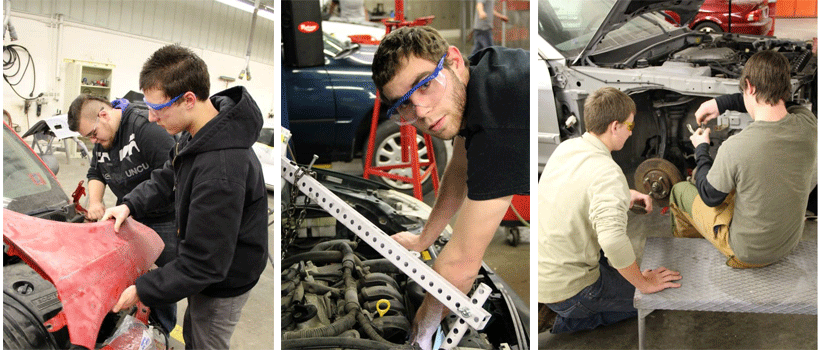 A majority of automotive shop owners admit one of their biggest challenges is finding interested, qualified and skilled young people to hire for their staff. There's one school in Southern Indiana working to address that very issue.
The Prosser Career Education Center of New Albany, Indiana, is celebrating its 50th anniversary by completing a $29 million renovation project that will result in a 40,000-square-foot building loaded with state-of-the-art equipment for training students in automotive and diesel technology and bodywork. The facility expansion-made possible by a community supported tax increase-will allow the training center to take in students from 22 area high schools.
"People laugh when they come in here because while we may be in high school, if you walk in the door they say 'holy cow this is an actual dealership,'" said Glenn Duchy, who teaches auto tech at the center. "We went from being a small shop where if I raise the car up I would have to be careful of the ceiling, to a shop where I could not only raise a car all the way up but it's well-lit and big enough to drive down the center so we don't have separate outside doors."
Duchy, himself an alumni of Prosser,  knows the value of providing students with a comprehensive, hands-on learning experience to help prepare them for a career in automotive industry.
"I graduated from the school in 1987," he said. "I was service manager at the Ford dealer for 22 years and at 40 years old I dropped my career to come back and teach school. I was at a point in my life where the money wasn't everything and I wanted to give back."
The popularity of the school is rising dramatically. Currently, the center has 214 students who are bused in every day from surrounding high schools for half-day sessions five days a week during their junior and senior years.
"We have been growing each year with the number of students signed up and I've seen an increase in females as well," Duchy said. "I have three in my morning class-in addition to eight others in the diesel and autobody classes-and one that is now working at a Ford dealership. They are blown away by her ability."
The program works through every aspect of automotive technology including safety, maintenance, brakes, airbags and engines, all done on vehicles of actual, paying customers.
"They are learning basically anything and everything in the car that they would need to know going into a job," Duchy said. "Can I make you a technician in two years? No, but I can give you all the basics that you need in a hands-on experience."
Students near the end of their first year spend at least one day in a shop as a job shadow. In their senior year they do a paid internship and have the opportunity to take classes for credit through Vincennes University. The ultimate goal is to prepare students with a solid, hands-on background in whatever area they choose to seek employment.
In order to keep up-to-date themselves, Duchy and his four fellow instructors spend some of the summer learning on the job as well.
"We do a lot of professional development," he said. "We have great community partners like dealerships who allow us to come in to work for a week or two with the shop technicians."
Duchy said that he hopes Prosser's success story spreads and helps to encourage other communities to focus on automotive career classes as well.
"Now with this new facility we want to reach out and let people know what we have here," he said. "Maybe there's a chance that other people will look at this and say 'Hey, there is a need for this and it can be done'."
Building careers and, hopefully, filling a talent gap in the automotive world.