Features
Fear & Loathing E-commerce? Combine a Memorable In-Shop Experience with These Online Solutions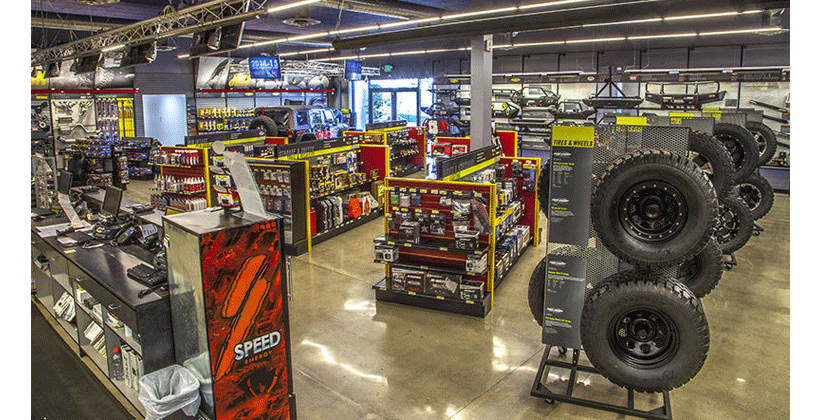 E-commerce is certainly a modern convenience and powerful tool for any automotive shop's comprehensive retail strategy, but online shopping is simply not capable of matching the natural customer reactions generated by a stellar in-store shopping experience.
A retailer's goal is to extend further than the base transaction and elicit a response, an emotion. The element of wonder, anticipation and enthusiasm, no matter the industry, is best achieved by creating a destination-inspired theme, such as live product demonstrations in the middle of a Williams & Sonoma, or the excitement of a ride-along event at the local powersports dealer.
This article deeply explores the current impact of e-commerce, ways that the automotive aftermarket can mirror the large-scale success of big retailers that specialize in creating a unique shopping experience, and how achieving a balance between the two can help shop owners service customers.
Big Data is the Big Trend
E-commerce was responsible for $2.3 trillion in sales during 2017 and is expected to hit $4.5 trillion by 2021, according to Statista. Within the U.S. alone, it represents more than 10 percent of all retail sales, and that number is presumed to grow by 15 percent each year. Furthermore, Statista predicted that more than 2.14 billion people worldwide will purchase goods and services online by 2021, up from 1.66 billion in 2016.
Now, consider the demographics of this rapidly expanding consumer base. Of the 1.92 billion global online buyers in 2019, Millennials and Generation X are in the driver's seat of online sales. In fact, a staggering 67 percent of Millennials prefer to shop online as opposed to in-store, with more than 54 percent of their purchases resulting in an online transaction.
Indeed, this desire for instant gratification-including 24/7 accessibility, user-friendly tools to browse, compare and add to cart, next-day turnaround, benefits such as free shipping and handling, as well as reviews-undoubtedly have contributed to the dominance of companies like Amazon. In fact, Millennials will account for 30 percent of all retail sales by 2020.
Meet The Competition: A Personalized In-Store Experience
While we thrive in a digital era where e-commerce presents enormous value in Big Data-tracking and reporting consumer behavior-e-commerce simply cannot compete with a personalized in-shop experience. Advantages that physical retailers hold over online competitors are:
Aesthetic details that capture passerby attention and inspire a larger-than-life atmosphere
Knowledgeable, friendly staff that provides exemplary customer service
Strategically-positioned planograms that feature different types of merchandise (e.g. new, discounted, themed, local, customized, etc.)
Demo areas for customers to get hands-on with select products
Competitive in-store deals and promotions
Clean, organized and welcoming store layout that is easy to navigate
Directional signage, window clings, counter wraps or custom wall art that reflects the target audience
Mega retailers like Bass Pro and Cabela's, which record hundreds of millions in customer foot traffic each year, are reinventing in the face of mounting online retail pressure. Moreover, they have proven that brick-and-mortar businesses across various industries can convert transactions from online to in-store by appealing to consumer tendencies and basic human senses like touch, sight, hearing, smell and even taste. These companies are investing in a destination-inspired shopping experience that is customized for their target audience and maximizing exposure by interlacing their retail locations with popular restaurants, comfortable lodging, as well as recreational events and activities.
Face-to-Face Still Matters
All retailers-large and small-can mimic this ideal consumer experience, encouraging authentic consumer engagement and establishing long-term relationships beyond the point of sale.
"It's all marketing," said Rudy Forlenza, general manager of 19 A&A Auto Stores across Northeastern Pennsylvania. "Every time I visit a Bass Pro or Cabela's, it's a totally different experience in comparison to the last. That keeps customers engaged and coming back for more."
Forlenza emulates this strategy on a smaller scale in his own stores across the state, including revising stale floorplans and connecting with customers in their natural surroundings. Sometimes that means collaborating with other well-respected businesses to coordinate activities and events like weekend car washes and car shows.
"Essentially, we're creating a sense of community and, at times, doing so with other valued partners who share similar local roots and common interests to ensure a great experience for mutual customers," Forlenza explained.
Likewise, the companies benefit from collective advertising through various digital channels, such as website and social media promotion.
As another example, many powersports dealers now coordinate free ride-along events, where customers can swing by, interact with like-minded enthusiasts and test drive some of the hottest side-by-side units on dealer lots. Now more than ever, automotive shops are sponsoring local teams and events that reflect a level of authenticity in the brands, products and services they personally provide customers.
The A&A Auto Stores team, for example, sponsors major events like Carlisle and Jamboree, putting them eye-to-eye and building relationships with their core customer base. Likewise, the Cars and Coffee scene continues to gain in popularity among a variety of enthusiast age groups.
"E-commerce has its place, and there's no denying that, but face-to-face still matters," Forlenza said.
One needn't look further than online giants like Amazon making strategic retail purchases, such as Whole Foods, and opening select locations of their own.
"Our industry can be highly technical. There's a certain reassurance when someone walks into a store with an idea in their head and one of our skilled professionals can walk them through exactly what they need, the variety of choices they have and any other questions that come with such a purchase," Forlenza added. "You just don't receive that kind of exposure online because, let's be honest, if you have a question or concern then you're put in the queue for a customer support call, have to submit an e-mail request or communicate with an impersonal chat box. You don't get to benefit from the knowledge, experience and customer service of an in-store transaction."
Proven Solutions to Assist Retailers
As Amazon, Walmart and even Home Depot expand into auto parts, it is more imperative than ever before for traditional brick-and-mortar locations to adopt a mentality of balance.
"It's critical to leverage the strengths of e-commerce and use those benefits to drive traffic and interaction at the store level," said Harneet Kaur, marketing director at Keystone Automotive.
One such example is Keystone's Parts Via sales network, which provides an innovative solution that tackles these challenges head on. Parts Via connects brick-and-mortar retailers to supplier sites and the consumers looking to buy online. A simple Buy Now button inserted on the supplier's site allows the consumer to purchase at the peak of their exploration process and choose to have their product shipped-to-home or shipped-to-store. Whatever shipping option is selected, a local retailer and the supplier benefit from the transaction.
About This Sponsored Content
If free shipping, easy transaction processing and connecting with customers at the right point in their purchase cycle is tripping up your e-commerce strategy, visit partsvia.com to see how Keystone Automotive Operations can help grow your business by driving more customers to your location.
The simplicity of the transaction process-no user account required-keeps consumers engaged and the free ship-to-store option delivers two distinct benefits. It gives the consumer what they are looking for (free shipping) and it provides traffic to the brick-and-mortar business, allowing them to add to the original purchase and offer installation and other services. The Parts Via Network currently supports multiple supplier partners and over 2,000 network dealers. The program is growing with many additional partners and dealers coming online daily.
Additionally, retailers must be nimble in product selection and pricing, as well as their own e-commerce and digital strategies in order to compete. Many sophisticated point-of-purchase software programs assist in this area, enabling shops to search competitor pricing down to the SKU level so staff can evaluate internet pressures in real time.
For example, automotive shops can manage their businesses more efficiently through trusted options like Topline Software. Well-respected across the automotive, truck and RV markets for 20 years, the company has created proven solutions that are specifically tailored to the needs of each industry. With the recent acquisition by Keystone Automotive, Topline Software is positioned to further assist customers in streamlining their businesses and benefiting from direct integrations with fulfillment.
"Through Topline Software, a retailer can set up links to Amazon, AutoZone, eBay, Rock Auto, or whatever websites he or she prefers to frequently receive price-match requests for," explained Nick Geiger, director of click-to-mortar sales at Keystone Automotive.
The software increases efficiencies, eliminating the need for sales people to leave a point-of-sale system or order screen to review those details via an internet browser.
"If a unique part number is pulled up on a sales/work order, then staff can easily cross reference and select those websites in a drop-down menu. From there, even more SKU-level details can be reviewed," Geiger said.
Forlenza credits the Topline Software for streamlining the sales process at A&A Auto, arming staff with the knowledge they need to make the right decisions during a potential transaction.
"Having that kind of transparency with real-time pricing gives our counter associates access to the facts they need to make a quick but well-informed decision," he said. "In a few clicks, they can review an online competitor's product description and pricing, evaluate and educate the customer if there are hidden costs in the offer that's being advertised, assess that against our cost, and have a better chance of that person walking out of our store with a price-matched product, or close to price matched, in hand."
Upgrading to modern technology and developing a solid digital presence are excellent tactics to drive foot traffic, but remember that one of the best cards in a retailer's deck is relationship building. Fashioning a destination-inspired shopping experience for customers will capture interest, boost engagement, encourage in-store sales and build a customer loyalty that e-commerce cannot compete with.