Features
Everything You Need to Know About Switching to Waterless Coolant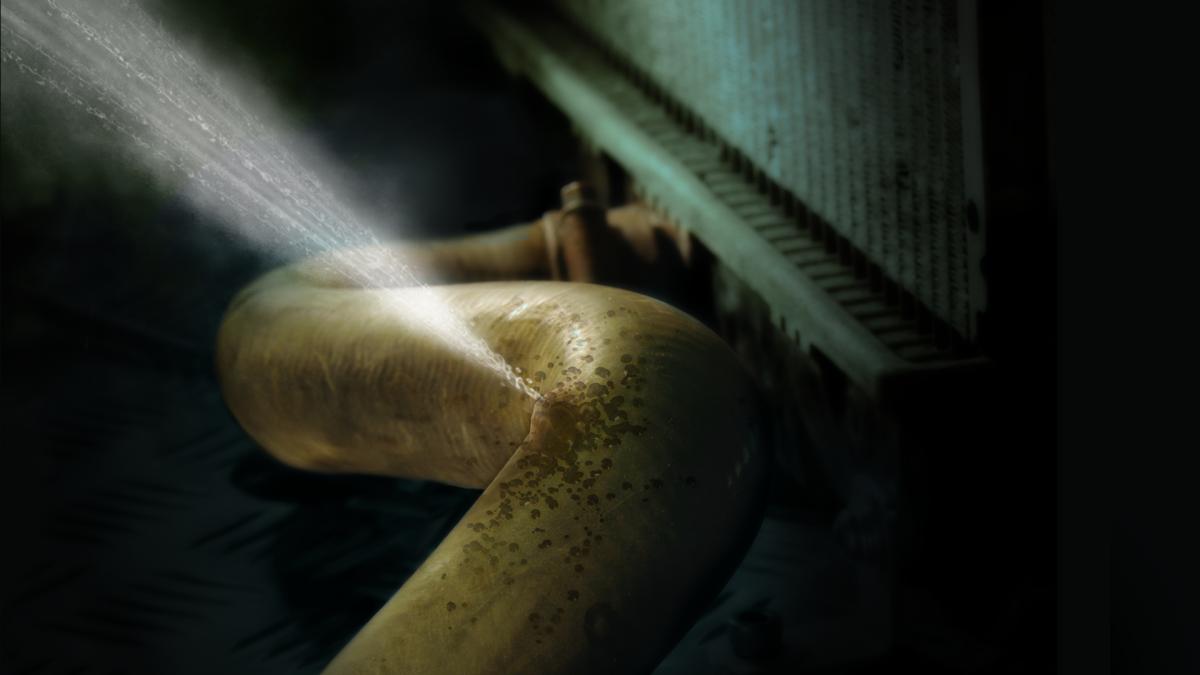 Water has been used in cooling systems for over 100 years for its superior ability to transfer heat, but water has it challenges and limitations. Water promotes corrosion and has a boiling point only slightly above the coolants normal operating temperature. Evans Waterless Coolant offers a solution to overcome the drawbacks of water, whether it's to enhance performance or preserve collectables.
About This Sponsored Content
Evans Cooling Systems, Inc. pioneered the first commercial waterless engine coolants and has provided non-aqueous engine coolant products to the marketplace for over 20 years. Visit evanscoolant.com for more information.
Evans' technology is simple and effective and may even be viewed as a contradiction to long held beliefs that nothing works better than water. Below are some common questions and answers about radiators and Evans Waterless Coolant that will help ease the transition to waterless coolant and maybe even dispel some of the pre-conceived ideas or misunderstandings about waterless coolant technology.
Q: What type of radiators does Evans recommend?
A: Evans recommends single-pass radiators as they have less flow resistance than multipass radiators. The following are minimum radiator core suggestions:
300 horsepower or less without AC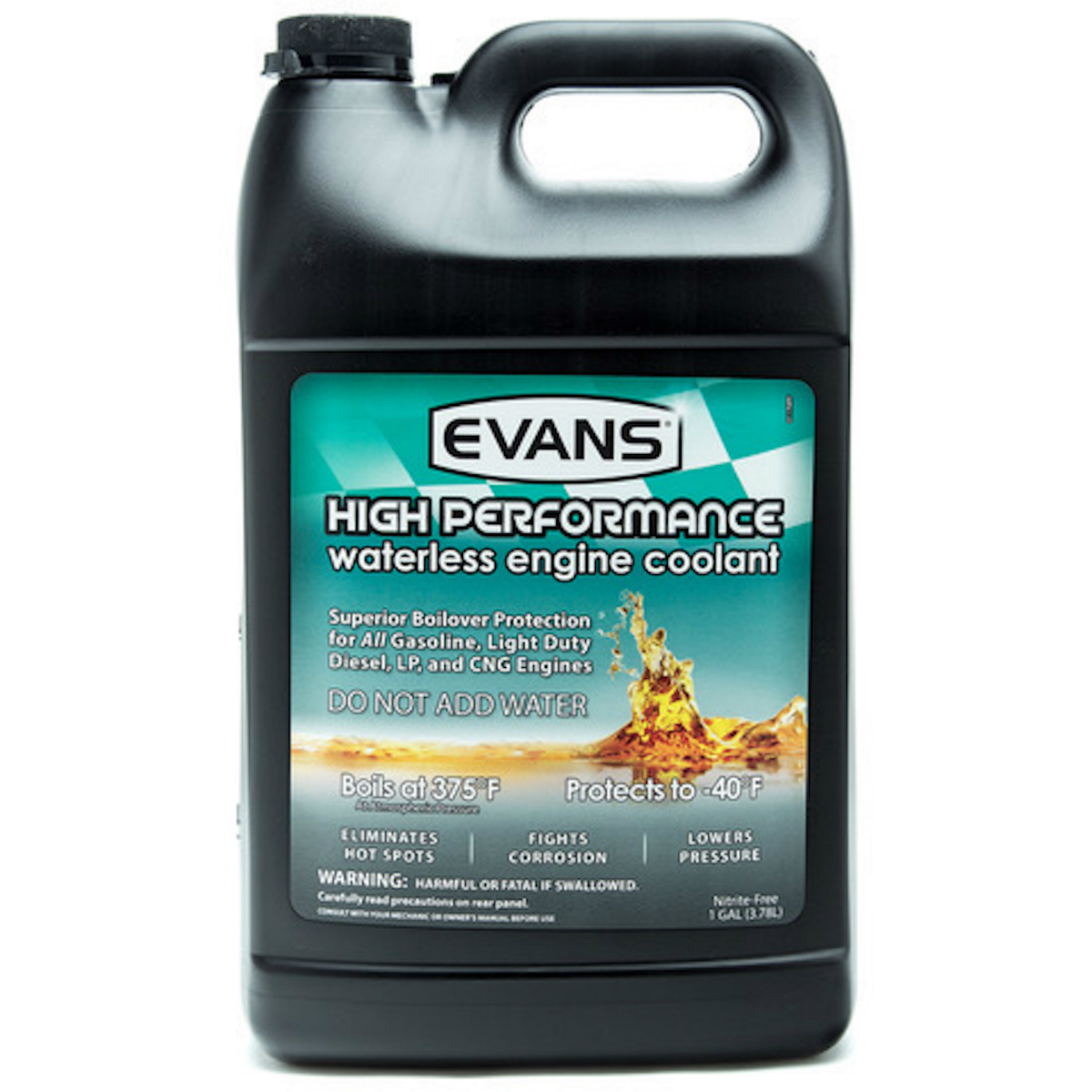 4 rows: .50-inch tube copper/brass
300 horsepower to 400 horsepower with AC
2 rows: 1-inch tube aluminum
400 horsepower to 600 horsepower
2 rows: 1.25-inch tube aluminum
600 horsepower and above
3 rows: 1-inch tube aluminum or 2 rows: 1.5-inch tube aluminum
Q: Does Evans require periodic maintenance?
A: No periodic addition of additives is required, nor should any ever be added. Evans recommends inspecting the cooling system at least once a year to ensure water content remains below 5 percent.
Q: If I have a leak and Evans is not immediately available, what can I safely add?
A: The likelihood of coolant loss and the need for topping up are greatly reduced with Evans. In the event a leak occurs and Evans is not available, water or water-based coolant may be used to top up, but the boilover and corrosion protection of Evans Waterless Coolant will be reduced. As a temporary measure, stop leak products may be used.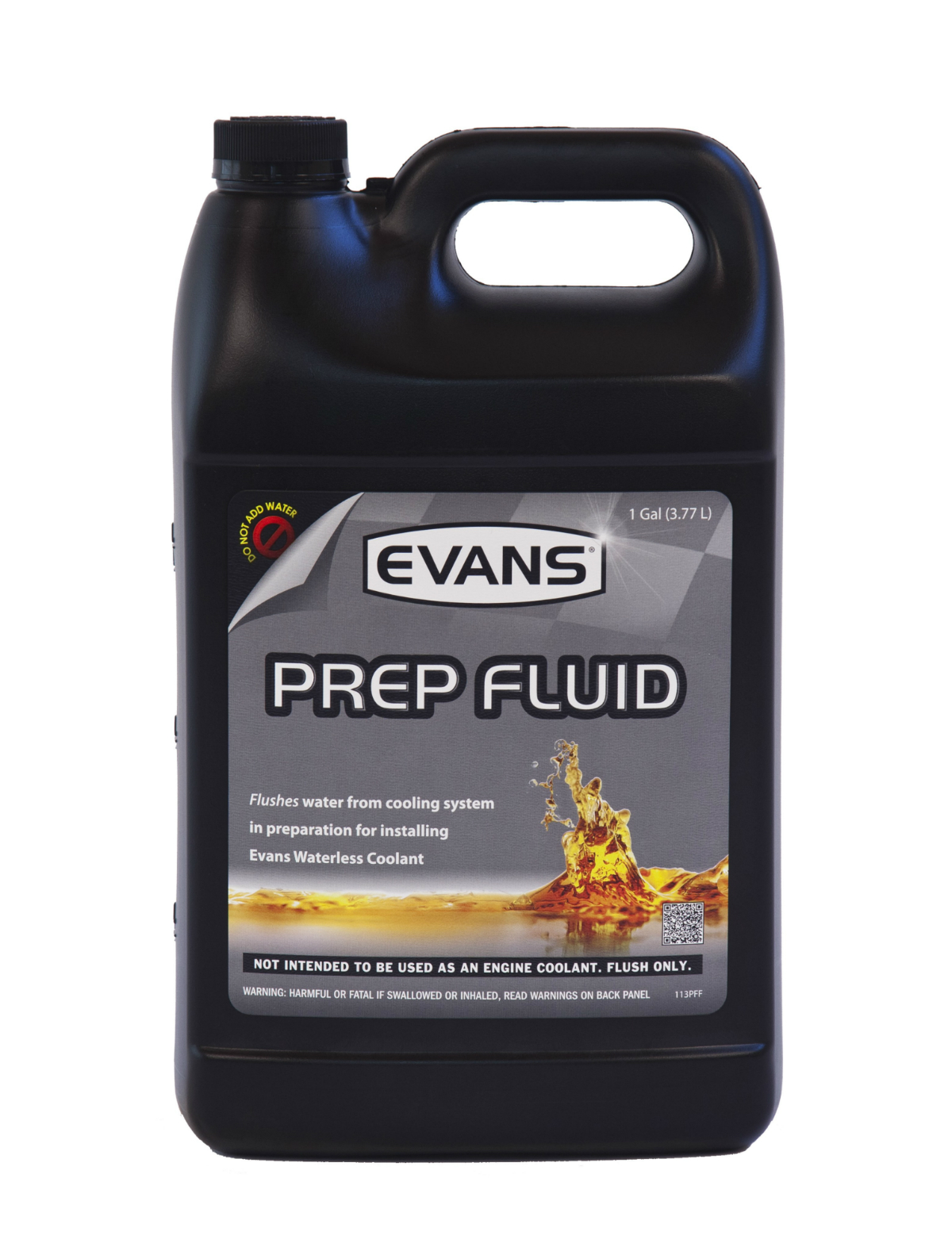 Q: What happens if I have water in my cooling system after installing Evans?
A: A water content higher than 5 percent will lower the boiling point and may reduce the corrosion protection. If water content exceeds 5 percent, drain a portion from the system and add new Evans waterless coolant until below 5 percent.
Q: How do I install Evans Waterless Coolant?
A: The conversion process is fairly simple but should be done thoroughly and according to written instructions, or by viewing instructional videos at: https://www.evanscoolant.com/how-it-works/conversion-installation/
The basic installation steps are as follows:
1. Drain all old water-based coolant out from radiator, block, and heater core if accessible.
2. Use high-volume air to force out remaining coolant.
3. Fill with Evans Prep Fluid (waterless flush) and run for 15 minutes to circulate.
4. Allow to cool and drain out Prep Fluid in same manner as old water-based coolant.
5. Fill with Evans Waterless Coolant and run for 15 minutes to circulate.
6. Test for water content to confirm less than 5 percent water. Water content can be measured with a refractometer or a sample can be sent to Evans for testing at no charge.