Features
Edelbrock CEO Injecting New Ideas into Legacy Brand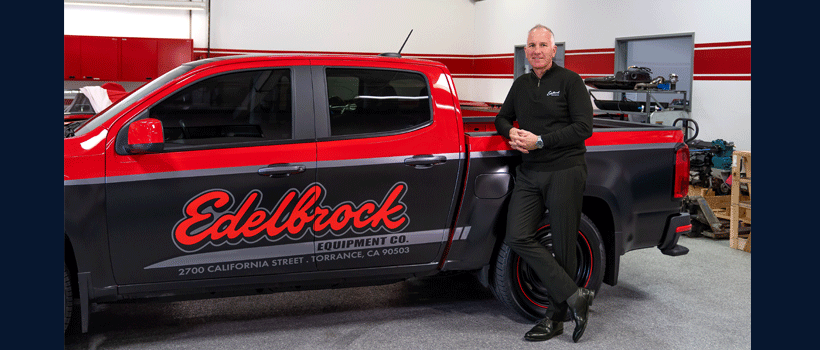 Don Barry joined THE SHOP magazine for a 30-minute conversation just weeks before his one-year anniversary as CEO of Edelbrock in April. His experience as chief so far has included developing a blueprint for the company's growth and plotting new markets to penetrate. Yes, the Edelbrock brand is well established but he said there's still room for it to connect with new customers.
With nearly a decade of automotive industry experience under his belt, it's clear Barry is passionate about what he's doing. Look no further than the first-generation HEMI V-8 engine he's building at the Edelbrock plant when he's off work.
Setting aside his CEO duties for a moment, Barry took time to cover these topics and more during the following conversation with THE SHOP staffer Anthony Bowe:
THE SHOP (TS) – Describe Edelbrock's position as a company when you first became CEO and president last year?
Don Barry – Well, Edelbrock is a great company overall. I mean, it's just a wonderful environment for people to work and has a wonderful brand name with an outstanding line of products. Everything about Edelbrock is positive.
My No. 1 mission is to not screw it up. Mission No. 2: Try and chart the course for the future. You know, we lost our founder a couple of years ago and I think the team was looking for help to get to that next level.
TS – What were your primary goals in the first year to start staking out that future?
Don Barry -What we did was conducted a long process of talking to our stakeholders-"most of the employees of the company-"and we tried to really understand what was the soul of the company and where we should be going. We also did some end-user research and talked to people who are car fanatics and are consumers.
Based on that, we realized that we were really strong with the classic traditional car guy who tended to be a little bit older with largely early- and late-model American cars.
We also learned we have an opportunity for younger people, women, and different multicultural groups, and realized that we were under-serving truck, Jeep, bull rider, drift and some other markets. These are the sorts of areas that we see growing faster in the future.
TS – What strategies are you employing to reach those audiences?
Don Barry – Well, it really depends on the category. Each category is a little bit different.
People think that carburetors are going away and there's nothing further from the truth. In fact, for us we see carburetion as a growth category. We've developed new technology to make carburetors run better. We launched in the past year our AVS2 carburetor,  which allows guys with carbureted cars to have an alternative that runs nearly as good as EFI. An AVS2 car runs beautifully and  cold starts well, causing some people to take a look at their old carburetor and realize there's a new alternative.
There's also the trend toward EFI, so last year we launched our new Poll Flow 4  EFI kit. It's a complete turnkey kit with a self-learning DCU on it-"if a person wants to go EFI and switch out his car, then we've got that alternative as well.
It all kind of depends on what a person's personality is and what they're driving. But we're trying to develop solutions for both.
TS – What are some ways that Edelbrock is communicating with younger consumers?
Don Barry -Like everyone, we've pivoted to digital. That's one of the things that we've worked really hard on in the last year is digitizing our business.
We understand that a lot of decisions and a lot of shopping and a lot of news content gathering happens on an iPhone, a Samsung Galaxy or a tablet-"and not as much anymore on the old TV set. We've gone to find out where people are consuming media and what we're trying to do is position our messaging there.
TS – Now a year into your CEO tenure, what are some goals you've developed for the coming years?
Don Barry – We have a roadmap for new products and new categories, some of which I can't talk about because it's a coming-soon type of thing. In general, we're looking in a couple of different directions.
We have early model American cars where customers can go the restoration, hot rod route or the restomod-upgrade to modern route.
Then you have late-model. We've got a supercharger now that fits the Jeep JL and the new Ford F-150; and we've got an array of products for customers wanting more performance out of those cars.
Now, we're starting to pivot to the truck, Jeep, drift and low rider markets, including early model and late model.
We're trying to track along as those markets develop to understand where everything is going.
TS – With all the new products and technologies proliferating the market, what does it say about the world that companies can still reinvent the carburetor?
Don Barry – Well I like to say this-"someone taught me this line a long time ago, so it's not original-"but there's no tired businesses, only tired managers. You can look at any business and you can either scratch your head and give up on it or you can dig into it and try and figure out what's the motivation of the people using it.
As in the case of our AVS2 Carb, anyone who has had a carbonated car for any length of time knows-"especially in the northern climates and with the new gasolines that contain a lot of ethanol-"carburetors get screwed up, they get gummed up and they get varnished up. It makes starting difficult; they don't run well; they need to be rebuilt.
If you can remove some of those headaches, and have a better mousetrap, then people beat a path to your door.
TS – How do you gauge the current health of the performance aftermarket?
Don Barry -I think the performance aftermarket is healthy. The economy is strong and in general there's a strong car culture in the world and certainly here in America.
There was some concern recently, which I think has already been proven wrong, that younger people weren't going to come into the performance market and weren't going to be driving hot cars or working on cars.
Our studies have shown the opposite. We're finding that there's plenty of young people in the market. Millennials are now becoming a little bit more wealthy, and they're older, sometimes dual income, and they love cars and trucks. Of course, not all of them, but a large proportion.
I think it's just innate in human nature that there's a certain group of people that like cars and trucks that go fast or look good-"either get bitten by that bug or you don't.
TS – Are there any market trends serving as a challenge to Edelbrock?
Don Barry – I don't really see any huge problems. We've got competition for sure and our competition is strong, but we're strong too. And you know, they play their game we play ours.
And bring up millennials once more, people thought that Uber and iPhones were going to stop millennials from driving cars but it's just not true. It's not happening right now.
We see a continued healthy economy, continued interest in our in our sport and our passion. Our job is to market to that.
TS – What are some Edelbrock references that more shops should take advantage of?
Don Barry – A lot of shop owners don't quite understand that or the level of technical support that we have. We've got a very large technical support team that has an average tenure of like 17 years with our company.
In terms of installation support, parts, or the occasional return, we're just a phone call away
I'd sure like shop owners to know that we can be very intimate and help as they install something complex.
Our tech number is 800-416-8628 and there's also a live chat button on Edelbrock.com active during business hours, covering both coasts.
TS – As CEO, you must wear a lot of professional hats. How do you divide your time between sales, R&D, people management, marketing and future planning?
Don Barry – The answer is I spend 100 percent of my time on all of the above-I'm kidding.
I think the No. 1 place to put time is in our people. You have to have strong people on a strong team and they have to be well trained, motivated and enthusiastic.
I spend a huge amount of time working with people, filling vacant positions, making sure structure is correct, making sure that people have their to do list and key performance indicators.
The second place I tend to put time, like you brought up, is the future. You have to be thinking a few steps down the road when you're in my role, because you're always considering where the business is going and the investments you have to make.
There's also what I call execution. I'll spend time with customers and in the field. I make frequent trips to see customers; including one this weekend actually.
TS – CEO's are very busy people with stressful jobs. The stress can even boil up into some CEO's shedding tears. So, how do you deal with the stress of the job?
Don Barry – That's a good question and thanks for bringing it up and acknowledging it. I never cry and never will. And if you believe that I have a bridge to sell you.
I read a book on Steve Jobs, founder of Apple, and when he was stressed and about to lose it in the early days, he literally would go into the men's room and get into the toilet with his feet and flush because he liked the whirlpool feeling. I haven't tried that method yet but I've got hobbies.
Here at the company I'm actually building a first-generation HEMI. We don't currently make an EFI kit for that, so we're using my motor to develop one for the company. I do that in the off hours with some of the guys.
I also like to work out. I try to work out almost every day in some shape or form. I try to run a little bit and  hit the weights a little bit.
I also like to come home to have dinner with my lovely wife. So, those are some of the things that I do to relax.