Features
ECD Reveals Trio of E-Type Builds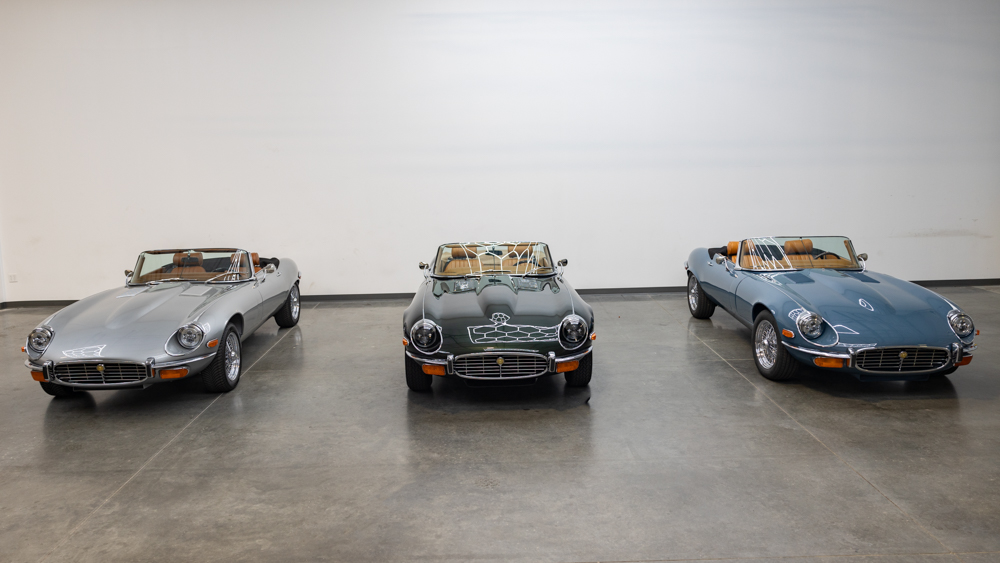 ECD Auto Design (ECD) recently unveiled a lineup of bespoke Series 3 roadster E-Types.
Dubbed Project Narragansett Commission, Project Palm Beach Commission and Project Dallas Commission, the cars serve as a representation of ECD's customization process, the company said, with each design featuring a heritage Jaguar color and one of many drivetrain options, including an original V12 engine and ECD's second generation EV system.
"Even though they all have the same base vehicle, each client's personality shines through in how they chose to outfit their E-Type," said ECD CEO and co-founder Scott Wallace. "At ECD, we pride ourselves on the customer journey and customization process – these three sports cars showcase a small fraction of what we do every day at the Rover Dome."
Project Narragansett Commission is a Cotswold blue Series 3 roadster featuring an electric vehicle drivetrain with a 150-mile range and Italian-made Pirelli tires. Inside are heated and cooled OEM seats wrapped in tan Spinneybeck leather, along with a wooden steering wheel and touchscreen EV controls and infotainment system.
Project Palm Beach Commission is finished in silver and is powered by an original V12 engine that was hand-restored in the U.K. With 400-plus hp, the build sits on 16-inch wire wheels and is accompanied by Italian leather seats, a wood-and-chrome steering wheel, classic gauges, automatic headlights, Bluetooth connection and an Infinity Kappa audio system.
Project Dallas Commission is painted in a throwback British green and is powered by an LT1 engine.
See the full specifications for each build below: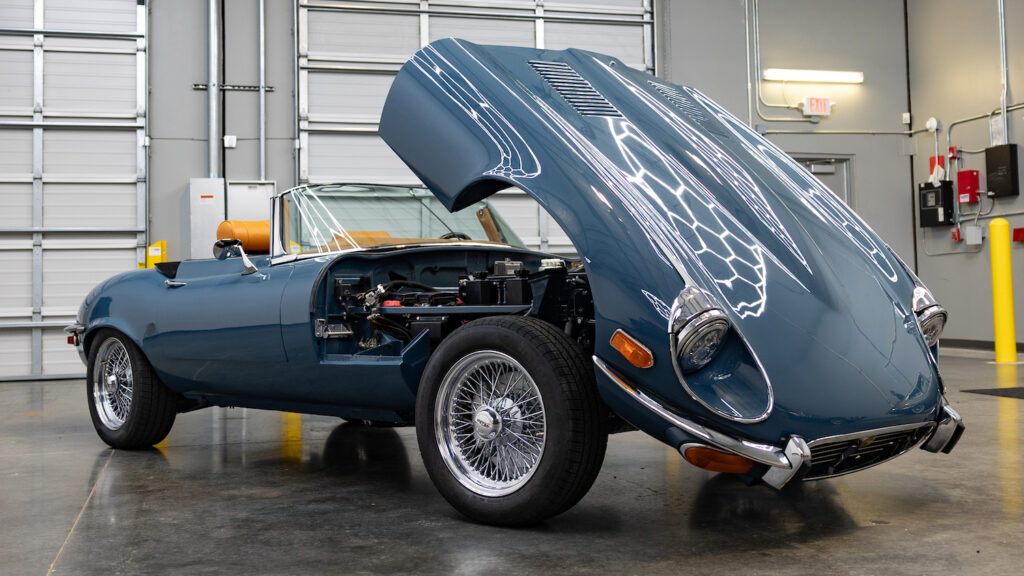 Project Narragansett Commission
Series — 3
Body Style — Roadster
Engine — ECD Custom Electric
Transmission — Direct drive
Suspension — Adjustable performance
Brakes — Upgraded high performance
Exterior
Paint Color — Cotswold Blue in Gloss
Wheels — 16- Premium wire wheels
Tires — Pirelli Cinturato
Bumper — Chrome
Additional Features — Luggage rack
Interior
Front Seats — OEM SIII style, heated and ventilated
Leather Color — Spinneybeck Caramel
Seat Design — Traditional vertical stitching
Dash – OEM wrapped in Spinneybeck Caramel
Carpet — Black
Steering Wheel — Momo Grand Prix – Heritage Wooden Wheel
Gauges — ECD EV set
Hood – Black
Audio & Electronics
Infotainment — ECD EV interface
Sound System — JL Audio speaker and Kenwood Slimline subwoofer
Additional Features — Two USB ports, Bluetooth, front and rear dash camera, low jack, remote start, automatic headlights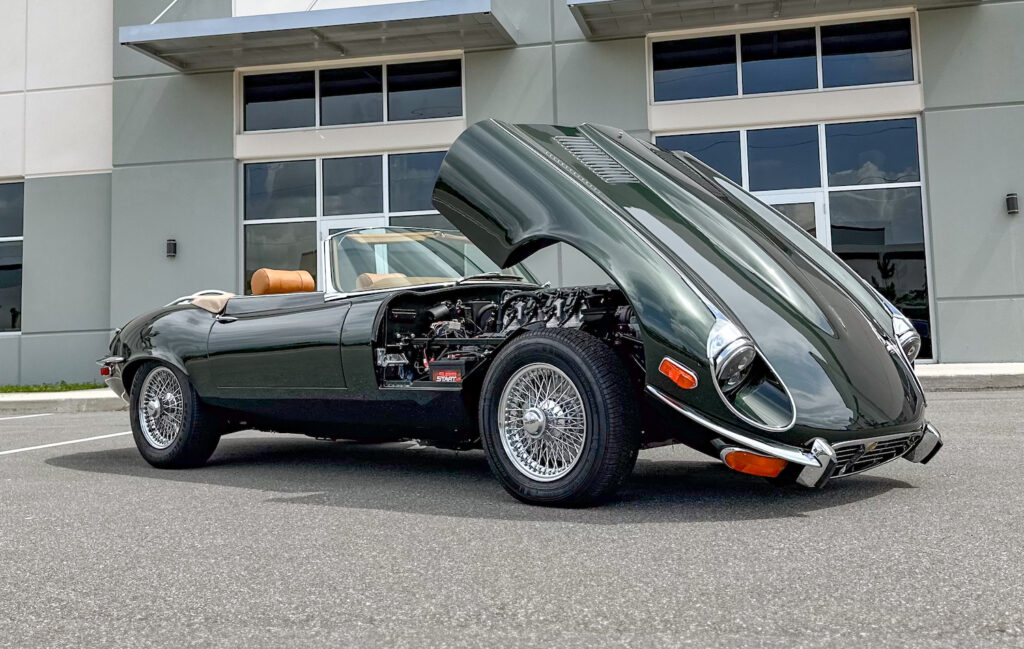 Project Palm Beach Commission
Series — 3
Body Style — Roadster
Engine — V12 with 400+ horsepower
Transmission — 5-speed manual
Suspension — Upgraded sport
Brakes — High performance
Exhaust — Borla Stainless – Sport Plus
Exterior
Paint Color — Silver Grey Metallic in Gloss
Wheels — 16-inch Premium wire wheels
Tires — Michelin Road Tires
Bumper — Chrome
Interior
Front Seats — OEM style, heated and ventilated
Leather Color — Spinneybeck Amalfi
Seat Design — Fluted vertical single stitch
Dash – Series 3 style wrapped in Spinneybeck Amalfi
Carpet — Black
Steering Wheel — Tourist Trophy
Gauges — Smiths Classic Gauges in black
Hood – Black
Audio & Electronics
Infotainment — Classic
Sound System — Infinity Kappa speakers and subwoofer
Additional Features — USB port, Bluetooth, automatic headlights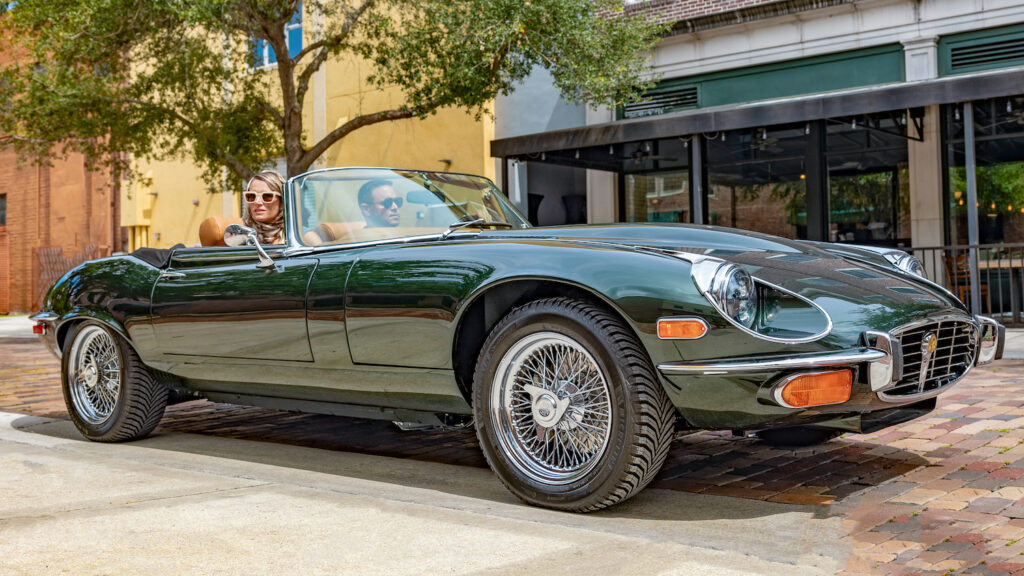 Project Dallas Commission
Series — 3
Body Style — Roadster
Engine — LT1
Transmission — 8-speed automatic
Suspension — Enhanced sports suspension
Brakes — Fosseway High Performance braking system with six pistons front calipers and four piston rears
Exhaust — OEM Style Fantail with quad center exhaust outlet
Exterior
Paint Color — Sherwood Green in Gloss
Wheels — 15-inch Borrani
Tires — Michelin Cross Climate
Bumper — Chrome
Additional Features — Luggage rack
Interior
Front Seats — OEM style, heated and ventilated
Leather Color — Spinneybeck Sabrina
Seat Design — Fluted vertical single stitch
Dash – OEM Series 3 wrapped in Spinneybeck Sabrina
Carpet — Martin Robey tan
Steering Wheel — Tourist Trophy original Jag style wheel
Gauges — Moal Bomber
Hood – Tan
Audio & Electronics
Infotainment — Retrosound classic look stereo with Bluetooth
Sound System — JL Audio speaker and Kenwood Slimline subwoofer
Additional Features — Four USB ports, push start button, Bluetooth, automatic headlights, blind spot assistance