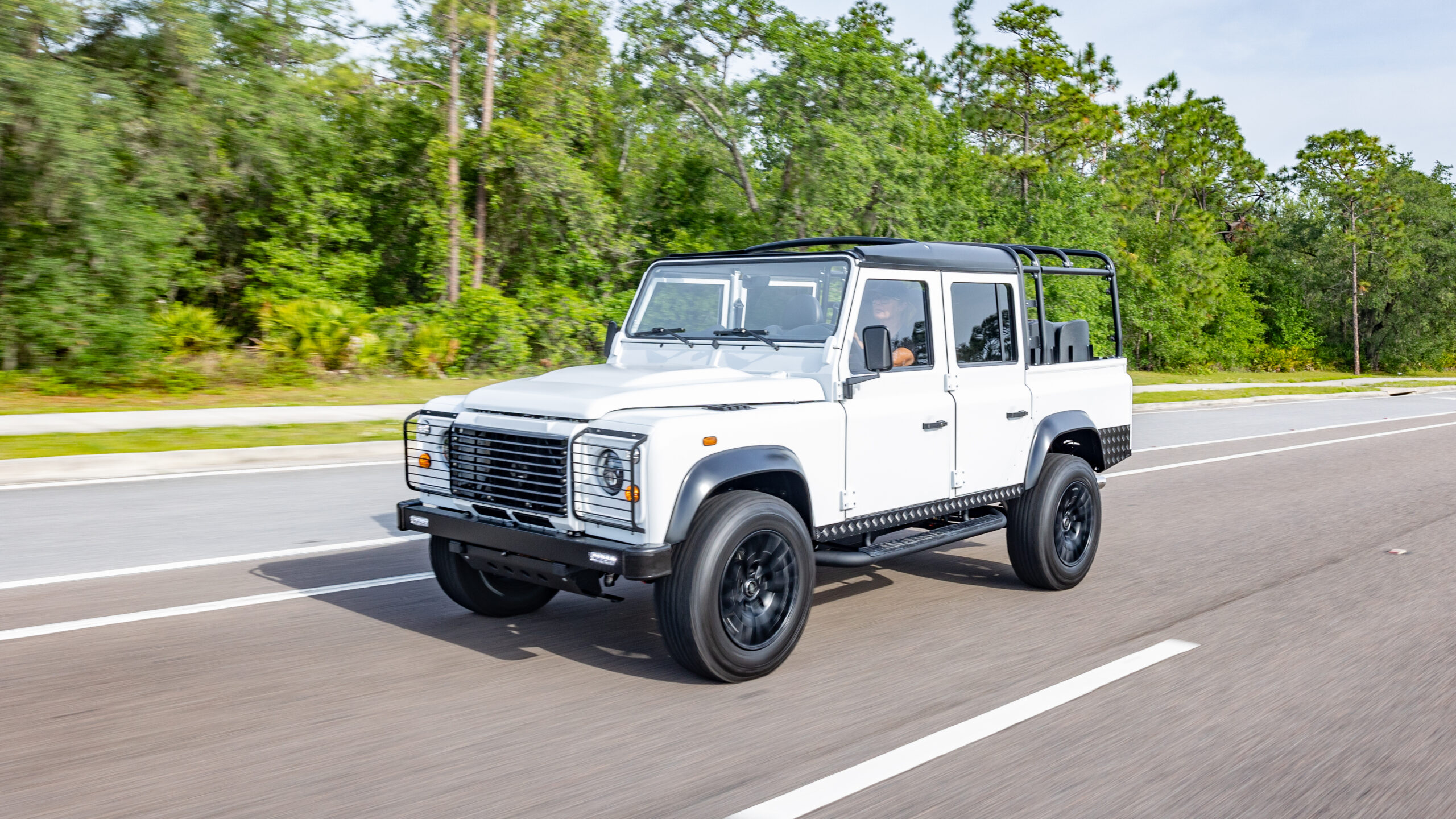 ECD Auto Design (ECD) has revealed its latest build, Project ACK40. The V8-powered, one-of-one Land Rover is the quintessential "mom SUV," and was designed to drive the whole family around in British style, the company said.
"Project ACK40 is a picture-perfect example of a tailor-made ECD build – our ability to deliver Defender-inspired Land Rovers is unparalleled in terms of quality and client service. Beyond the aesthetics, we find out how the client plans to use the truck and design and the perfect vehicle for their lifestyle," said Scott Wallace, CEO and co-founder of ECD.
The convertible off-roader offers traditional and modern amenities, including a personalized soft-top body style painted in eggshell white and a V8 engine under the hood. The client added a multi-point roll cage and metal light guards, as well as all-terrain tires to the package.
Nods to the specially made Series 2A's British heritage continue with a fully updated all-black interior, including a Puma dashboard and Puma seats wrapped in leather. Further updates include All American gauges, a MOMO Prototipo steering wheel, and touchscreen controls for CarPlay, Bluetooth and SiriusXM paired with JL Audio speakers and two Kenwood subwoofers.
Project ACK40
Model — Custom Land Rover Series 2A
Engine — Chevrolet V8
Transmission — 6-Speed Automatic
Axles — Stock
Suspension — ECD Air Ride
Brakes — EBC Fast
Exhaust — Stock with single pipe on left side
Exterior
Paint Color — Fuji White in Eggshell
Soft Top — Black Canvas
Wheels — 18-inch Kahn 1983
Tires — BFGoodrich All Terrain
Grille — Classic
Bumper — Classic with daytime running lights
Additional Features — Series style rear light mounts, extra small fender air intakes, custom black metal steering guard, front horizontal metal light guards
Interior
Seat Layout — 2+2+4
Front Seats — Puma classic seats, heated
Midrow Seats – Puma classic seats
Load Area Seats – 4 inward-facing jump seats
Leather Color — Garrett Cadence Licorice
Seat Design — Horizontal single stitch
Dash – Puma dash wrapped in Garrett Cadence Licorice
Carpet — Black
Steering Wheel — MOMO Prototipo with black spokes
Gauges — All American
Additional Features — Silver metal door furniture
Audio & Electronics
Infotainment — Touchscreen stereo
Sound System — JL Audio speakers and 2 Kenwood subwoofers, one under each mid-row seat
Additional Features — 4 USB ports, CarPlay, Bluetooth, remote start, blind spot assistance, digital rear view mirror