Features
E.C.D. Automotive Reveals New Tesla-Powered Defender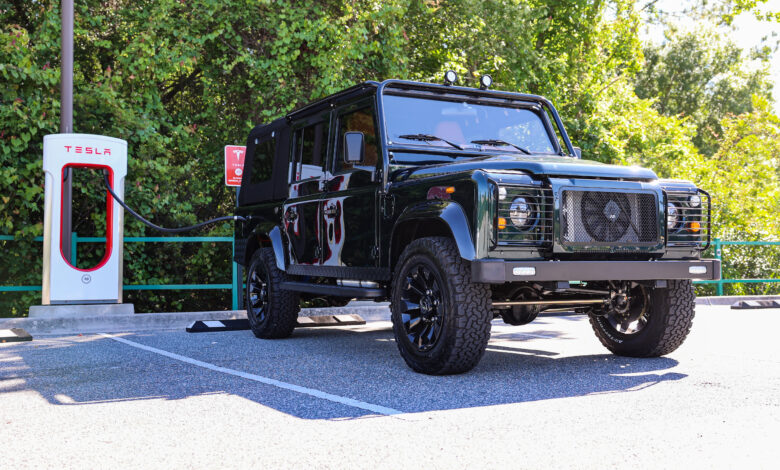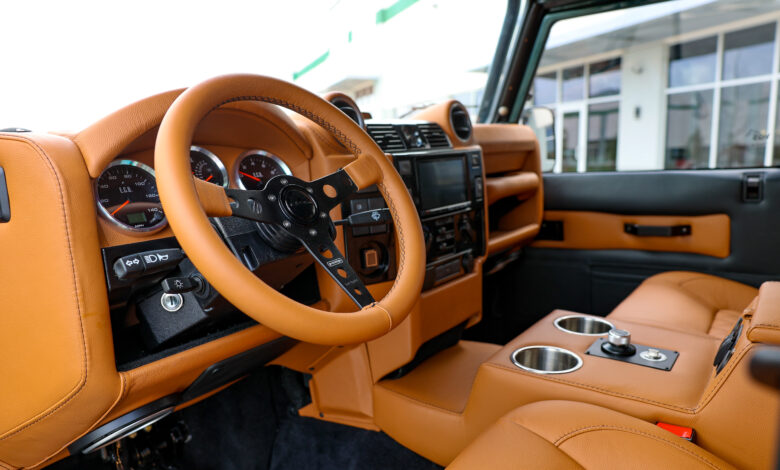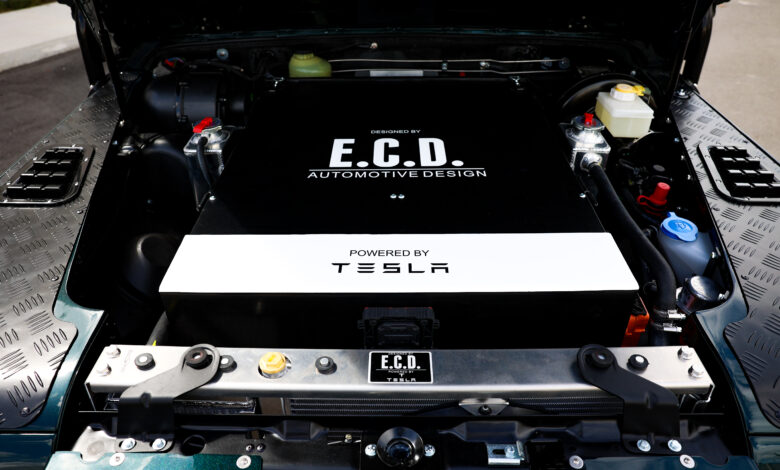 E.C.D. Automotive Design (E.C.D.), has revealed its third-ever electric Defender build.
Named after its new home base, Project Arizona Desert is a 1990 Defender 110 restored and upgraded with an electric Tesla drivetrain that accelerates 0-60 mph in five seconds. In addition to putting out 450 horsepower, the restored Defender has a range of 180 miles on an eight-hour charge.
Torn down to its chassis, the truck was rebuilt over 2,200 hours to actualize the client's personal vision, the company said.
"Project Arizona Desert is the ultimate summer adventure vehicle," said E.C.D. Co-Founder Elliot Humble. "There is no better way to enjoy the outdoors than with an eco-friendly electric Defender optimized for off-roading and going off the beaten path."
Project Arizona Desert is painted in a glossy Aintree Green with black accents throughout. Outfitted with 18-inch Sawtooth wheels, upgraded EBC FAST brakes and raised on E.C.D.'s adjustable Air Ride suspension, the classic Defender is designed to conquer desert trails and tough terrain, designers said. It is also equipped with a convertible soft top roof, a multi-point roll cage with two LED round spotlights mounted on the crossbar and a swing-away wheel carrier on the rear door underline Project Arizona Desert's offroader status.
Inside, the custom Defender has two heated and ventilated Corbeau Trailcat front seats, 60/40 bench seats in the mid row and two forward-facing jump seats in the load area – all hand-stitched in Cadence Spice Garrett Leather. Other tailored touches include a Puma dash, MOMO Prototipo steering wheel and a custom center console with rear air conditioning, all wrapped in the same tan leather as the seats. The old Defender features updated in-car technology, including a KENWOOD eXcelon infotainment system with Bluetooth and wireless CarPlay, WiFi, backup sensor, backup camera, blindspot assistant and multiple USB charging ports, as well as JL Audio speakers and KENWOOD eXcelon subwoofers.
Project Arizona Desert Specifications
Model — Defender 110
Engine — Tesla Direct Drive EV Powertrain, 100kWh Battery Pack, 450 Brake Horsepower Motor
Axles – Strength
Suspension — E.C.D. Air Ride
Brakes – EBC FAST
Additional Features — Convertible Soft Top Roof, Raptor Lined Chassis
Exterior
Paint Color — Aintree Green in Full Gloss
Roof Top Color — Black
Wheels — 18-inch Black Sawtooth Alloy Wheels
Grille — Zunsport Mesh Grille
Front Bumper — Classic Land Rover Bumper with DRLs
Rear Bumper – NAS Bumper Step
Additional Features — Multi-Point Roll Cage, 2 LED Round Spot Lights, Swing Away Wheel Carrier, Full Length Side Steps
Interior
Seat Layout — 2+3+2
Front Seats — 2 Corbeau Trailcat Seats, Heated and Ventilated
Middle Row Seats — 60/40 Bench Seat
Load Area Seats — 2 Forward Facing Jump Seats
Leather Color — Cadence Spice Garrett Leather
Seat Design — Vertical Single Diamond Pattern
Dash – Puma Dashboard Wrapped in Cadence Spice Garrett Leather
Carpet — Black, OEM Rubber Mats All Around
Steering Wheel — MOMO Prototipo Steering Wheel Wrapped in Cadence Spice Garrett Leather
Gauges — E.C.D. Electric Gauges
Center Console — E.C.D. Custom with Rear AC
Audio & Electronics
Infotainment — KENWOOD eXcelon with Bluetooth and Wireless CarPlay
Sound System — JL Audio Speakers and KENWOOD eXcelon Subwoofers
Additional Features — Backup Sensor, Backup Camera, Blindspot Assistant, Rear AC, WiFi, USB