Features
E.C.D. Automotive Design Restores Rare Defender 110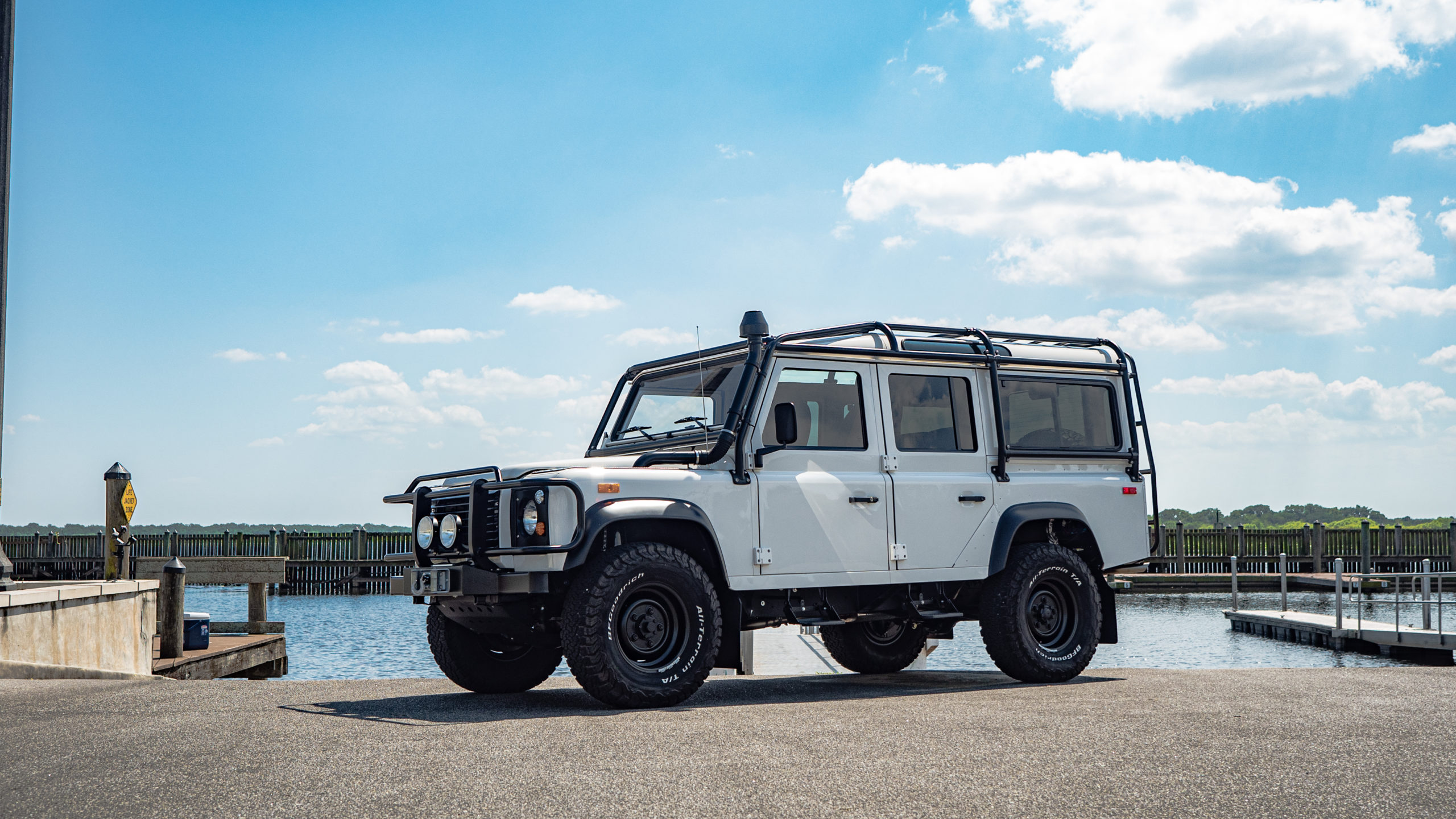 E.C.D. Automotive Design, known for its ground up Land Rover Defender restorations, has delivered a rare and rebuilt North American Spec Defender that would make any Defender enthusiast swoon. The build was brought to E.C.D. by its owner for a complete overhaul, a service that is offered by the bespoke vehicle builder's East Coast Overhaul division.
Project Alpine Yeti is a Defender 110 named after its rare model as a N.A.S. 110, one of only 500 vehicles, and its Alpine white gloss color. While other clients seek out the power of the 6.2L LS3 engine offered by E.C.D, Project Alpine Yeti stands out with its 2.8-liter Cummins diesel engine complemented with a custom Stainless Steel exhaust. Its ARB Air Locking heavy duty pegged differentials, upgraded performance brakes and 2-inch lifted suspension with Fox shocks and uprated springs add to its ability to handle any terrain. Additional specs of the build ensure it is ready to go anywhere from its extended fuel tank and Explorer ladder to its heavy duty Land Rover rubber mats in the rear.
The N.A.S. 110 has several features that remain true to the Defender heritage including its 16" steel wheels, its original N.A.S. full external roll cage and internal roll cage. As an overhaul, E.C.D. has kept several of the build's features original with a fresh coat of paint including its front brush guard bumper with winch, its fold down side-steps, its N.A.S. rear step and its snorkel.
"Through our East Coast Overhaul division, this vehicle now has enough power and refinement to be used everyday. This is a superb and tasteful refurbishment of the ultra-rare classic, the N.A.S. 110," says Founder, Tom.
Inside, Project Alpine Yeti also deviates from the usual design style for E.C.D's builds with two-tone Cadence Spice and Licorice leather on its OEM seats. Its classic dash, fitted with Moal Bomber Short Sweep gauges, was also fully retrimmed along with the original door cards and headliner. With its custom MUD Pod TD5 style console, the build did get some modern upgrades in the overhaul such as a custom E.C.D. center console with rear a.c., keyless entry, a back-up camera, and a 110v outlet under the wheel well.
Project Alpine Yeti Specifications
Model — Overhauled 1993 N.A.S. Land Rover Defender 110
Engine — 2.8 L Cummins Diesel
Transfer Case — New Genuine Land Rover Transfer Case
Transmission — Dodge 8-speed Automatic
Suspension — 2″ Lift Fox Shocks & Springs
Differentials — 3.54 ARB Lockers Heavy Duty Pegged
Brakes — Upgraded Performance
Exhaust — Stainless Steel Diesel
Additional Features — Hand built aluminum radiator with twin coolers, Upgraded Fuel Lines, Regulator & Pump, Extended Fuel Tank, Custom Upgraded Drive Shafts
Exterior
Paint Color — Alpine in full gloss
Roof Paint Color — Alpine in full gloss
Wheels — 16″ Steel wheels in black
Tires — BFGoodrich All-Terrain T/A
Bumper/Winch — N.A.S. bumper with winch and LED spotlights
Roll Cage — Full external N.A.S. roll cage
Lights — Kept as is
Additional Features — N.A.S. rear step, Explorer ladder, wheel carrier, retrimmed side steps, legal limit window tint, Snorkel
Interior
Front Seats — Exmoor Trim Retrimmed
Middle-row Seats — Retrimmed
Load Area Seats — Retrimmed
Leather — Cadence Spice and Licorice
Seat Design — Two – Tone with OEM style (Front seats and middle row)
Steering Wheel — Momo Indy Wood with Black center cap
Gauges — Moal Bomber short sweep – Keep original warning light cluster add 2 other gauges to the MUD pod
Center Console — E.C.D custom with rear a.c.
Carpet — Black
Custom — Mud Pod – TD5 Style Console, Internal roll bar, Heavy Duty Land Rover rubber mats,
Audio & Electronics
Radio — Alpine for wireless car play
Sound System — JL Audio Amplified
Remote Start — Yes
Additional Features — Back-Up Camera, Tow & Wire, 110V Outlet, Additional Battery for 110V, Dedicated light switches for spot lights and rear work lights – 2 gen switches ordered C38637, need to be mounted to the left of the steering wheel on the stock plate, Keyless Entry, Remote Locking