Features
E.C.D. Automotive Design Introduces 'Project Sweet Pea'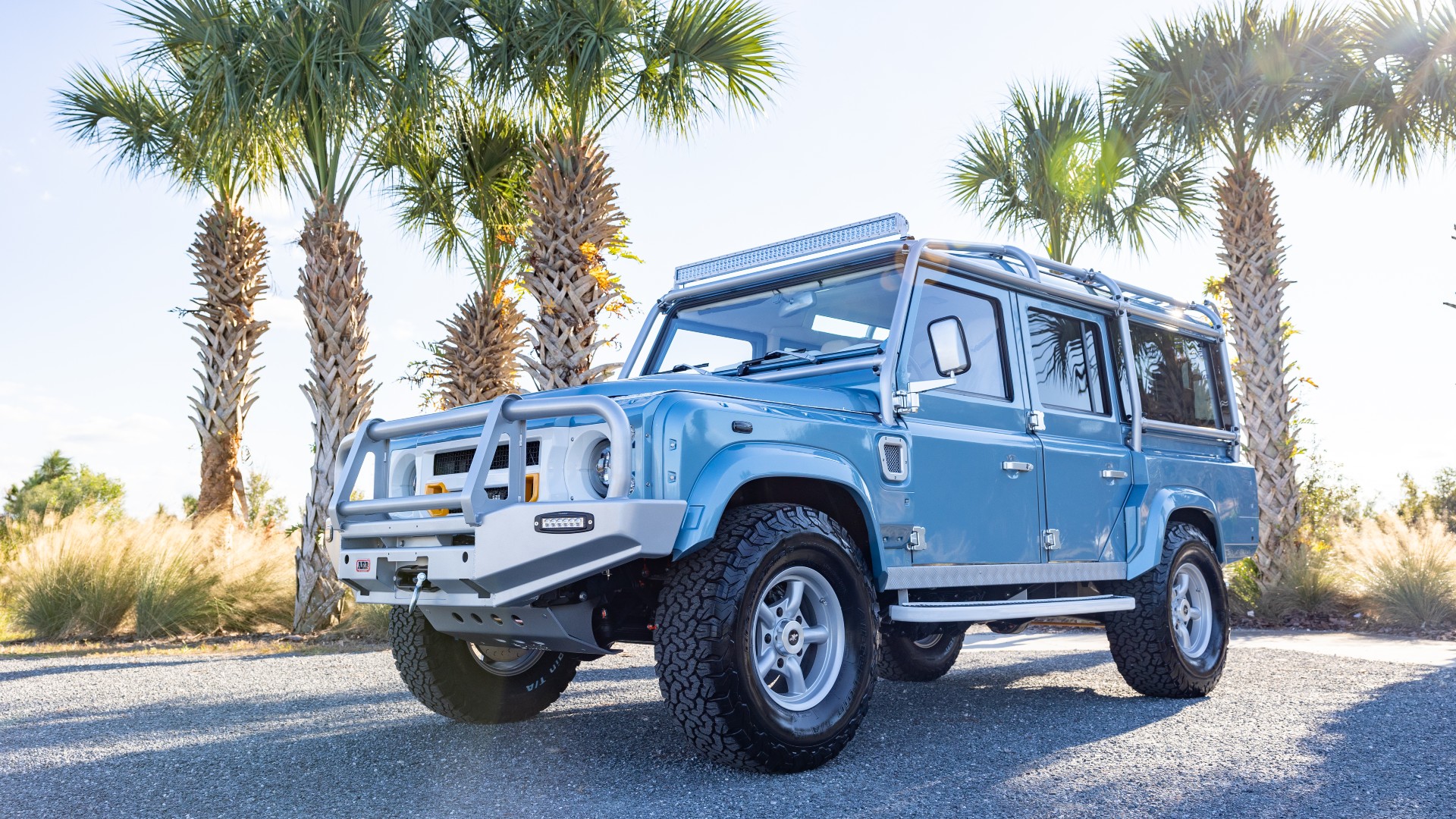 E.C.D. Automotive Design (E.C.D.) has introduced its newest build: Project Sweet Pea.
The vintage Defender 110—designed for a client's significant other, the outfit said—is powered by an LT4 engine, and features a blue finish with white, yellow and silver accents.
"Project Sweet Pea captures the romance of Land Rover Defenders, and designing an entirely unique and upgraded version keeps the magic alive in the 21st century," Co-Founder of E.C.D. Tom Humble said. "Our master craftsmen were able to bring our client's vision to life, and what's more romantic than their partner paying for it?"
With the exterior color matched to a classic blue Ford color – Project Sweet Pea sits on 16-inch Land Rover HD5 pipe alloy wheels and BF Goodrich All-Terrain tires. Underneath, the old Land Rover Defender has an updated silver steering guard with custom engraving. The LT4 Defender features a Kahn X-Lander grille in the same metallic blue paint with white and yellow accents. The original Defender also features a marine-grade LED light bar square in white with clear lenses, strengthened axles and a dual exhaust with one pipe on each side.
The Defender's white interior continues the same light blue and silver accents throughout. The one-of-one restored build features four white heated Recaro Sportster Cross seats with a custom "Sweet Pea" logo embroidered on the headrests and alligator seat inserts in lieu of traditional stitching. Project Sweet Pea also has an extended center console in the middle, with four rear cupholders and two rear Diablo Billet aluminum air-conditioning vents. In the rear, the four jump seats wrapped in Caressa Porcelain leather contrast against the teakwood flooring, which is stained to match the NRG Innovations steering wheel's classic wood grain. Tying the interior together are silver round Billet Buttons across all the upgraded audio additions, including the touchscreen Kenwood eXcelon with CarPlay and an Infinity Kappa sound system. Final touches include five USB ports, four carpeted floor mats and blue seatbelts and seatbacks.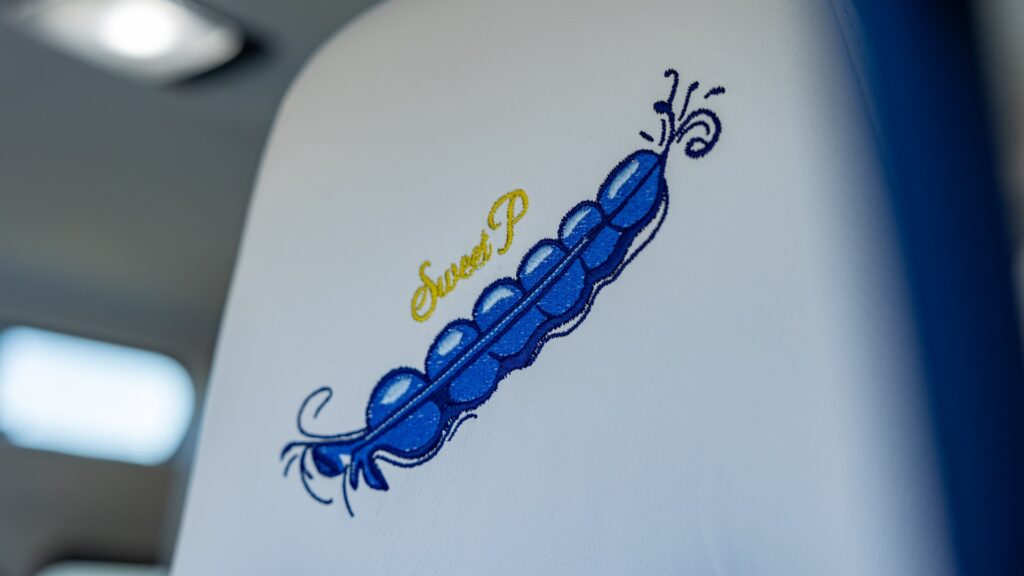 Project Sweet Pea Specifications
Model — Defender 110
Engine — GM LT4
Transmission — 8-Speed Automatic
Axles — Strength
Suspension — E.C.D. Air Ride
Brakes — High-Performance ALCON
Exhaust — Borla Sport Dual Exhaust with one pipe on each side
Exterior
Paint Color — Ford Brittany Blue Metallic in Gloss with white wing top checkers, wing top air Intakes and side steps
Wheels — 16" Land Rover HD5 Pipe Alloy with silver lug nuts
Tires — BF Goodrich All Terrain
Grille — Kahn X-Lander in Ford Brittany Blue Metallic, white and yellow
Bumper — ARB Bull Bar with winch
Additional Features — Marine-grade LED light bar square in white, engraved steering guard with "SHARP," remote-controlled Warn winch, full-length side steps, clear lenses in LED lights
Interior
Seat Layout — 2+2+4
Front Seats — Recaro Sportster Cross with seatbacks in Ford Brittany Blue Metallic and custom-embroidered headrests, heated
Midrow Seats — Recaro Sportster Cross with seatbacks in Ford Brittany Blue Metallic, heated
Load Area Seats — 4 Inward-facing jump seats
Leather Color — Caressa Porcelain with Chatham Navy Accents
Seat Design — Alligator leather seat inserts
Dash – Puma wrapped in Caressa Porcelain leather, Chatham Navy passenger grab handle
Carpet — Auto Carpet Navy Blue
Steering Wheel — NRG Innovations ST-065 in Classic Wood Grain
Gauges — Esquire
Additional Features — Extended center console with 4 mid-section cupholders, Teakwood flooring in cargo with painted wheel wells, blue seatbelts, Diablo with Cap Screws Dual Vane Billet Aluminum A/C Vent, 4 carpeted floor mats
Audio & Electronics
Infotainment — Touchscreen Kenwood eXcelon
Sound System — Infinity Kappa speakers and subwoofer with silver accents
Additional Features — Silver metal round Billet Buttons, 5 USB ports, Bluetooth, CarPlay, Sirius XM, Optimil Heater Vent Controls, back-up camera, blind spot assistance