Features
E.C.D. Automotive Design Introduces New EV Build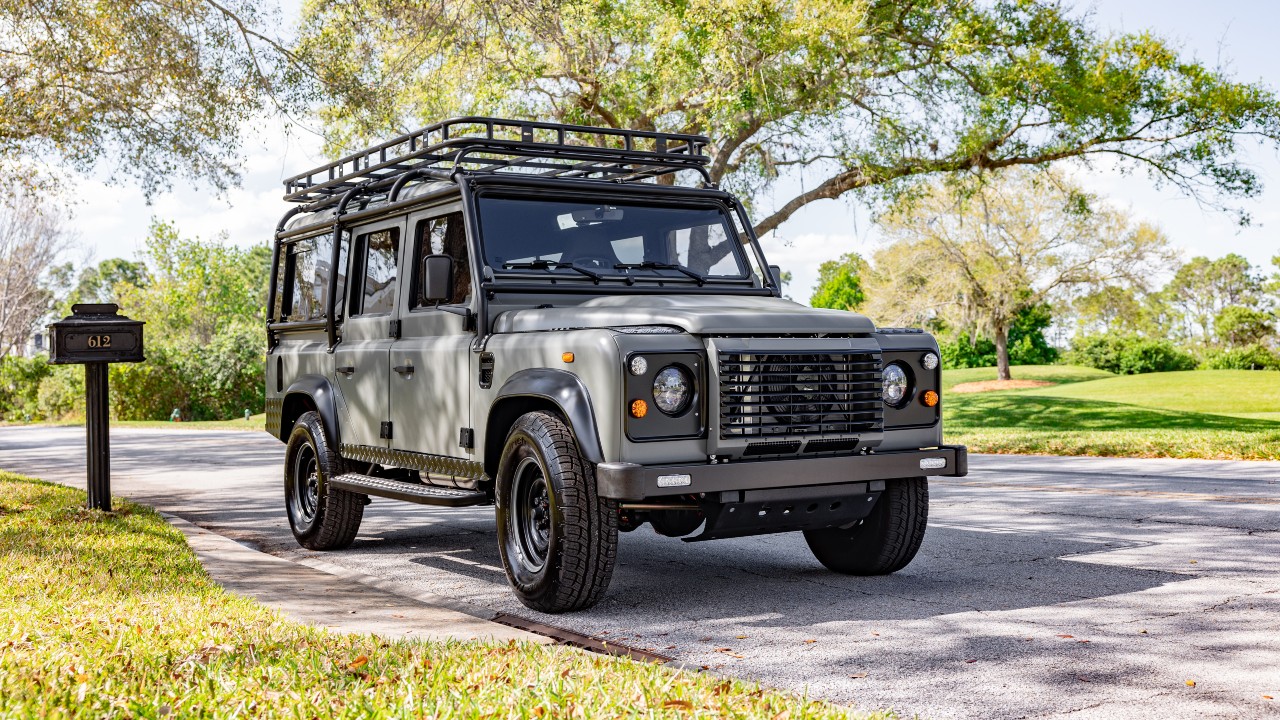 E.C.D. Automotive Design (E.C.D.) has unveiled its latest build, Project Ghost, a matte gray Land Rover Defender 110 powered by an EV drivetrain, the company announced.
"Perhaps the most important part of our client journey is helping our clientele design the best custom Defender for their use. We ask where the build will live, how they plan to use it, the stature of the primary driver and more – all to guide them in the right direction to create a Defender they'll love to drive," said E.C.D. CEO and co-founder Scott Wallace.
Adjusted for the client's height, Project Ghost features reduced size and lowered seat box – allowing the seat to sit lower and to be able to move further back – to accommodate a taller everyday driver than original Defenders. Under the hood, the electric Defender has a 450-hp motor and a 100kWh battery pack, the builder said. The classic Defender 110 sits on 16-inch Wolf Steel wheels in matte black, matching the other exterior black accents, including the roll cage, steering guard and vents.
Inside, the restored Defender has modern black leather Corbeau Trailcat reclining seats with scarlet red vertical diamond single stitch on the seatbacks. With space for up to seven people, the middle has three Land Rover 60/40 seats and the back has two forward-facing jump seats. In the front, Project Ghost's Puma dashboard is wrapped in the same black leather, with the traditional panel and center console positions switched for driver convenience and finished off with E.C.D. electric gauges. Other custom features include the black MOMO Prototipo steering wheel and metal billet buttons on the radio panel.
The Defender is also equipped with an Alpine Halo touchscreen, JL Audio speakers and JBL Active subwoofer to access Bluetooth, CarPlay, Sirius XM and traditional radio stations. Additional deluxe updates include three USB ports, WiFi and a backup camera.
Project Ghost
Model — Defender 110
Engine — Tesla direct drive EV powertrain, 100kWh battery pack, 450 brake horsepower motor
Axles — Strength
Suspension — E.C.D. Air Ride
Brakes — High-Performance ALCON
Additional Features – Big and Tall seatbox
Exterior
Paint Color — Quantum Gray in Matte
Wheels — 16-inch Wolf Steel in matte black
Tires — BF Goodrich All Terrain
Grille — Classic
Bumper — Classic with daytime running lights
Additional Features — 6-point roll cage
Interior
Seat Layout — 2+3+2
Front Seats — Corbeau Trailcat reclining seats, heated
Midrow Seats — Land Rover 60/40 seats
Load Area Seats — 2 forward-facing jump seats
Leather Color — Garrett Cadence Licorice CA150
Seat Design — Vertical diamond single stitch in Garrett Scarlett T1010
Dash – Puma wrapped in Garrett Cadence Licorice leather
Carpet — Black
Steering Wheel — MOMO Prototipo
Gauges — E.C.D. electric gauges
Additional Features — Billet metal buttons on DIN panel, switched panel and center console
Audio & Electronics
Infotainment — Alpine Halo touchscreen
Sound System — JL Audio speakers and JBL Active subwoofer
Additional Features — Billet metal buttons on center console, 3 USB ports, Bluetooth, CarPlay, Sirius XM, WiFi, back-up camera