Features
E.C.D. Adds Corvette LT1 to Drivetrain Catalog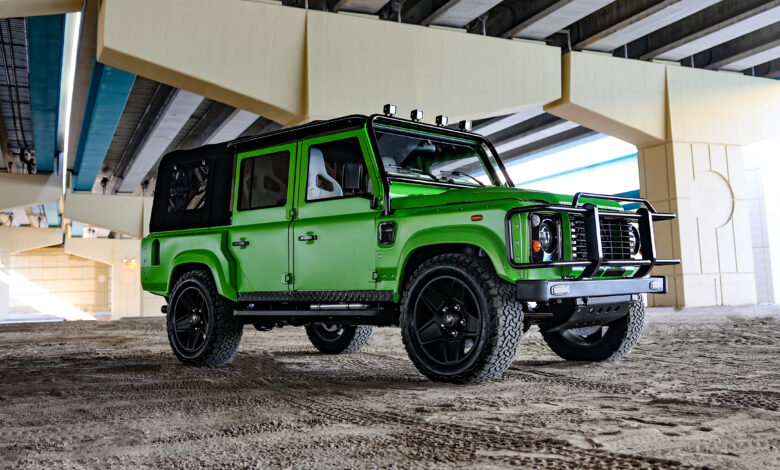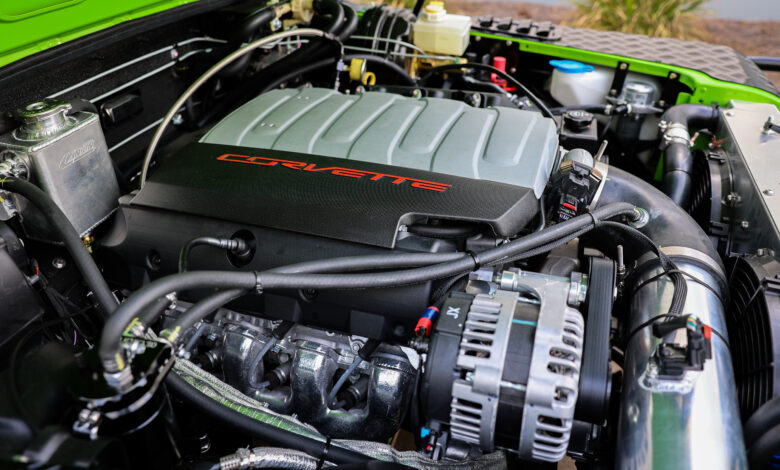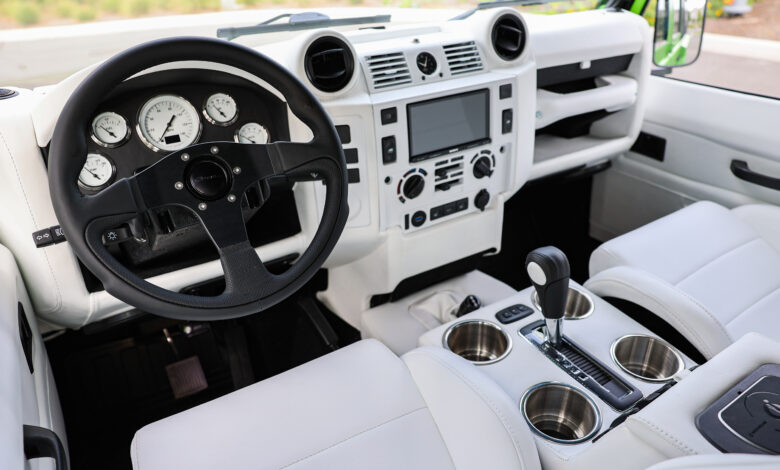 E.C.D. Automotive Design (E.C.D.), has delivered Project Naw, a neon green Defender 110 powered by a Corvette LT1 engine. The newest addition to E.C.D.'s drivetrain catalog, the 450 horsepower LT1 engine packs 465 ft. lb. of torque and accelerates from zero to 60 mph in just six seconds.
Originally a 25-year-old U.K. work vehicle, the vintage Defender arrived at E.C.D.'s Rover Dome 14 months ago for a complete overhaul. Custom-restored to the client's unique vision, Project Naw is painted in Verde Mantis paint – a Lamborghini Huracan color – with black accents.
"Project Naw is a brilliant example of what we do at E.C.D., where everything is possible," said Co-Founder of E.C.D. Scott Wallace. "Unbound by convention and driven by our clients' creativity, our talented craftsmen and engineers bring dream cars like Project Naw to life, and they remain unmatched to anything else on the road."
Project Naw pays homage to its old Land Rover Defender origins with signature classic Defender features like its convertible soft top roof, multi-point roll cage, classic style bumper and grille, Kahn Mondial Retro wheels and swing-away wheel carrier. Aside from its new engine with 8-speed automatic transmission, the restored Defender's other enhancements include adjustable Air Ride suspension and upgraded Brembo brakes with custom Verde Mantis calipers, as well as a custom Borla exhaust system with resonator and muffler.
The custom Defender's interior features Hydes Pelle Fresco Frost leather on its RECARO Cross Sportster CS front and middle seats and the jump seats in the rear. The Puma dash, door cards and custom center console are also wrapped in the same white leather as the seats. Additional modern upgrades include a new Infinity Kappa sound system, front and back-up camera, blind-spot assistance, back-up sensor, wireless charger, WiFi and multiple USB charging ports.
Project Naw Specs
Model — Defender 110
Engine — GM 6.2L LT1 V8 Engine
Transmission — 8-Speed Automatic
Axles – Strength
Suspension — E.C.D. Adjustable Air Ride
Brakes – Brembo
Exhaust – Borla Stainless Steel Dual Exhaust with Resonator, Muffler and Black Tips
Additional Features — Convertible Soft Top Roof
Exterior
Paint Color — Lamborghini Verde Mantis with Eggshell Finish
Roof Top Color — Black
Wheels — Kahn Mondial Retro
Grille — Classic Land Rover Grille
Front Bumper — Classic Land Rover Bumper with DRLs
Rear Bumper – NAS Bumper
Additional Features — Multi-Point Roll Cage, 4 LED Square Spot Lights, 1 LED Square Rear Work Light, Swing Away Wheel Carrier, Full Length Side Steps, E.C.D. Custom Black Steering Guard
Interior
Seat Layout — 2+2+2
Front Seats — 2 RECARO Cross Sportster CS Seats, Heated
Middle Row Seats — 2 RECARO Cross Sportster CS Seats, Heated
Load Area Seats — 2 Forward Facing Jump Seats
Leather Color — Hydes Pelle Fresco Frost Leather
Seat Design — Horizontal Stitch Pattern
Dash – Puma Dashboard, Wrapped in Hydes Pelle Fresco Frost Leather
Carpet — Black, OEM Rubber Mats All Around
Steering Wheel — Nardi Challenge Steering Wheel Wrapped in Black Leather
Gauges — Hot White 5 Gauge Set
Center Console — E.C.D. Custom with Rear AC, Wrapped in Hydes Pelle Fresco Frost Leather
Audio & Electronics
Infotainment — Sony Radio
Sound System — Infinity Kappa Speakers and Subwoofers
Additional Features — Bluetooth, WiFi, Backup Sensor, Front and Rear Camera, Blindspot Assistant, Wireless Charger, USB, Rear AC