Features
Dodge Introduces Final 'Last Call' Challenger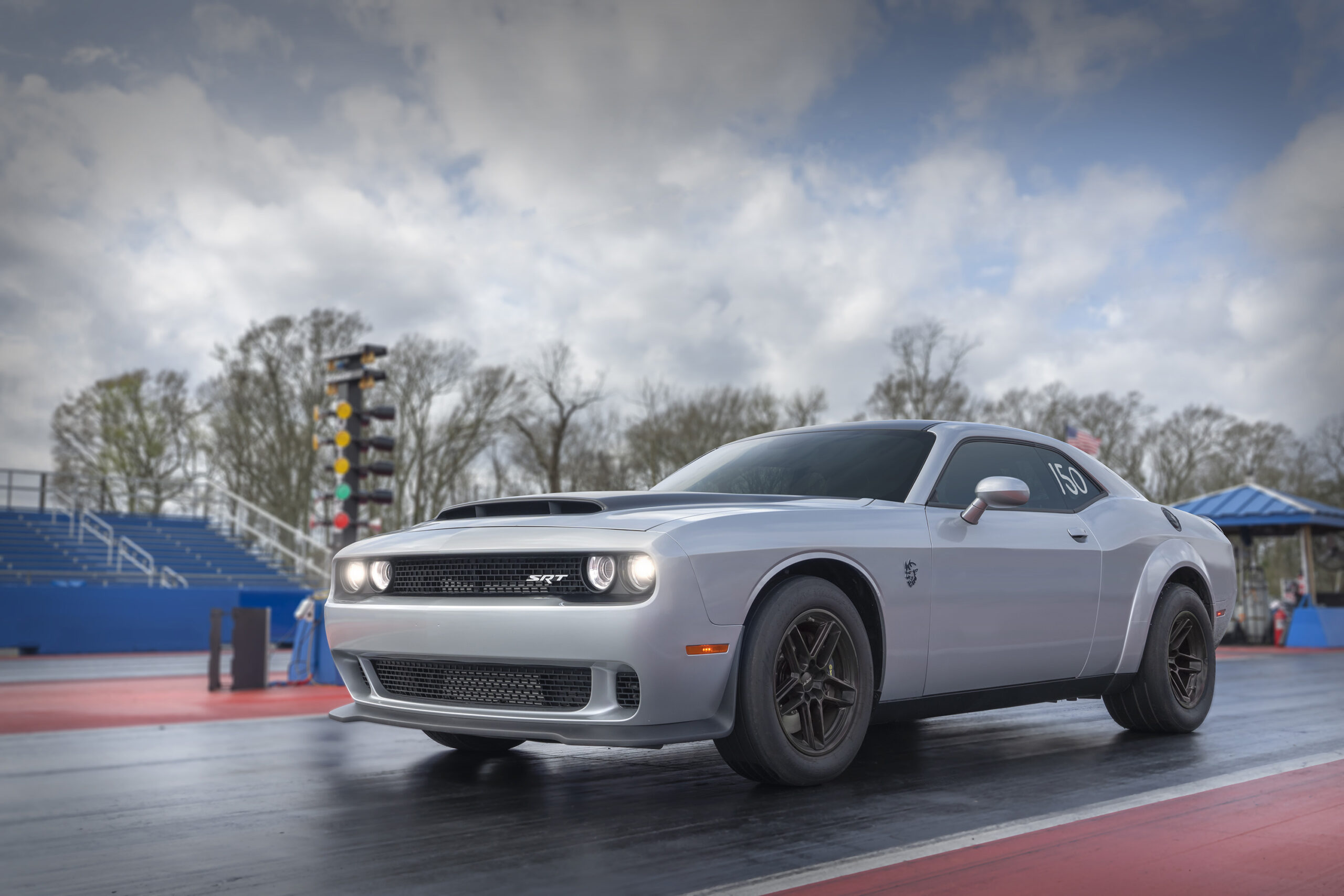 Dodge has introduced its final "Last Call" special-edition model: the 1,025-hp 2023 Dodge Challenger SRT Demon 170.
With its 1,025-hp, 945 lb.-ft. production HEMI engine, the Dodge Challenger SRT Demon 170 reaches 60 miles per hour (mph) in 1.66 seconds and features the highest g-force acceleration of any production car at 2.004 gs, Dodge claims. The Demon 170 can also reach 900 horsepower and 810 lb.-ft. of torque on E10 fuel.
The Challenger SRT Demon 170 also runs the quarter mile under 9 seconds with a National Hot Rod Association (NHRA)-certified 8.91-second ET at 151.17 mph. On the drag strip, the Challenger SRT Demon 170 receives an NHRA violation letter for running a sub-nine-second quarter-mile without a safety cage or parachute, following in the footsteps of the original Demon, which was also banned from NHRA quarter miles, Dodge said.
According to Dodge, all primary engine power components are completely upgraded, with the camshaft being the only significant part untouched.
Dodge provided the following list of features and highlights:
Modified 3.0-liter supercharger features a larger snout with 105mm throttle body and 3.02-inch pulley.
All-new driveline includes HIP (Hot Isostatic Pressing) processed housings, larger 240mm ring and pinion, pressure cast new case and new mountings, rear axle housing is 53 percent stronger with new geometry rear differential housing and featuring Direct Connection logo, larger rear cover-mount fasteners, increased case depth and more.
Rear prop shaft 30 percent stronger than original Demon and stronger half shafts designed with larger inner-connecting spline and revised heat treatment.
315/50R17 Mickey Thompson ET Street R drag radials.
Patent-pending TransBrake 2.0 includes torque-shaping capability.
Unique Drag Mode suspension with custom race settings for drag calibrations.
Staggered drag radial tires and fender flares.
Revised rear suspension for an increased contact patch.
High-flow fuel rail and injectors are capable of providing 164 gallons of fuel per hour.
Optional Lacks Enterprises two-piece lightweight carbon fiber wheels with weight savings of 157 pounds in comparison to Challenger SRT Hellcat Redeye Widebody.
Removal of front flares saving 16 pounds.
Air-Grabber hood and Air Catcher headlights, as well as Air-Grabber hood bezel laser etched with "Alcohol Injected" logo.
SRT Power Chiller that diverts the air conditioning system to cool the supercharger intercooler.
Drive Modes, including an updated Drag Mode, and performance pages.
Additionally, the Challenger SRT Demon 170 will be available in 14 exterior color options and carries a unique reworking of the original Demon badge featuring a 170-neck tattoo and new E-85 representative yellow Demon's eye. The interior adds a yellow and red serialized Demon instrument panel badge, with four interior choices including standard lightweight cloth with driver seat only, optional full cloth interior, premium Black Nappa leather and Alcantara or Demonic Red Laguna leather.
Customized content includes a commemorative Demon decanter set with personalized and serialized owner information and an available customized Goodwool car shell, as well as personalization options through Direct Connection, including a harness bar with coordinating lightweight carbon fiber rear seat delete inserts.
The 2023 Dodge Challenger SRT Demon 170 production will be limited to at most 3,300 units, with 3,000 for the U.S. market and 300 for Canada, and with final total based on production capacity.