Features
Crossing Over: Towing Market Proves Promising
Sponsored by Keystone Automotive Operations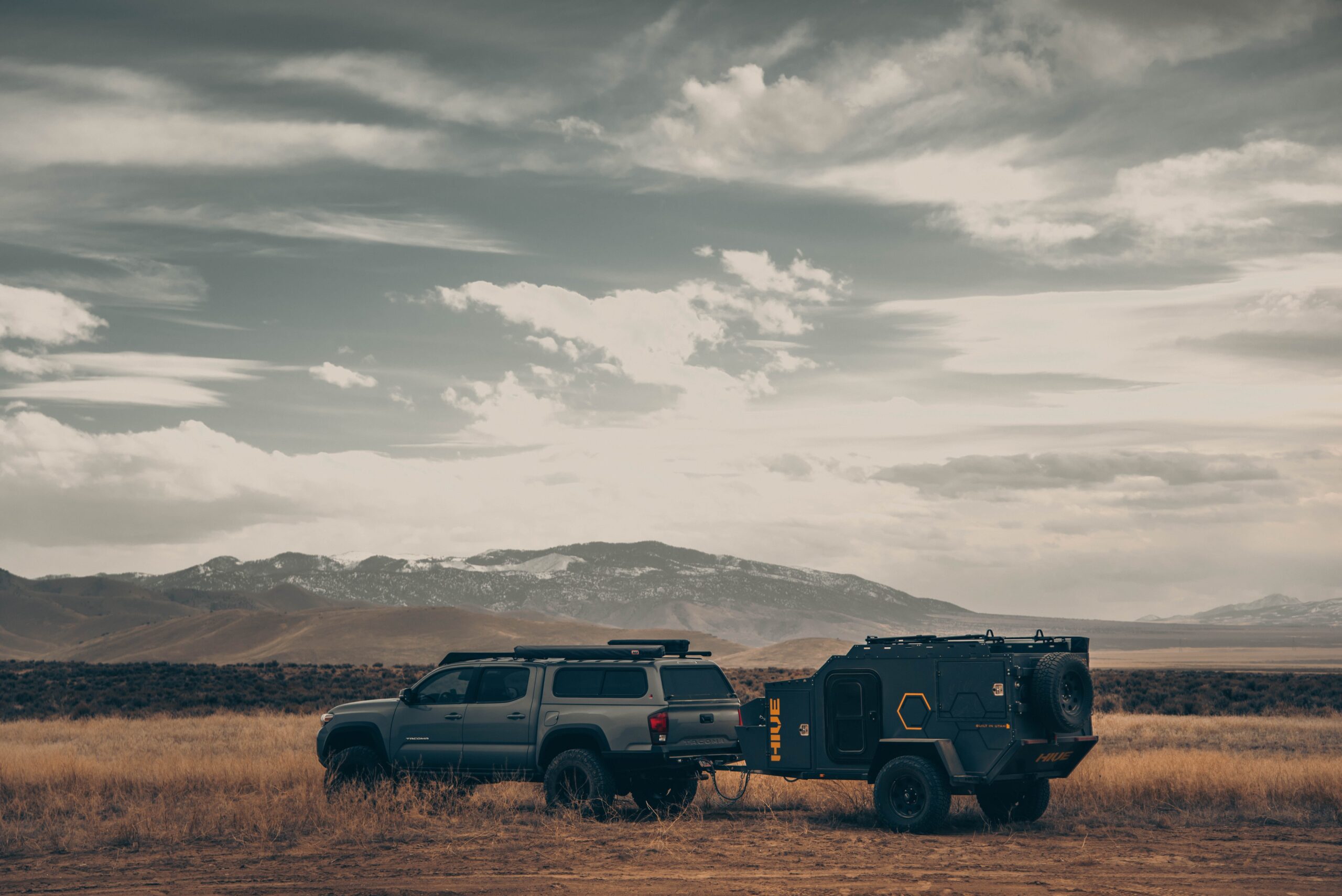 Often discussed alongside RV, the towing category is a proven source of reliable revenue for the automotive aftermarket. SEMA data shows trailer and towing products are growing in market share every year, last clocked at $0.96 billion. That number is expected to keep growing, too.
Despite record low inventory in both the new and used vehicle markets, tow-friendly industries like RV, marine and off-highway vehicles have enjoyed a sustained rebound since pandemic shutdowns. Additionally, while it's more plausible to find a pickup truck towing a travel trailer, boat or pair of ATVs down the highway, the recent – and rapid – growth of the crossover (CUV) segment is redefining what a tow vehicle looks like.
According to SEMA data, CUVs represent the largest share of new vehicles sold and is officially the fastest-selling vehicle segment. The increase in popularity has garnered more manufacturer interest – and investment. Many CUVs are equipped with 4WD or AWD, as well as off-road-focused packages, enhancing their driving and towing capabilities.
"Whether it's a truck, SUV, minivan, or small vehicle, towing products are not as defined into a niche as I think they once were," says John Spaulding, category manager — towing products. "Once upon a time, if you bought a towing product, you were towing something. Right now, it's towing or hauling and that opens up the market to a lot of different customer types."
Essentially, he says, anyone who owns a vehicle today is a potential sales target.
While commercial and recreational applications still dominate towing purchases, complementary markets continue to emerge and attract diverse consumers to the category. UTV, off-road, motorcycle, racing, marine – Spaulding says jobbers should recognize opportunity all around them, perhaps where it didn't even exist before.
In fact, consumer interest in outdoor recreation bloomed during the pandemic, opening the door to new sales opportunities. Lucky for jobbers, it looks like the door is staying open. The RV industry shipped a record 600,240 units in 2021 and RVIA forecasts a second-best 591,100 units for 2022. Similarly, SEMA reports the UTV market saw 2021 Q1 unit sales 50% higher than in 2020. While those numbers dropped significantly in 2022, manufacturers blame supply chain issues and stress that consumer demand remains sky-high.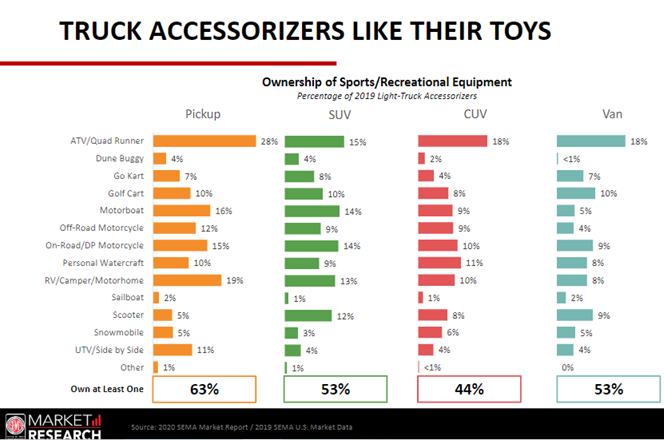 As SEMA data reveals, many light-truck vehicle owners also own some form of sport or recreational gear – a percentage which has only increased as UTV, RV, and marine markets reached record highs during the pandemic. Transporting these items often requires specialty towing equipment.
A jobber trying to sell towing products this year should take time to recognize every opportunity that a customer presents when they come into their store.
On the recreational side, Spaulding says the passion of the vehicle owner drives the purchase – however obscure it may be. Think beyond traditional campers and consider side-by-side vehicles, cargo carriers, even BBQ trailers heading to national competitions. Spaulding says jobbers who want to expand their towing business need to think outside traditional receiver hitch installation in order to be successful.
"For me, it's being engaged in understanding the customer and knowing your product to see if you can create an entrée to a discussion," he says. "Help consumers recognize a problem and offer up a solution that they may not even have been thinking about. Active selling – that's really how [jobbers] will continue to do well with towing products."
For example, if a customer stops by looking for floor mats, a good salesperson knows to scope the vehicle for common-sense complementary upsells like trunk liners and seat protectors. Spaulding says no visible receiver hitch is just as natural a conversation starter, as it prompts questions about vehicle intent versus actual use. This information can then be used to determine if there is a suitable towing application the customer did not properly consider.
Does this vehicle double for camping, or haul bikes around? Could the consumer benefit from an additional cargo carrier out back to free up interior space? Spaulding says any kind of 'yes' sets the stage for an upgrade.
Additionally, Spaulding says jobbers should not be afraid to think big. Landscapers, contractors and large utility companies are a natural fit for not only individual towing upgrades, but also full fleet-wide upfitting.
Something for Everyone
Aftermarket accessories like hitch balls, ball mounts, adjustable ball mounts, receiver hitches, brake controls and wiring harnesses remain bread-and-butter opportunities. For jobbers and installers looking to expand their shop's towing revenue, Spaulding says pay close attention to market trends emphasizing utility, convenience and versatility – and remember towing products are essentially a gateway to a preferred lifestyle.
Adjustable receiver hitches, for example, give users ultimate flexibility. A commercial customer may have multiple trailers, a boat and an RV, requiring an adjustable ball mount to pull a lower swung flat-bed hauling materials for a project. Then, when weekend fun comes calling, the equipment easily readjusts to tow a travel trailer or boat.
Still, others are drawn to the aesthetic of towing products. Big, rugged, and often ostentatious ball mounts are prevalent on the SEMA Show floor, Spaulding notes.
"It's a signature piece – or a design element – that plays into the whole truck's theme and the utility of the receiver hitch remains intact," he says, referencing popular brands like GEN-Y, BulletProof and B&W. "Clearly, it's a different kind of buyer, but that's always a market for jobbers."
The European-inspired hidden hitch design, which seamlessly tucks underneath the bumper when not in use, is making its debut in North America under Draw-Tite. Spaulding says it is an ideal option for specialty vehicle owners who are concerned with aesthetics and may not want to have a black, square hitch poking out the bottom of the bumper for all to see.
"It's an interesting new concept that installers may be able to take advantage of. It's likely a market they currently aren't serving and can," he adds.
The other trend Spaulding notices is a clear shift toward lighter design solutions in the fifth-wheel category. A permanently installed fifth-wheel hitch can limit a vehicle's use. Lugging a couple-hundred-pound hitch in and out of a truck bed to pick up gravel or transport goods is neither practical nor safe.
New lightweight designs, however, can be used in standard rails, with puck systems, and even vehicles equipped with a gooseneck, Spaulding says, pointing to the all-new Crosswing by Curt Manufacturing. He expects the trend to only grow, as consumers demand greater functionality and safety from their towing products.
"There was a lot of uncharacteristically strange dynamics in the market the past 18 months or so, just based on product availability," Spaulding says. "Last year, folks may have been scrambling to find product wherever they could, so if the RV dealer didn't have it – which is traditionally where the fifth-wheel hitch is sold – they may have gone to a local traditional hitch installer and found a product. Whether or not the same trends hold, I can't say. But for the jobber, the pipeline is a lot better than last year this time."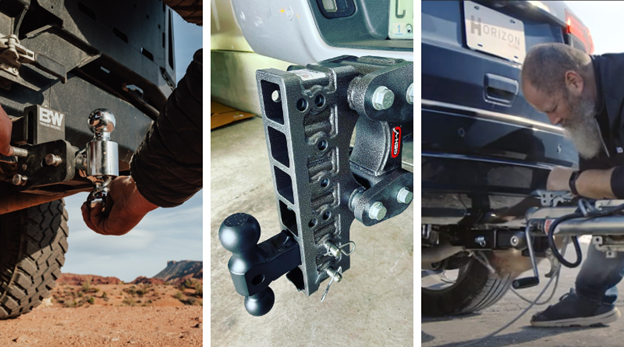 Trailer and towing equipment offers consumers more than just utility. While some shoppers seek flexible solutions to better suit their multi-use vehicles, others are prioritizing aesthetics – from big and burly ball mounts to sleek and stealthy hidden hitches.
Playing it Safe
Safe towing equipment is following the same upward pendulum swing. Spaulding points to Equal-i-zer's new OnTarget™ digital measuring tool. Working like the laser measuring devices found in construction, OnTarget™ makes quick work of weight distribution calculations. Customers simply measure the distance from their vehicle's wheel well to the ground – once unloaded and then loaded – and the device calculates the weight distribution percentage. OnTarget™ can also be used to level a trailer when setting up camp for the night.
"It's a handy tool for dealers and jobbers who are doing installations and want to make sure customers are leaving with the proper setup," Spaulding says. "Likewise, it's a great product for DIY consumers who might be towing multiple vehicles or hauling various water tanks and want to ensure the right setup for maximum safety and security."
Brake controllers are another area for jobbers to maximize margins. Many consumers dislike the knee-knocking that comes with traditional under-dash mounted brake controllers, while safety air bags on some newer-model trucks are actually rendering the location a hazard. Spaulding notes REDARC's Tow Pro range as "a truly innovative" brake control system, featuring a sleek OEM appearance with intuitive controls and a behind-the-dash mounting orientation.
"It's a nice upsell from a basic, entry-level option, which works fine but is complicated to install," he says. "In the case of REDARC, you're getting high-caliber quality with an OEM fit and finish and the best performance on the market for $100-plus. That's a good price point for the consumer and added margin for jobbers – it's a win-win that adds to the towing experience."
Similarly, while many new vehicles sporting a towing package come with a brake control system pre-installed, Spaulding says the used vehicle market is ripe for jobbers and installers to target.
New vehicles may boast innovative safety and convenience technology, but they also wear extraordinary price tags. That greater barrier to entry is driving many consumers to seek out pre-owned vehicles, and even more to consider holding onto their existing rides. An aging U.S. fleet, composed of vehicles now expected to perform as a daily driver, weekend warrior, and toy hauler all in one, spells big opportunity for the automotive aftermarket. From ongoing maintenance and repair to utility upgrades like towing equipment to traditional customization efforts, the road ahead is paved with good opportunities.
---
About This Sponsored Content
Keystone Automotive Operations is the leading distributor and marketer of automotive aftermarket products and services, uniquely positioned to offer customers and suppliers substantial scale, the most comprehensive inventory selection in the industry, high levels of customer service and innovative marketing support. Keystone is committed to expanding its offerings to meet the ever-growing needs of its customer base, providing them everything they need, when they need it.