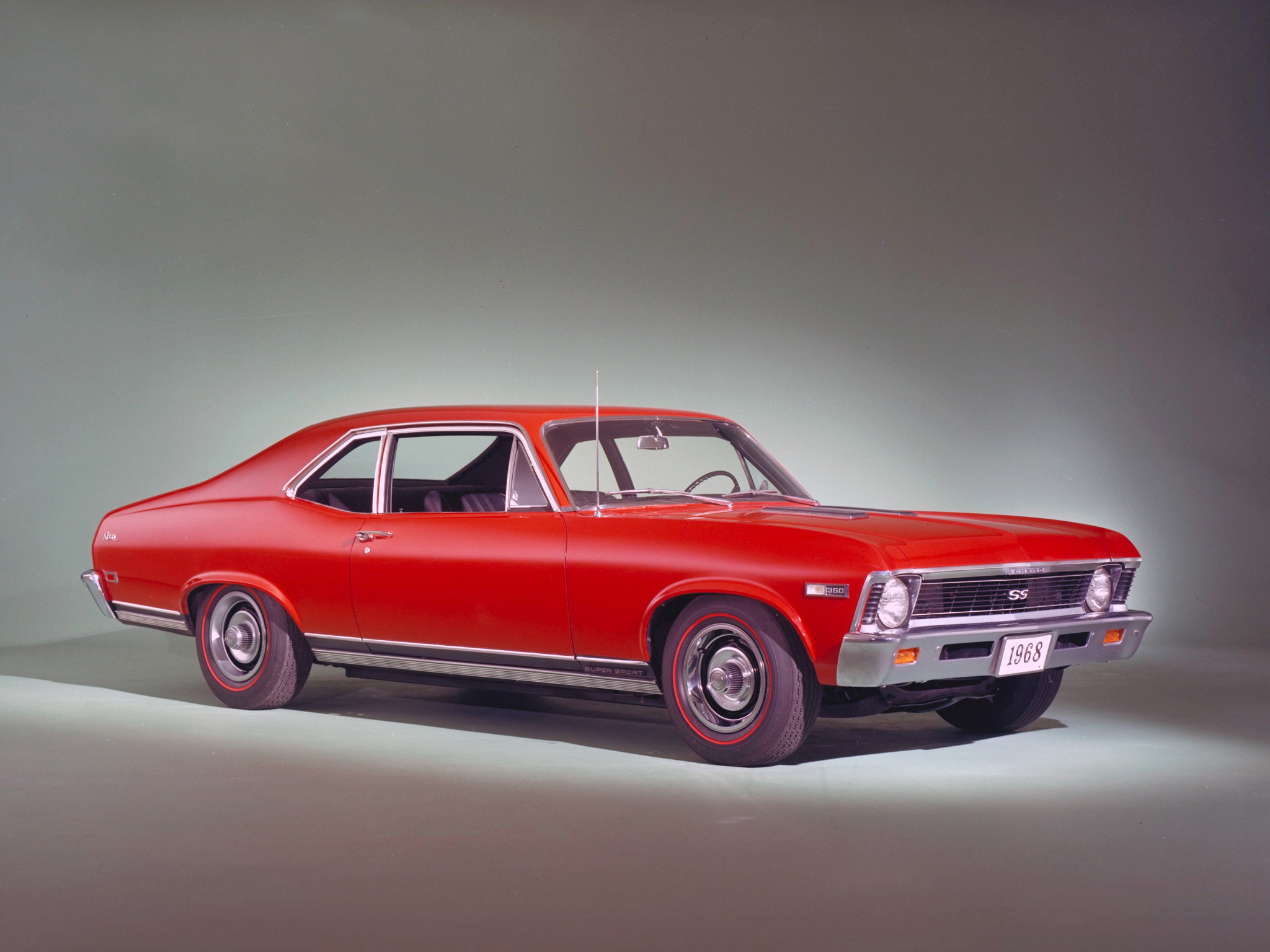 In December of 1959, General Motors gave the Chevrolet division the green light to start development on an all-new small car, then code-named "H-35." This vehicle was targeted directly to compete with Ford's new Falcon compact. Even though Chevrolet's rear-engined, air-cooled Corvair had been introduced at dealers on Oct. 3, 1959, there was a front-office corporate decision to also sell a traditional front-engine, rear-drive car, with higher sales in mind. Plymouth also had their Valiant, Studebaker the Lark, and America was buying small cars. Chevrolet decided it needed to expand into that marketplace more than what their unusual Corvair could provide.
Using a semi-unibody construction design, with no conventional full frame, the engineers chose a bolt-on front subframe to support the engine and suspension, with the rear having a subframe to anchor the rear differential. One unique feature of the car was the use of single-leaf design rear springs, designed to provide a smoother ride as compared to the traditional multi-leaf layout.
Chevy's Falcon-fighter came in under a tight deadline. Using a 110-inch wheelbase, a design was formulated to keep the car simple, effective and inexpensive. The new line of Chevrolet compacts was called "Chevy II" and offered as 2-door coupes, 2-door and 4-door sedans, and station wagons. Despite the small body size, the trunk had a capacity of 25.5 cubic feet of usable space. An up-level trim option was available, the Nova, and for Nova buyers, a convertible top version was available.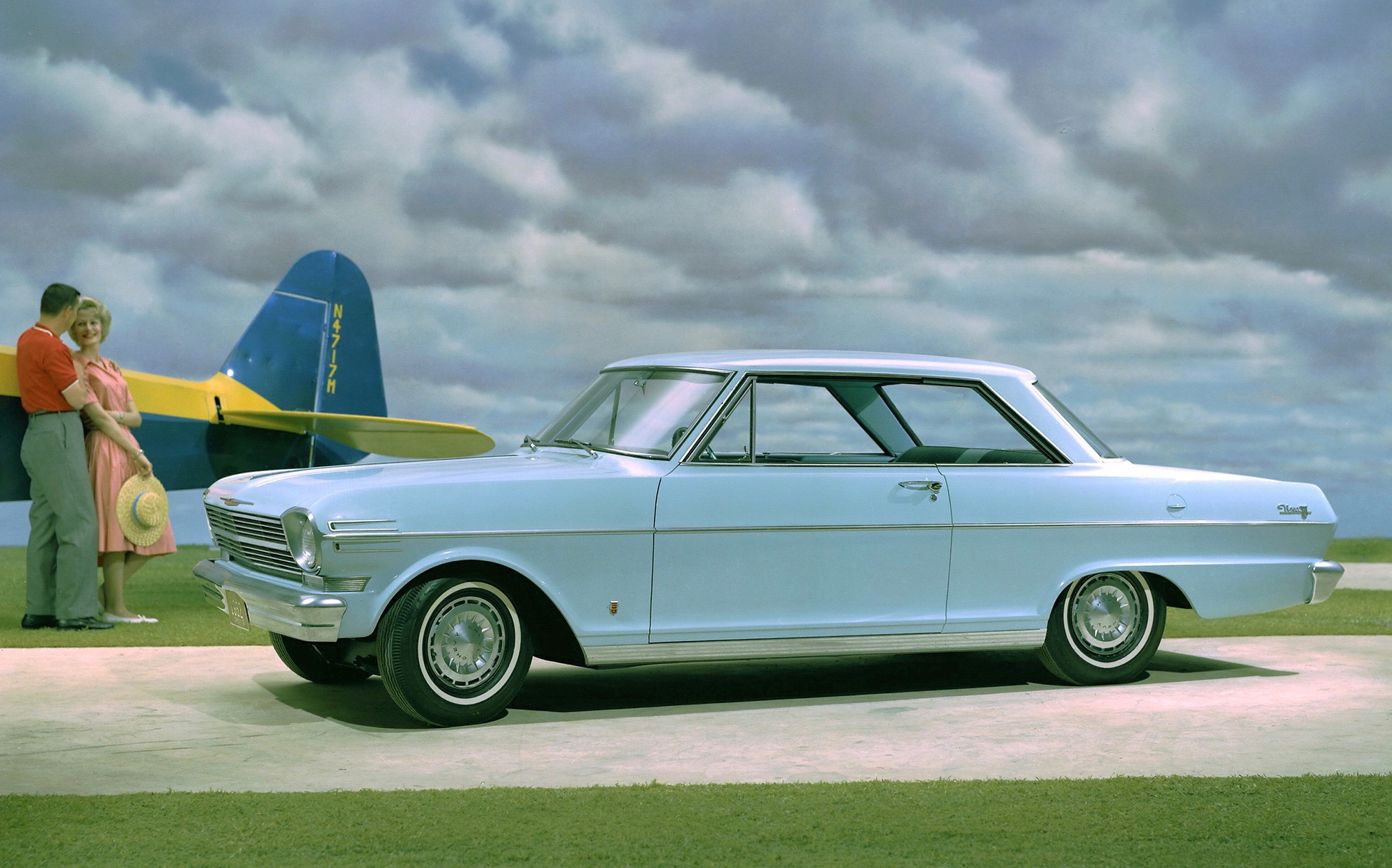 On September 29, 1961, which was record time, the Chevy II arrived at Chevrolet dealerships nationwide. It was a no-nonsense yet stylish design, built for good fuel economy and at an affordable cost. Ed Cole was the head of the Chevrolet division and he described the new creation as incorporating "maximum functionalism with thrift, designed to provide good basic transportation for the average American family and at the most reasonable cost."
The least expensive version (2-door sedan) had a base price of $2,003.00 and a shipping weight of 2,410 pounds. The most expensive model was the Nova 400 4-door wagon, which cost $2,497.00 before options, and weighed 2,775 pounds.
Two completely new engines was specifically designed for the Chevy II, the smaller being a 153-cid inline 4-cylinder that produced 90-horsepower. Featuring a 5 main bearing block design and 8.5:1 compression, it was an overhead valve short-stroke design (3.25-inch rod length) with hydraulic lifters for quiet operation. A one-barrel carburetor with manual choke was used. It was the first 4-cylinder powerplant from Chevrolet since 1928.
An inline 6-cylinder engine of the same basic design, but with 7 main bearings, displaced 194-cubic inches and 120 horsepower and used a single-barrel carburetor with an automatic choke mechanism. Transmission choices included a 3-speed manual, or as optional equipment, the 2-speed Powerglide automatic. Sales of the Chevy II and Nova models hit 326,607 with 24,000 of them equipped with the 4-cylinder engine. Novas came exclusively with the 6-cylinder engine.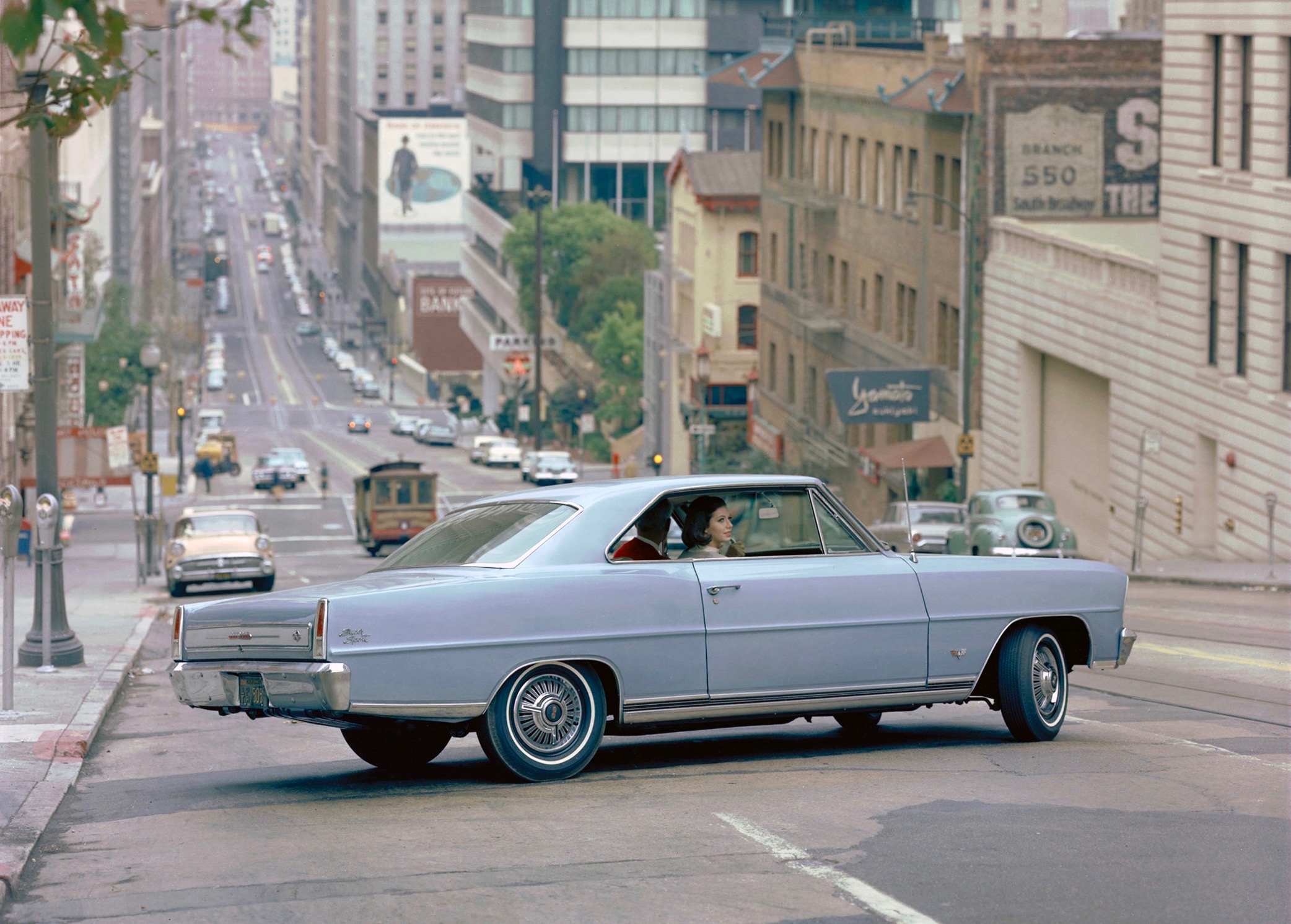 1963 saw the addition of a "Super Sport" 2-door coupe and convertible option for Nova buyers, a $161.00 upgrade that included bucket seats, a four-gauge instrument cluster and enhanced trim. Unfortunately, there was no 4-speed manual transmission available.
Good news came in the 1964 model year with the availability of the 195-horsepower 283-cid V8, giving the car respectable power. Larger brakes (9.5-inches) and beefier suspension pieces were also added. At last, a 4-speed manual transmission could be ordered, an M20 box with 2.56:1 low gear. 14-inch wheels were used on V8 cars. A larger 230-cid straight-six was added, delivering 155-horsepower. Up front, the grille was redesigned, now with nine vertically positioned bars along with five full-width horizontal blades. The convertible was discontinued.
By the time the 1965 Chevy II line was introduced to the public, the decision had been made to change the appearance of the front with an updated grille design with restyle headlight surroundings. The fresh look also saw the turn indicators relocated to the bumpers. Taillights were revised and restyled rear cove treatment as well.
1965 was all about added under-hood excitement. A 327-cid V8 was now part of the option package for buyers. Two different versions were offered at extra cost, the L30 (250 horsepower) and 300-horsepower L74 327. Mid-year saw the 283-cid V8 (L77) getting a horsepower increase to 220, using a four-barrel and dual exhausts.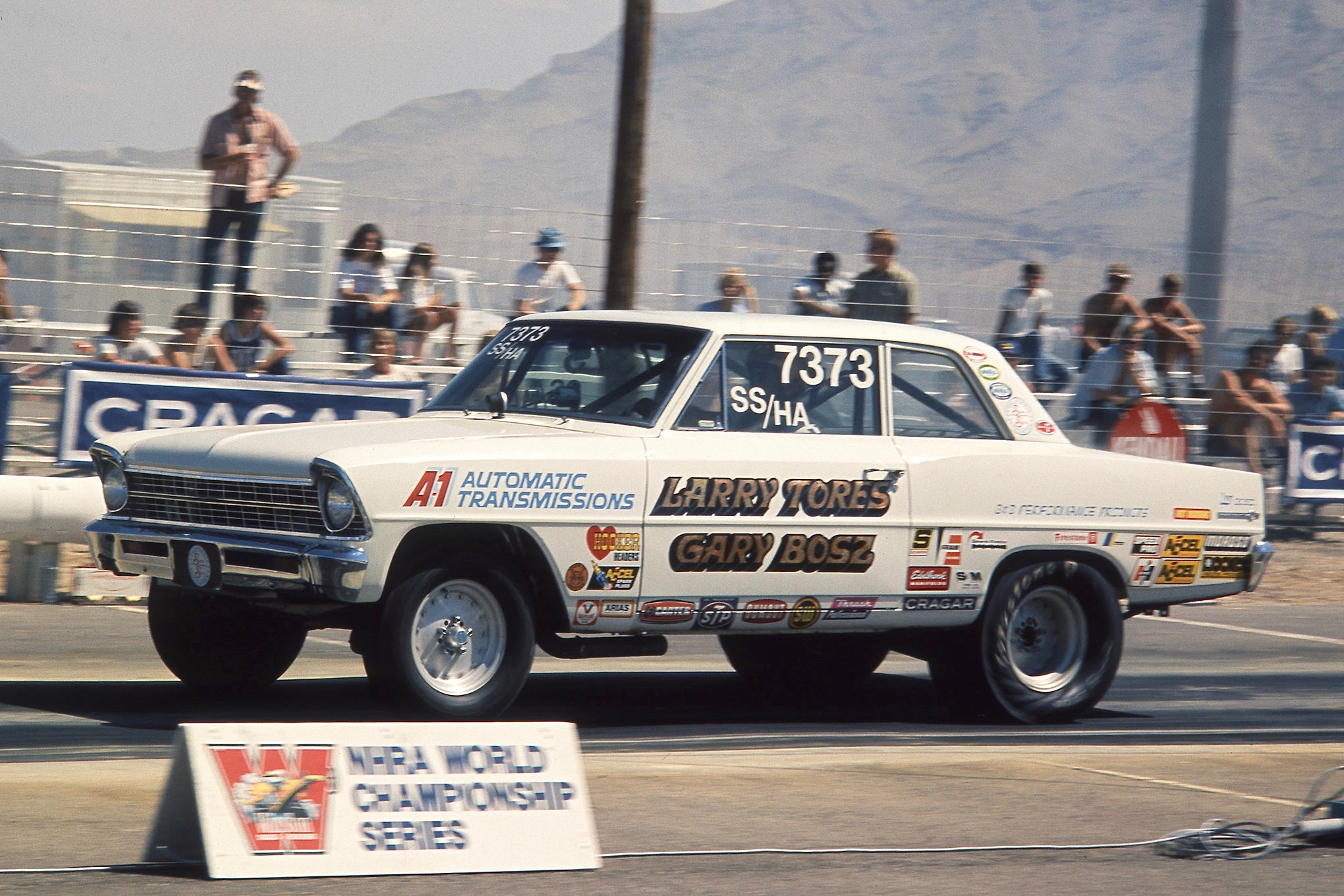 The second-generation body style came in 1966, and the sharp-edged restyling saw the general proportions "squared up" for a completely different look. The pronounced sculptured beltline brought a new visual to the car. The Nova Super Sport for 1966 cost $2,535.00 and had a shipping weight of 2,740 pounds with 6-cylinder.
The ultimate straight-line performer that year would have been the lightest weight Chevy II (ordered without any unnecessary equipment) and the most potent powerplant, which was the L79 350-horsepower 327 V8. Fitted with an M21 close-ratio 4-speed transmission and low rear gears, this was an inconspicuous street racer car that could catch a lot of stoplight warriors off guard.
What made the L79 so special was the 11.0:1 compression pistons, 2.02-inch intake, 1.60-inch exhaust valves, high-flow cylinder heads, high-lift hydraulic cam, aluminum intake and 600 cfm Holley four barrel carburetor. With a set of headers and some tuning, this combination was a potential 12-second quarter-mile drag car, if you could get traction.
The 1967 cars had a revised grille and gone was the 350-hp engine (except for, reportedly, a handful of special order cars). A bright spot for the Chevy II Nova was the addition of power front disc brakes as optional equipment, and with that came rally wheels. 1967 marked the last year for a Chevy II Nova station wagon.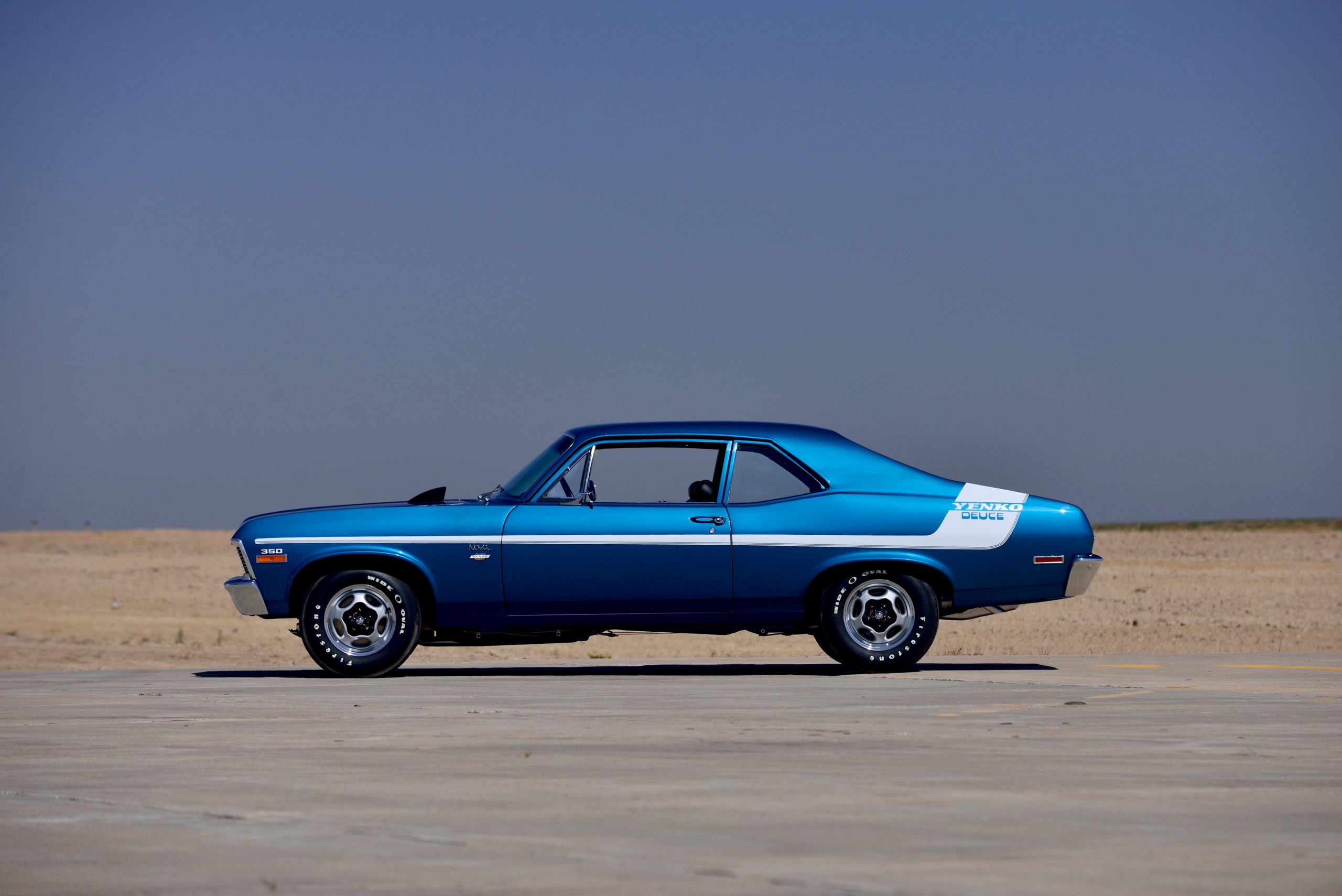 Third-generation cars (1968-1974) now rode on an inch-longer wheelbase, 111-inches, and a body redesign incorporating smooth, rounded lines. Chevy II Nova (no longer with Chevy II markings after 1968) that was now featuring a semi-fastback roof design. Only 2- and 4-door sedans were available, and new to the line was the fitting of a big-block (396-cid) V8 engine. The top performer for 1968 was the L78 version, rated at 375 horsepower. This engine had rectangular ports, a solid-lifter camshaft and a Holley four-barrel.
Super rare was the fitting of L72 427-cid engines in "Yenko" Novas, which was an easy to accomplish feat because all the engine mounts were exactly the same as the 396, both from the same family of engines. Yenko built a few "LT-1" 350-cid Novas for 1970, called the "Yenko Deuce." These super-rare Z/28-powered cars were done by Don Yenko at his Canonsburg, Pennsylvania, Chevrolet dealership.
Performance went away with the elimination of the big block engine for 1971. However, a Rochester Quadra-Jet fed 350-cid 1971 Nova SS could muster low 15-second runs down the quarter-mile drag strip at around 89 miles per hour, albeit with the engine's 8.5:1 lowered compression ratio.
For 1972 a sliding sunroof was added as an option. Model year 1973 saw a redesign of the car, bigger federally mandated bumpers, the elimination of side vent windows and newly style rear side windows on 2-door coupes. 1974 saw the white-hued "Spirit of America" edition with red and bluemarkings.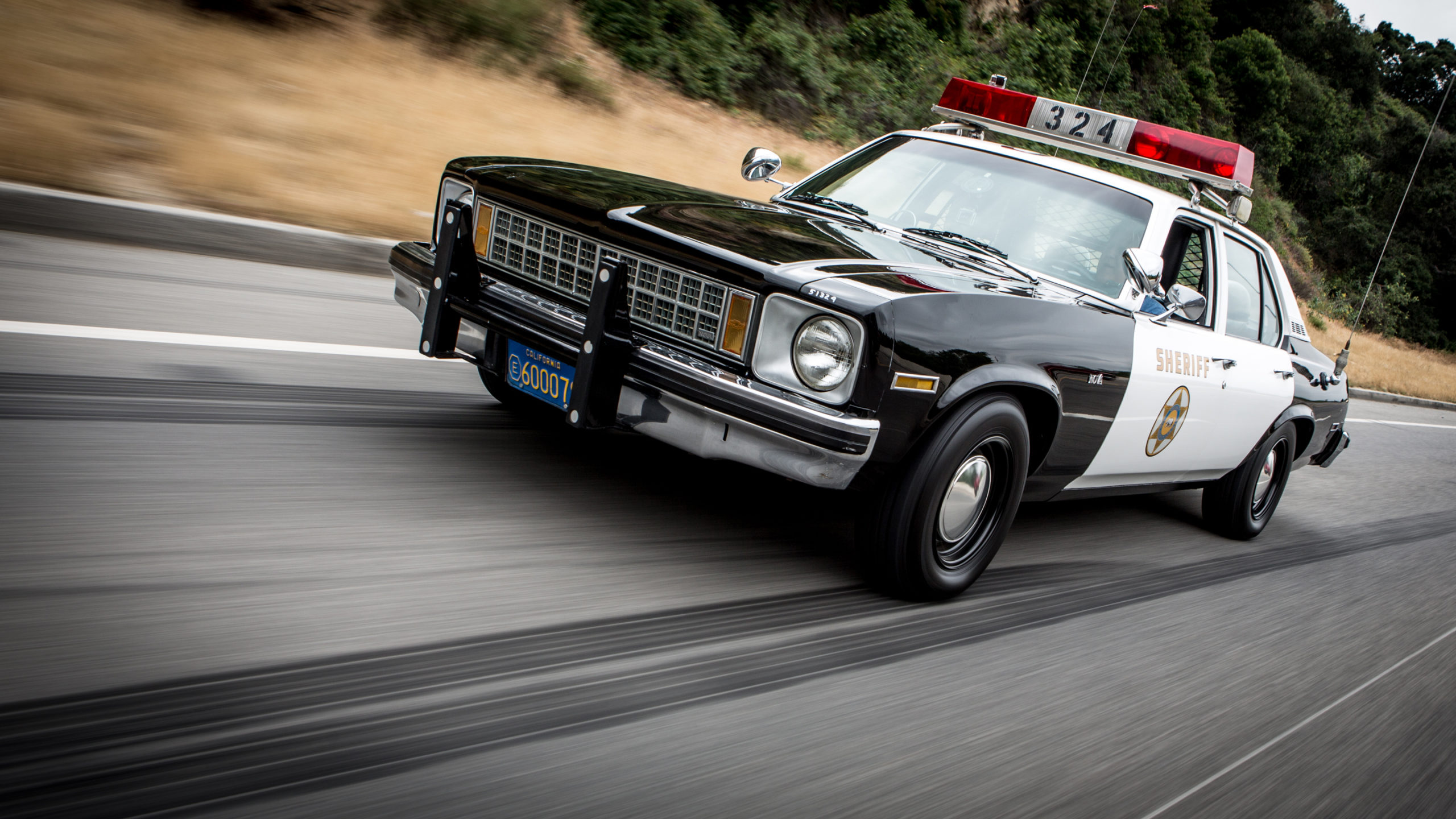 The final, fourth-generation Nova was produced for the 1975-79 model years. A final run with a slightly modified carryover body design (mostly a new roofline), there was still an "SS" appearance package. An all-new V8 powerplant came this year, a 262-cid (4.3L) economy version of the small block that came standard with HEI (High Energy Ignition) electronic distributor. Hatchback models were offered, and top engine was a 4-barrel 350 that developed 155-horsepower.
1976 saw the addition of a plush new model for Nova called the Concours, fitted with a stand-up hood ornament, fancier grille and additional body moldings. The Concours coupe could be ordered with the SS package. A Z26 Rally Equipment Package became available in 1977, with "Nova Rally" markings and perimeter body striping. In 1978 the Rally Package became the Nova Custom Rally.
In its final year, the base model Nova 2-door coupe was priced at $3,955.00, had a shipping weight of 3,135 pounds. Top engine was a 350-cid V8 that was rated at 170 horsepower. Replacing the Nova line at mid-year was the front-wheel-drive Citation, which was classified as a 1980 model.
GM X-Body Platform
First Generation 1962-1965
Second Generation 1966-1967
Third Generation 1968-1974
Fourth Generation 1975-1979