Features
Cadillac Unveils V-Series Blackwing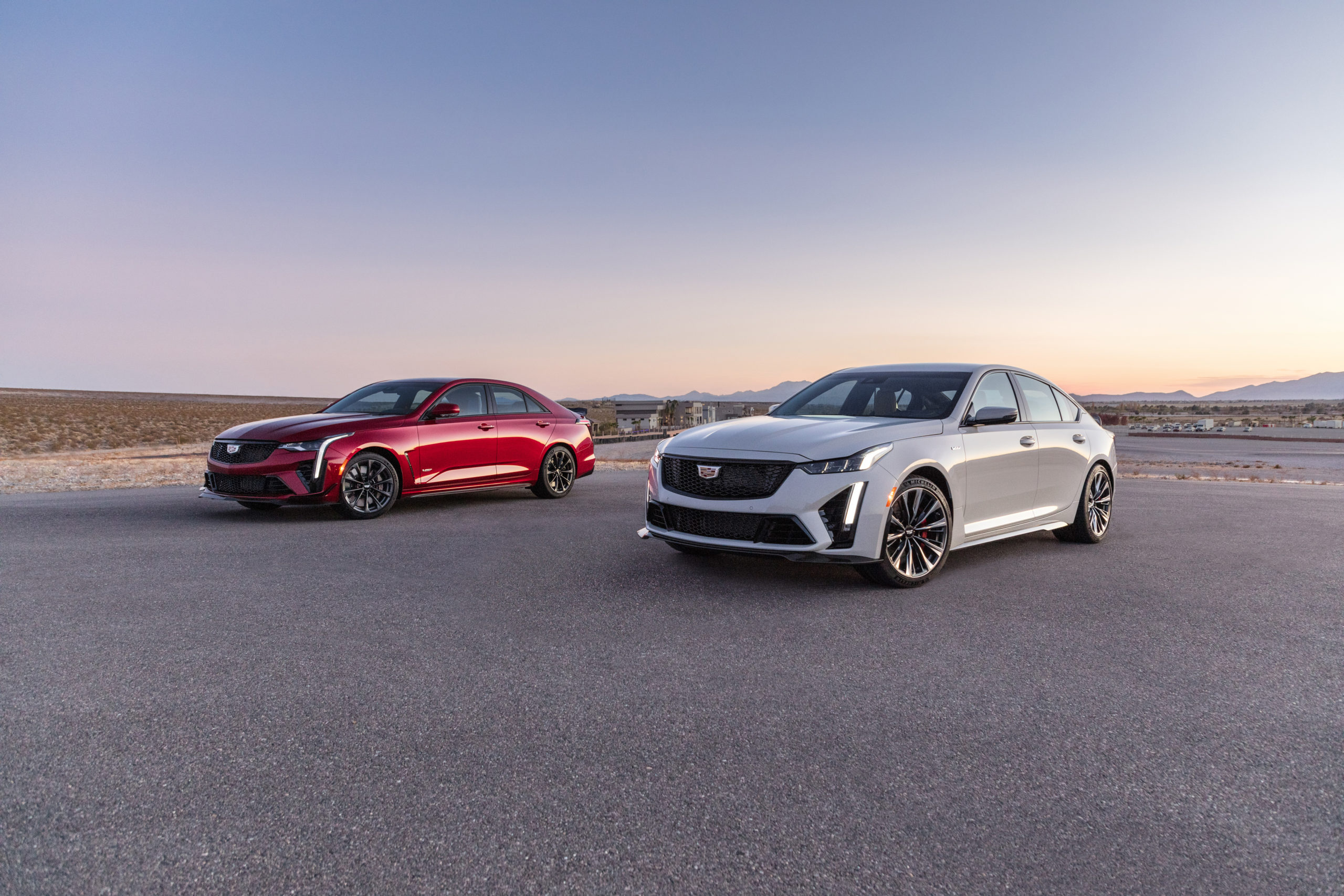 Cadillac has finally unveiled the 2022 CT5-V Blackwing and CT4-V Blackwing, which the automaker said was developed with a focus on driver engagement and performance.
"V-Series Blackwing stands for the very highest level of execution from Cadillac and offers a distinctly American vision of performance: incredible power and luxurious craftsmanship, with absolutely zero compromise," said Brandon Vivian, executive chief engineer, Cadillac. "We looked to our championship-winning racing heritage and brought an uncompromising eye for detail to create two cars that elevate the V-Series experience."
V-Series Blackwing vehicles build on the performance dynamics of the CT5-V and CT4-V to create the top tier of the Cadillac sedan lineup.
Highlights include:
Evolutions of the track-ready Cadillac 6.2L Supercharged V8 in the CT5-V Blackwing and 3.6L Twin-Turbo V6 in the CT4-V Blackwing
Upgraded TREMEC six-speed manual transmission standard
Available 10-speed automatic transmission
Electronic Limited Slip Rear Differential enhanced to reduce mass and improve on-track reliability
Advanced suspension refinements
Magnetic Ride Control 4.0
Unique structural enhancements improving steering response and handling on the track
Cadillac's largest-ever factory-installed brakes, available on the CT5-V Blackwing
Extensive validation including 12-hour and 24-hour track testing
Customizable integrated digital gauge cluster with Custom Launch Control and Performance Traction Management settings
The CT5-V Blackwing uses an upgraded 6.2L supercharged V8 that, thanks to a higher flow air-intake and revised exhaust system, is rated at 668 horsepower and 659 lb-ft of torque, making it the most powerful production Cadillac ever. Each engine is hand-built at GM's Bowling Green Assembly facility in Kentucky and features a signed engine builder's plate.
The CT4-V Blackwing sports an evolution of the Cadillac 3.6L Twin-Turbo V6 that features revised control system software and an improved air intake system to create 472 horsepower and 445 lb-ft of torque. The turbos' low-inertia (titanium-aluminide) turbine wheels enable a more precise and responsive application of torque throughout the rev range.
Highlighted features and output:
CT5-V Blackwing: 6.2L Supercharged V8 – 668 hp, 659 lb-ft of torque
GM-estimated top track speed: over 200 mph
GM-estimated 0-60 mph: 3.7 seconds (automatic transmission)
Most powerful Cadillac ever
Air intake airflow is improved by 46 percent vs. the CTS-V
Compact, high-output 1.7L four-lobe Eaton supercharger with small-diameter rotors that enable boost to be generated earlier in the rpm band for instantaneous response
Rotocast A356T6 aluminum cylinder heads are stronger and handle heat better than conventional aluminum-alloy heads
Lightweight titanium intake valves
Track-capable wet-sump oiling and vent system with external oil separator and drainback
CT4-V Blackwing: 3.6L Twin-Turbo V6 – 472 hp, 445 lb-ft of torque
GM-estimated top speed: 189 mph
GM-estimated 0-60 mph: 3.8 seconds (automatic transmission)
Most powerful and fastest Cadillac in the subcompact class
Air intake restriction is improved by 39 percent vs. the ATS-V
Turbocharger compressors matched for peak efficiency at peak power
Titanium connecting rods (manual transmission only) and revised crankshaft counterweights reduce main/rod bearing reciprocating loads
Re-targeted piston oil squirters, which direct engine oil at the bottoms of the pistons, for improved temperature control
The manifold-integrated water-to-air charge cooling system contributes to more immediate torque response
Airflow routing volume is reduced by 60 percent when compared to a conventional design that features a remotely mounted heat exchanger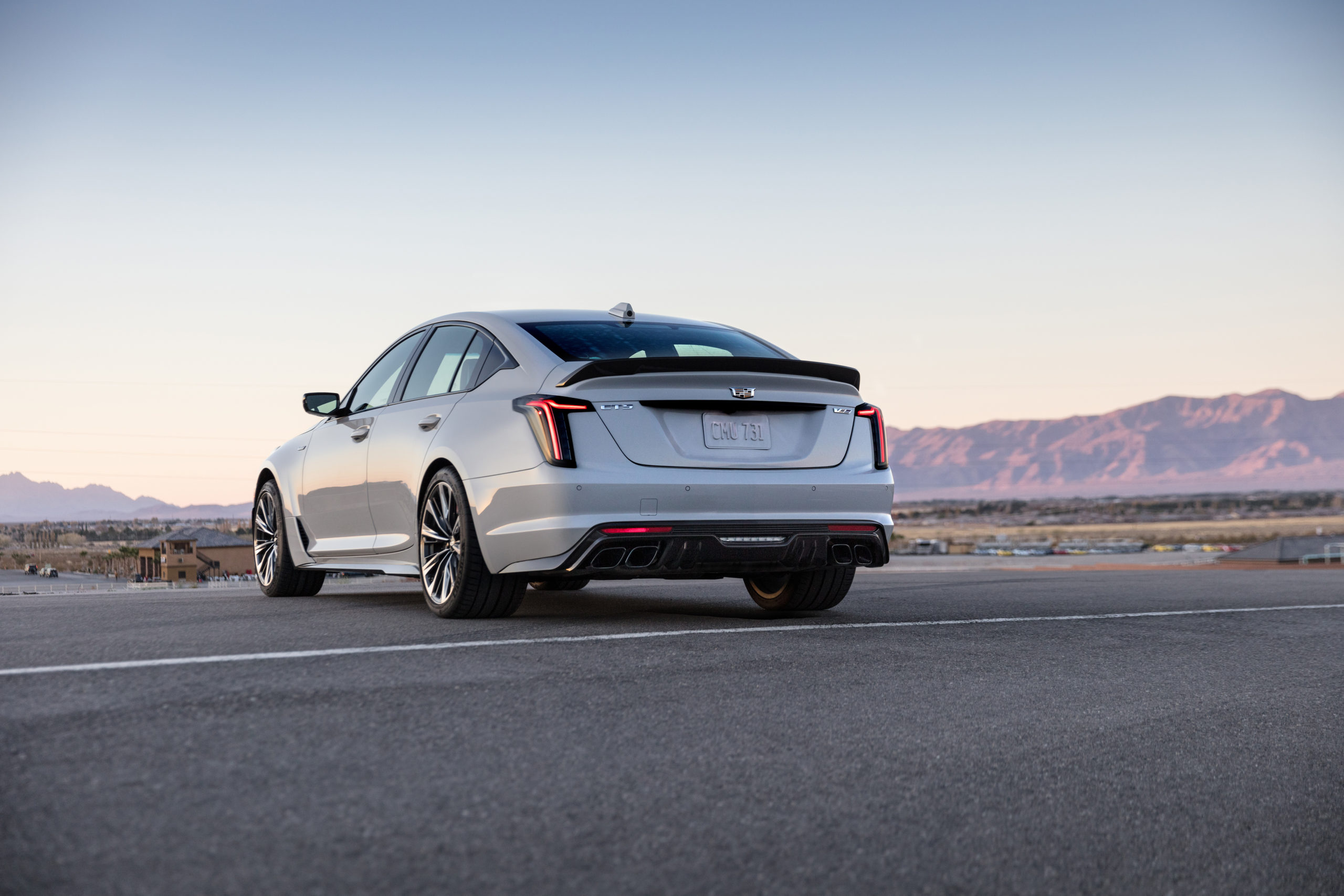 Both V-Series Blackwing models feature advanced high-performance braking systems that have been track and road-tested. An available carbon-ceramic brake package for the CT5-V Blackwing, featuring cross-drilled rotors, delivers several benefits including weight savings, durability and heat management.
Highlighted features:
CT4-V Blackwing: 14.96 x 1.34-inch (380 X 34 mm) front rotors and 13.4 x 1.1-inch (340.5 x 28 mm) rear rotors
CT5-V Blackwing: 15.67 x 1.42-inch (398 X 36 mm) front rotors and 14.7 x 1.1-inch (373.5 x 28 mm) rear rotors
Staggered Brembo six-piston front calipers and four-piston rear calipers
Available on the CT5-V Blackwing, the lightweight carbon-ceramic brake package improves heat management, as well as greater resistance to wear under extreme conditions on the racetrack, while also reducing unsprung mass and rotating mass:

53-pound (24 kg) reduction in unsprung weight
62-pound (28 kg) reduction in rotating mass

High-performance copper-free brake linings
Brake systems are integrated to each vehicles' selectable drive modes, including brake pedal feel. Brake pedal feel can also be assigned within My-Mode and V-Mode
A six-speed TREMEC manual transmission is standard on both vehicles and has been optimized for each V-Series Blackwing vehicle. Details include:
LuK twin-disc clutch for high torque capacity and great pedal feel
Active Rev Matching accessible via a console-mounted toggle switch to automatically adjust engine speed to match anticipated downshifts
No-Lift Shift allowing the driver to shift gears without letting off the gas pedal. In the case of the CT4-V Blackwing, it allows the turbos to remain spooled
Transmission and rear differential cooling – the manual and automatic transmissions use the same track-performance cooling system.
Clutch and brake pedals positioned for optimal driver ergonomics
A physical barrier stop for the clutch pedal rather than a hydraulic master cylinder stop provides greater driver feedback during clutch operation
A shorter shifter ratio than previous generations for more precise shifts
The CT5-V Blackwing and CT4-V Blackwing are available with a 10-speed electronically controlled automatic transmission.
Highlighted features:
Tap Shift/Manual Mode allowing the driver to use integrated magnesium paddle shifters to select a gear and hold it until selecting the next gear, up or down
Sport Mode providing real-time interpretation of driving conditions, adjusting the transmission to reduce shift busyness and improve performance, while retaining aggressive driving dynamics
Twenty-four-hour track testing resulted in several improvements in response to the demands of a high-g track environment, including a unique oil pan design and priority valve changes
Unique control systems with performance calibrations tailored for each model
Ten forward gears offer the most available transmission speeds in each sedans' respective segments, helping keep the engines within their optimal rpm bands, while also anticipating the next shifts
Dynamic Performance Mode is calibrated specifically for V-Series Blackwing to deliver track-focused shift patterns and automatically activates when high-g forces are experienced in Sport or Track mode
An auxiliary pump primes the automatic transmission system from the time the vehicle door is opened for improved cold-shift performance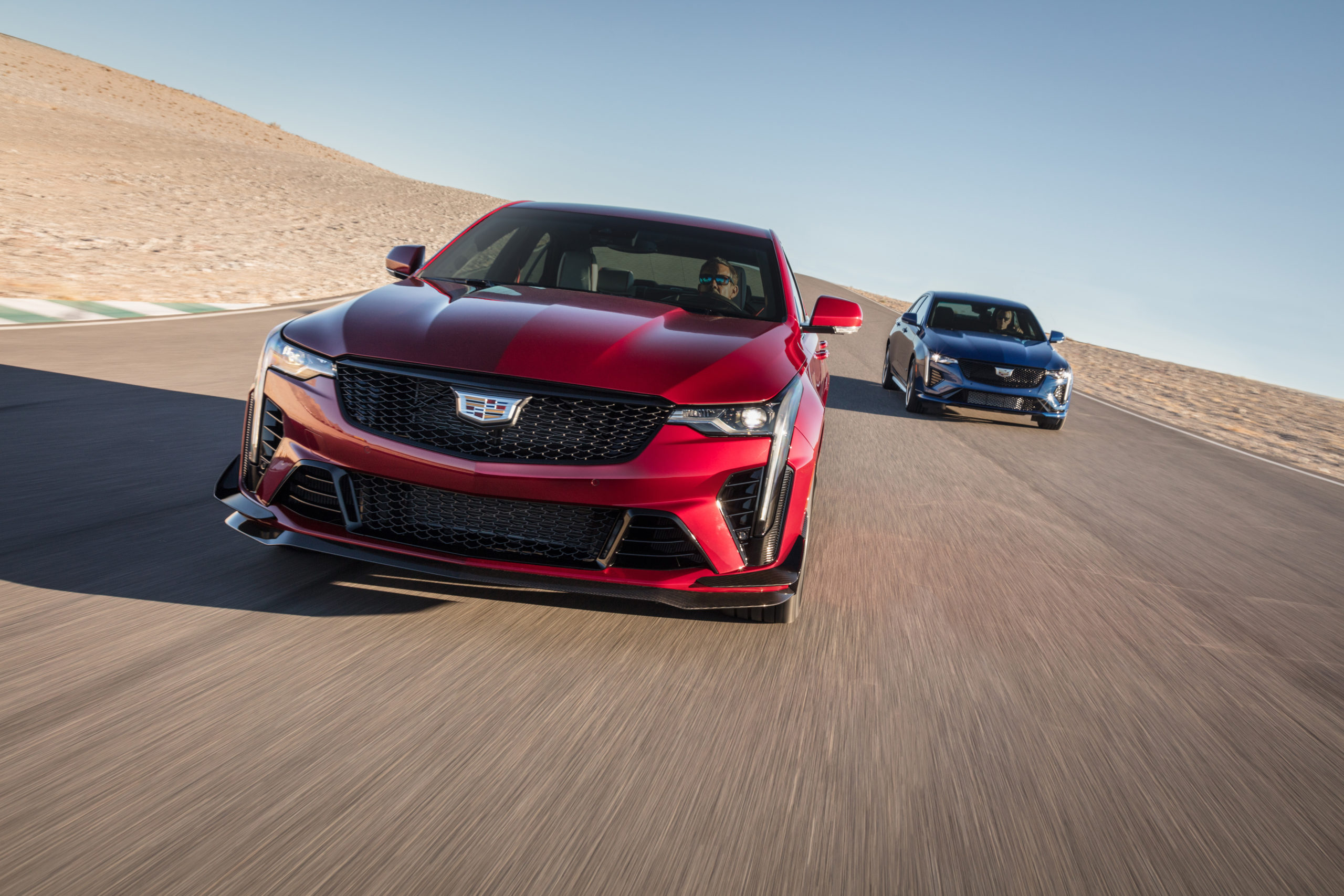 Both V-Series Blackwing models also feature an enhanced Electronic Limited Slip Rear Differential. It weighs less and has been optimized for each driving mode and each Performance Traction Management setting.
V-Series Blackwing also combines the fourth generation of Magnetic Ride Control (MR 4.0), with improvements to the front and rear suspension systems, including stiffer spring rates, unique hollow stabilizer bars, higher-rate bushings and more.
MR 4.0 highlights:
New accelerometers and an inertial measurement unit that transmit and process changes in road conditions four times faster than the previous generation system
Secondary temperature maps that enable engineers to compensate for changes in damper fluid temperature for more consistent performance, even during performance driving
Inertial measurement unit that provides more precise measurements of body motion relative to the wheel for more accurate readings under heavy braking, hard cornering and other driving conditions
Improved magnetic flux control that creates a more consistent and accurate transition between rebound and compression
Improvements to transient body control that allow the vehicle to remain more level while transitioning between corners
MacPherson strut front suspension:
Ride link includes an all-new 100-percent elastomer bushing on the CT4-V Blackwing and a retuned hydro bushing on the CT5-V Blackwing, for improved ride response
Handling link has cross-axis ball joints for improved lateral control and quicker steering response
Five-link independent rear suspension:
Lateral link features stiffer bushings for faster response and increased cornering agility
Toe link has cross-axis ball joints for increased stability and driver confidence
Rear knuckles have increased stiffness for improved braking and better control during cornering
Rear cradle mounts have been stiffened for optimum balance between road comfort and track performance
V-Series Blackwing models are built on Cadillac's award-winning rear-wheel-drive architecture and feature unique structural enhancements including shock tower braces, an underside shear plate and thicker rear cross members to improve chassis rigidity. Along with the unique suspension elements, the stiffer structure enhances steering response, handling and the everyday driving experience.
Functional aerodynamics, including an available carbon-fiber aero package, contribute to the V-Series Blackwing models' track prowess to support a variety of cooling needs for the cars' respective engines, transmissions, axles and other supporting systems.
Additionally, the car is equipped with MICHELIN Pilot Sport 4S tires developed exclusively for the V-Series Blackwing models.
Contact patch composed of three unique tread rubber compounds
Racing "R compound" used for the majority of the tread
Compounds optimized for wet traction, enhanced street and track durability, as well as rolling resistance
The mold shape of the tire has been specifically engineered for Blackwing models to optimize contact with the road
Tire sizes:
CT5-V Blackwing tire size: 275/35ZR19 (front) and 305/30ZR19 (rear)
CT4-V Blackwing tire size: 255/35ZR18 (front) and 275/35ZR18 (rear)
Both V-Series Blackwing vehicles feature standard forged aluminum alloy wheels with staggered widths, front to rear.
Wheel sizes:
CT5-V Blackwing: Front – 19 x 10 inches / Rear – 19 x 11 inches
CT4-V Blackwing: Front – 18 x 9 inches / Rear – 18 x 9.5 inches