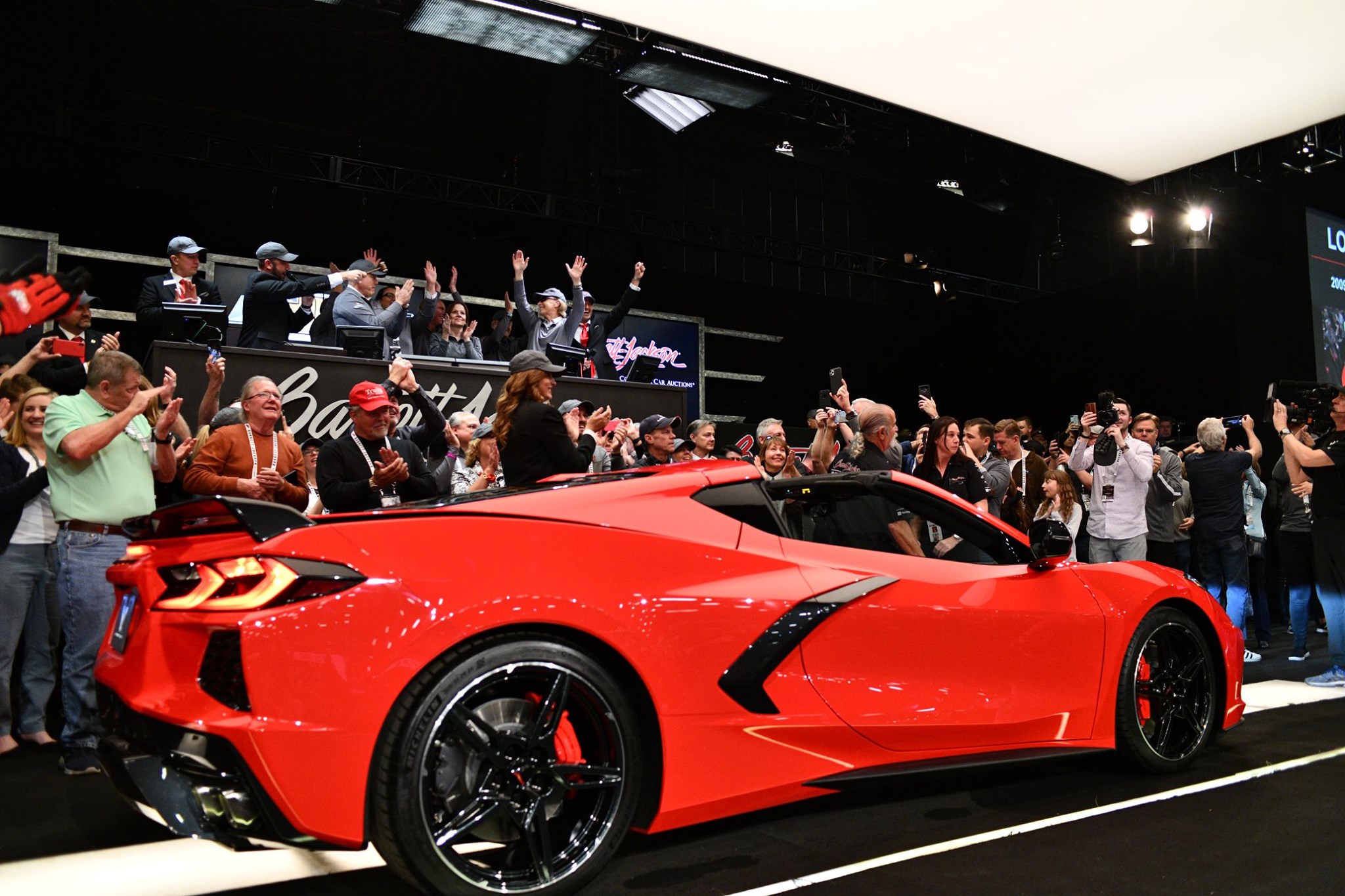 The first production 2020 Chevrolet Stingray VIN 001 was sold at the Barrett-Jackson Scottsdale auction for $3 million.
Barrett-Jackson raised $7.625 million from nine vehicles during the 49th Annual Scottsdale Auction, Jan. 11-19, 2020, bringing the total raised on the Barrett-Jackson auction block for charity to more than $126 million to date.
Global carmakers sold the rights to a pair of first production vehicles during the week, including the world's first mid-engine Corvette, the 2020 Chevrolet Stingray VIN 001 that sold for $3 million and was introduced by Barrett-Jackson's special guest Mary Berra, CEO of General Motors. On Friday, the first production 2021 Lexus LC 500 Convertible Inspiration Series VIN 100001 sold for $2 million.
"Charity vehicles are the soul of our auctions," said Craig Jackson, chairman and CEO of Barrett-Jackson. "Supporting the community was the purpose of the first event my family helped create almost 50 years ago. Over the years, we've supported medical research, funded education initiatives and provided money for programs that champion our nation's military heroes and first responders. We're proud of the funds and awareness we've been able to help raise. It was especially an honor to welcome GM CEO Mary Berra to the auction block be part of the historic sale of the first retail production 2020 Chevrolet Corvette."
The charity auctions kicked off on Thursday with the sale of a custom Foose-designed GTX custom coupe, which was owned by MotorTrend's Chris Jacobs and sold for $300,000 to benefit the C4 Foundation. A 1981 Jeep CJ7 Custom SUV was sold and re-donated on the block three times for a total of $425,000 raised to benefit Make-A-Wish Foundation. Special guest 13-year-old Make-A-Wish recipient Will Wade fulfilled his wish by accompanying Craig Jackson on the block and hammering in the final sale of the Jeep.
Other charity vehicles crossing the block in Scottsdale included a 1974 Ford Bronco, built by Gateway Bronco in partnership with NASCAR driver Ryan Blaney, to benefit the Alzheimer's Association. The Bronco, which appeared at this year's SEMA Show, sold for $650,000.
A 1963 Volvo Amazon Coupe, built by Flat 12 Gallery's Jeff Allen, was also sold to benefit the SEMA Memorial Scholarship Fund. The sale of the 'V06' generated $150,000 for the fund, making it the highest-selling custom Volvo in auction history.
Jeff Gordon's 1997 'Rainbow Warrior' Winston Cup NASCAR Monte Carlo also crossed the block, which sold for $250,000, benefiting the Arizona Animal Welfare League, as well as a 2020 Chevrolet COPO Camaro John Force Edition, which generated $600,000 for DonorsChoose.org and a 1965 Superformance MKII Custom, which raised $250,000 for the TGen Foundation.