Features
All Eyes on the Future of OEM and Aftermarket Development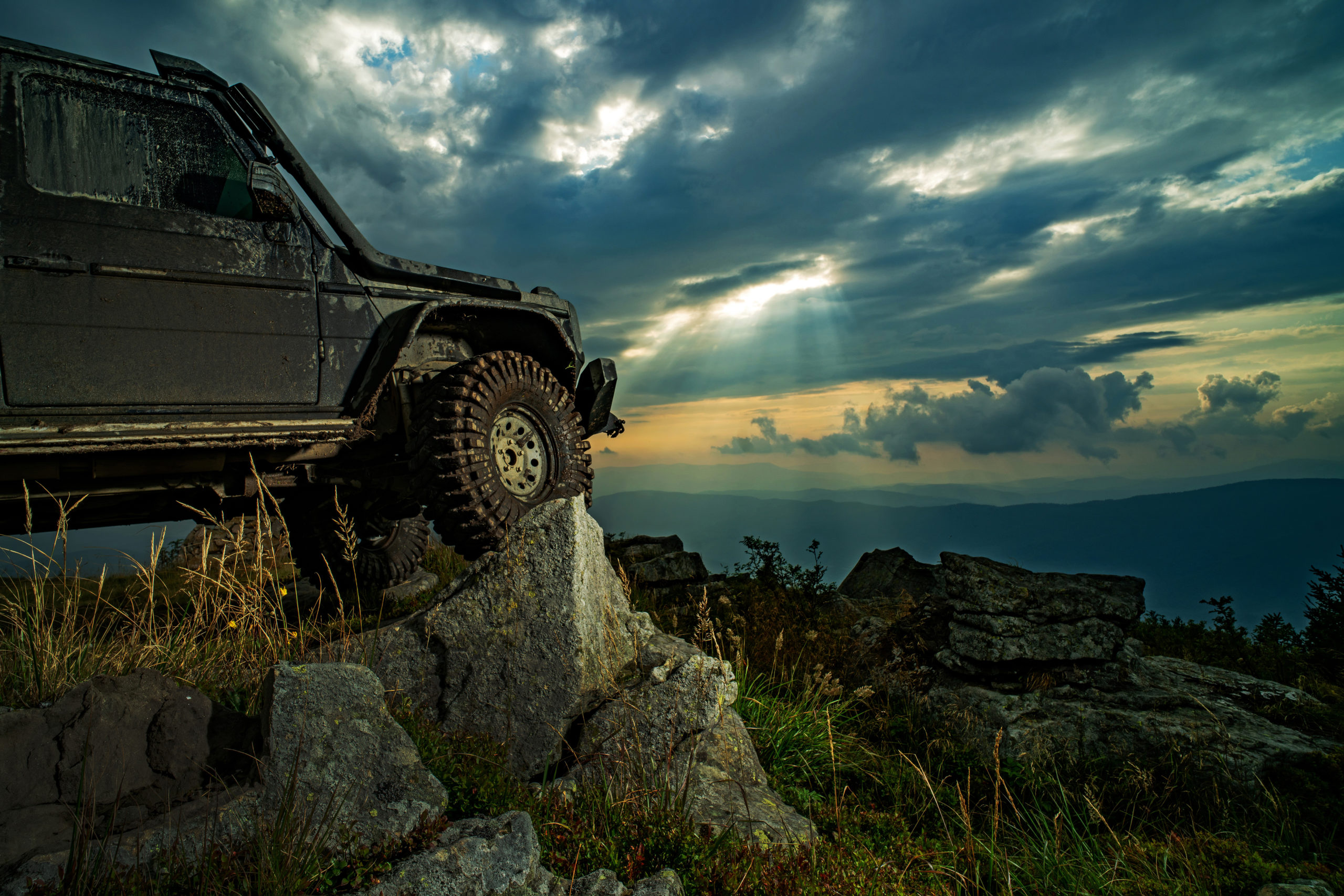 The economic impact of COVID-19 and containment measures enforced to limit its spread are estimated to cause a 12% decline in the specialty-equipment market during 2020, according to the Specialty Equipment Market Association (SEMA).
However, the industry has overcome historic recessions before, and SEMA expects this time will be no different.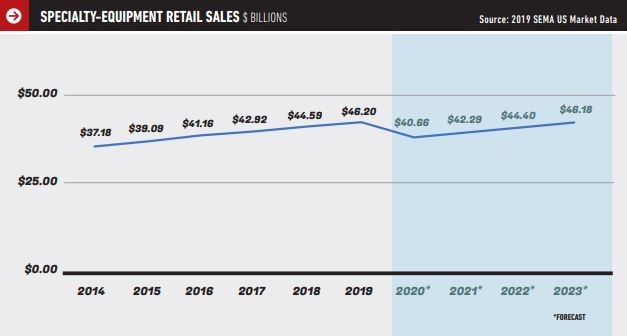 OEM Truck & Off Road
While the pandemic simmered total U.S. auto sales, the Truck Wars continue to heat up. The Ford F-series, a perennial best-selling pickup for the past 43 years, sold above the 70,000 truck mark for three straight months in Q3, according to the automaker.
In total, Ford sold nearly 250,000 F-Series and Ranger pickups between July and September. This helped the company achieve its best Q3 pickup sales since 2005, with combined sales up 4% versus the prior year.
---
About This Sponsored Content
Keystone Automotive Operations is the leading distributor and marketer of automotive aftermarket products and services, uniquely positioned to offer customers and suppliers substantial scale, the most comprehensive inventory selection in the industry, high levels of customer service and innovative marketing support. Keystone is committed to expanding its offerings to meet the ever-growing needs of its customer base, providing them everything they need, when they need it.
---
While GM's light duty full-size and midsize trucks both declined in Q3, the automaker reported a surge in heavy-duty sales and an all-time third-quarter record for the GMC Sierra line. Ram's full-size pickup deliveries also dipped for the quarter (3%), but its midsize Jeep Gladiator's increased 37%.
Clearly, the light truck and off-road segments are thriving, with "OEMs capitalizing on this trend by launching new pickups and SUVs that open a wide range of opportunities for aftermarket manufacturers to develop accessories and performance parts," explains Erika Marquez, OEM Sales Manager at WARN Industries.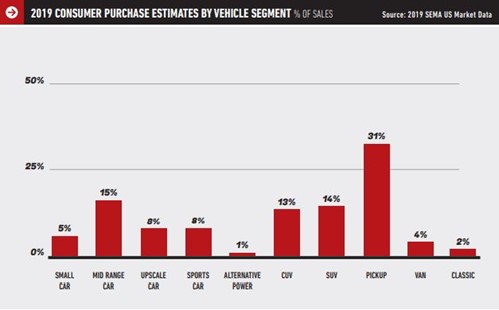 Other prominent vehicle launches include last year's 2020 Gladiator and Ranger pickups, the all-new 2021 Ford Bronco and 14th generation F-150, a refreshed Chevrolet Silverado, as well as the Ram TRX, Jeep Grand Wagoneer and Wrangler 4XE Hybrid.
Electric vehicles continue to spell opportunity for the aftermarket, with all eyes on the Tesla Cybertruck, Rivian R1T, Bollinger B2 and GM Hummer EV as well.
Furthermore, "OEMs are taking advantage of current trends and consumer demands by integrating aftermarket accessories into their vehicles, especially with the Jeep Rubicon, Ram Power Wagon, Ford Super Duty and now with the brand-new Bronco," says Marquez.
As such, WARN Industries is adding winches and recovery products as standard accessories installed at the factory or dealership.
OEM Performance
On the performance side, the GT500, Supra, GTI and even Tesla continue to excite and show promise. Not to be outdone, the all-new Mach-E and Cobra Jet Mustang are front and center, flexing their full range of electric performance capabilities.
Additionally, the new mid-engine C8 Corvette [with heavy European supercar influence] presented the aftermarket with unique challenges in packaging power adders. For example, aftermarket exhaust manufacturers have faced a number of design and development hurdles. A centralized location makes for a more compact area compared to traditional positioning, which affects everything from the length of the pipes, transition of the exhaust and proper mounting, to heat shielding or heat prevention measures and overall tone. Top brands like aFe Power, Magnaflow and Borla have overcome these challenges with ingenuity.

While there is growing concern about automakers advancing their aftermarket capabilities, they do so at a much slower pace. Our industry remains quick and nimble, therefore responding to current trends faster.
Truck & Off-Road Aftermarket
Consumer sentiment is positive, especially in the truck and off-road segment. According to the most recent issue of "SEMA Future Trends," the light-truck segment—which includes pickups, vans, SUVs and CUVs—will account for nearly 69% of all new-vehicle sales by 2025. From 2019–2025, new-truck sales are estimated to rise 10% overall.
"This is great news for our aftermarket segment," says Marquez. "Also, due to the pandemic, we have seen pickup truck commuters getting more involved in outdoor activities, such as off-roading, overlanding and RVing."
Overlanding, described as self-reliant adventure travel to remote areas where the journey takes precedence over the destination, is positioned as a growing category within the specialty-equipment market. More interest in the hobby generates genuine appreciation for the great outdoors and growing aftermarket support.
Since COVID, "There is a transition from just looking like you got off the grid, to preparing your daily-driven Jeep or truck so that it can actually do it," says Dennis Nash, owner of Red Desert Off-Road in Southern Utah.
Storage solutions, racks and mounts present many opportunities to customize, and the product category will innovate further in 2021. This is especially true of roof-mounted storage solutions and pickup bed crossbar systems, which are easily removed to provide full access to the bed.
"There are more activity-specific mounting systems now because consumers are being driven into these outdoor activities. Paddle boarding, mountain biking, canoeing—you name it, and there is probably a specific mounting system for it," says Nash.
"Not to mention, the rooftop tent, fuel, water storage containers and recovery equipment can all be fashionably secured to a racking system as well. I mention 'systems' because that's what the once overlooked 'rack' has evolved into: a complete system enabling users to carry their gear in the most efficient and secure way," he adds.
As more people are outfitting their vehicles for abuse beyond the pavement, proper recovery equipment is more important than ever. "From soft shackles and recovery boards to the almighty winch, they've all been super sellers for us in 2020—and I expect the trend to continue next year," says Nash.
WARN Industries continues to diversify its product offerings within the truck and off-road segment, releasing a new line of WARN® EVO winches that are more durable, robust and fast, according to the company. "We also have a new line of WARN® Epic Wheels for JK, JL and Gladiator JT, and have been expanding the product line of bumper offerings for powersports and pickup trucks," adds Marquez.
Additionally, WARN recently released a new HUB wireless receiver and phone app for easier operation of the winch via a smartphone. Other new product announcements are slated for this week's SEMA360.
Where the Rubber Meets the Road
The wheel and tire industry is thriving as well. "The popularity of 22-inch wheels from companies like GRID Off-Road, RBP and Ultra continues to grow, but we still have very strong demand for more 'off-road-oriented' sizing," says Dan Guyer, Category Manager of Wheels & Tires at Keystone Automotive Operations, Inc.
"I'm excited to see the new WARN wheel offerings. They're specific to the current Jeep platform and have some nice touches specific to off-roaders," he adds.

Also, expect tire companies to expand their offerings with hybrid styles. "Hybrids are a blend of M/T's, an option that typically isn't suitable for a daily-driven vehicle, and an A/T, which is known to be more civil for daily driving," explains Nash. "Almost every tire sold in my shop as of late is a hybrid, and that's because it delivers heaping amounts of off-road ability, while still retaining civility when it comes to road noise and mpg."
Guyer agrees, but believes potential tariff impacts in Q4 2020/Q1 2021 will continue to be the big story. Back in June, the U.S. Commerce Department initiated a major trade remedy case that could lead to steep anti-dumping and countervailing duties on close to $4 billion worth of tire imports from four Asian countries: South Korea, Vietnam, Thailand and Taiwan. If so, this will significantly impact the industry, says Guyer.
Performance Minded
Tuning will always be a focus of modern-day performance, but as platforms become more complex and EPA and CARB regulations more stringent, enthusiasts continue to find creative, legal ways to modify their vehicles, which includes optimizing stock tuning through high-end suspension, handling, exhaust, grip, clutch system and even brakes and rotor upgrades.
On the precipice of mainstream EV performance—and as modern gas vehicles become more advanced and controlled—transmission and magnetic suspension upgrades are gaining momentum, too.
Looking Ahead
It has been a challenging year, indeed, but the future is bright. "Business is busy, and our customers' vehicles are a tremendous outlet for safe and reliable transportation—not to mention, oftentimes their personal outlet for fun and adventure," says Larry Montante, VP of Category Management at Keystone Automotive Operations, Inc.
As OEMs roll out new and exciting vehicles, the aftermarket will continue to refine, innovate and evolve, with a host of exciting new products of its own for platforms like the highly-anticipated Ford Bronco.
"As a vital link in the supply chain, we are focused on expanding the depth and breadth of our inventory, continuing to evaluate and onboard many new brands and products that offer our customers the power of choice."
All images courtesy of 2019 SEMA US Market Data