News
Yokohama Tire Plays Role in Third Playground Build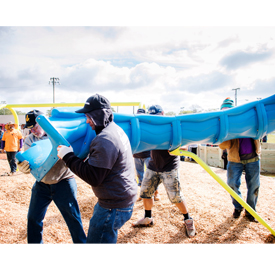 Yokohama Tire partnered with KaBOOM and approximately 200 local volunteers on Oct. 28 to build an eco-friendly playground in West Point, Mississippi. The playground will serve more than 700 kids living in at near Marshall Park, according to the company.
Many of the volunteers helping on the one-day build work at Yokohama Tire Manufacturing Mississippi (YTMM), the high-tech, 1-million-square-foot plant in West Point.
"The new playground offers a fun, safe play area for children and their parents," said Alan Holtschneider, director of marketing at Yokohama Tire Corp. "It's gratifying to bring joy and happiness to the community of West Point."
Highlights of the playground build included the installation of new, brightly colored, environmentally safe Cradle-to-Cradle-certified playground equipment. Yokohama and KaBOOM! met with local parents and their children back in August to help design the playground and pick out color schemes and equipment.
"The kids really were the design experts," Holtschneider said. "Several of their ideas and apparatus choices were incorporated into the final design."
This was the third playground collaboration with Yokohama KaBOOM!, the national nonprofit dedicated to ensuring that all kids get a childhood filled with the balanced and active play needed to thrive. The first two were built in Southern California and Rockland, Massachusetts.
"Hundreds of kids in West Point now have a great, safe place to play thanks to Yokohama Tire Corporation and the City of West Point," said Lysa Ratliff, vice president of corporate partnerships of KaBOOM!. "I'm excited KaBOOM! was able to help provide a playspace where these kids can have fun, learn, explore and just be kids."