News
XPEL ULTIMATE is Made for Racing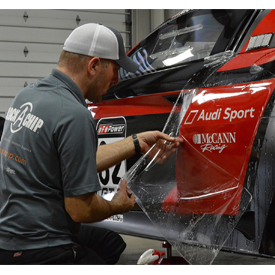 XPEL now offers its ULTIMATE paint protection film, an invisible shield made for race car owners who wish to protect against extreme wear and tear on the track, while reducing drag.
Featuring advanced elastomeric polymers and a non-yellowing clear coat, XPEL ULTIMATE is highly durable and retains its high-gloss finish for years, according to the company. It's formulated to seamlessly blend with clear coats and has a "self-healing" feature that eliminates swirl marks and scratches over time.
XPEL ULTIMATE guards against rock chips from gravel and insect waste, but also shields the car's finish from rubber "marbles" that shoot up from racing tires, according to the company. The product can also be used to protect vulnerable headlights.
"Adding a top layer of XPEL ULTIMATE paint protection film is the best way to extend the life of a race vehicle's vinyl wrap," said Eric Keller, XPEL business development manager. "Our paint protection film can withstand being scuffed from contact on the track when cars bump into each other or scrape against the wall, while also helping preserve the vinyl wrap underneath. Plus, ULTIMATE film also makes it easier to clean tire remnants from the vehicle's finish."
According to Phillippe Gomez, shop manager and head installer at Sign Savers in Miami, racing teams increasingly specify XPEL ULTIMATE to avoid having to replace expensive vinyl graphics on hoods, bumpers and side panels. And lighter-colored cars more easily show any vinyl damage, he added.
"Sometimes on a race car it looks like the driver went through mud, but it's actually tire mark residue from taking turns and the actual physical racing from when the tire gets hot and rubber shoots off the tire," Gomez said. "If you don't paint protect the wrap, the wrap will only last for one race and one practice, so adding a protective layer of XPEL ULTIMATE film on top can actually benefit a team's budget in the long run."
For superior protection, some teams first wrap the entire vehicle in XPEL ULTIMATE, then install vinyl graphics, and wrap the vehicle again in ULTIMATE, Gomez said. The film is hand cut by expert, authorized XPEL installers and contoured around the most complex surface angles without any ripples, seams or wrinkles.
XPEL ULTIMATE is a super-slick film that can also help improve race car aerodynamics when applied to aerodynamic wing edges, seams, jack holes and other areas that could affect lap times, according to XPEL. Wrapping over the vinyl graphics on race cars imparts a mirror-smooth finish, further eliminating air restriction, thus reducing drag.
XPEL also offers TRACWRAP, a tough 8-mil urethane film that serves as a temporary film barrier. TRACWRAP can be used in conjunction with ULTIMATE and is affordable, easy to install, and peels off easily off in less than five minutes with no hassle, no mess and no sticky residue, according to XPEL.