News
Wraps Industry to Unite for WWWRAP Bash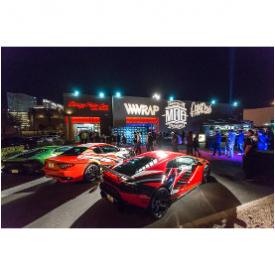 Paint is Dead and Masters of Branding (MoB), two of the most influential groups in the wraps industry, will host the second annual World-Wide Wrap Recognition and Appreciation Party-otherwise known as WWWRAP-during the SEMA Show week in Las Vegas.
WWWRAP is set to be held at 6 p.m. on Nov. 1 at the Conference Center Las Vegas-6590 Bermuda Road-which is s short distance from McCarran International Airport.
According to the organizers, the crowd will start gathering about 6 p.m. in the grand foyer for drinks and conversation until the party moves upstairs to the main exhibition hall. Sponsors will greet guests, show off some new products, talk about old ones and celebrate the wrap industry.
Around 8 p.m., the gathering will move back downstairs in the covered parking garage where the new color unveil will take place. Starting at 8:30, organizers will bring one vehicle at a time into the parking garage, describing the color and its selling points in detail.
After an hour or so of checking out what's new in the world of color, the event will move back upstairs for the awards ceremony and prize giveaway. When guests return to the exhibition hall, they'll see that the room has been transformed into a banquet hall, where large tables will set be up to accommodate viewers of the awards ceremony.
New to the WWWRAP this year, the awards ceremony will honor many deserving members of industry in categories such as best new shop and best design. The ceremony will last until about 11 p.m., and the WWWRAP event will close up at midnight.
The event's Facebook page is HERE, and you can register to attend on the WrapperMapper's Facebook page HERE.
WRAPS and Sign & Digital Graphics magazines-THE SHOP magazine sister publications-are co-sponsors of the WWWRAP.