News
World Classic Rockers Return to Funfest Stage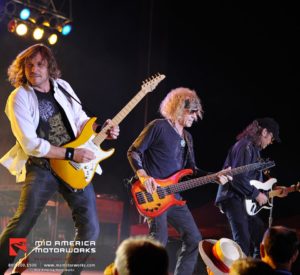 Mid America Motorworks announces the return of World Classic Rockers, performing Saturday, September 16, 2017 in Effingham, Illinois.
World Classic Rockers consists of former members of rock and roll's greatest bands: Journey, Santana, Kansas, Lynyrd Skynyrd and Steppenwolf. The band will perform a night of chart-topping classic rock hits including "Don't Stop Believing," "Sweet Home Alabama," and "Carry on Wayward Son."
Making their Corvette Funfest debut in 2012, World Classic Rockers performed a Saturday evening concert that was easily one of the most memorable in recent Funfest history, begging the question: are Corvette Funfest 2017 guests ready for an encore?
"We all have bands that we would love to see on the Funfest stage again and again," said Mike Yager, Chief Cheerleader at Mid America Motorworks. "World Classic Rockers was a no-brainer. For one thing, these are genuine, down-to-earth guys who put on an outstanding show. Every generation of Corvette enthusiast can identify with and enjoy these songs. It's going to be an awesome night!"
World Classic Rockers, the world's premier rock and roll all-star band, will give Corvette Funfest attendees a chance to enjoy a night of their favorite hits from several of the most prominent musicians and singers of all time. With their ability to bring audiences to their feet night after night, the World Classic Rockers are sure to give an unforgettable performance which has become the standard for Saturday night entertainment at Funfest.
The 24th Annual Corvette Funfest is scheduled for September 14-17, 2017 at Mid America Motorworks' corporate campus in Effingham, Illinois. The headlining Saturday evening concert is a highlight of the four-day event that will celebrate the 1967 Corvette Sting Ray. Register at http://registration.corvettefunfest.com/default.aspx.