News
Winners Declared in Lane Automotive No-Prep Triple Crown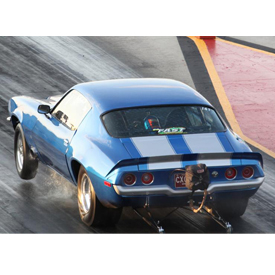 The final event of the No-Prep Triple Crown, presented by Lane Automotive, saw two new winners and one repeat champion during the Aug. 25 evening program. Racers from three midwestern states made trek to US 131 Motorsports Park for a chance to take home a portion of the $15,000 cash payout.
The weather was ideal with temperatures in the 60s without any threat of rain. After two-and-half hours of open track time, the drivers meeting took place, the blind ladder created, and at the same time, every entry was handed a contingency award from Lane Automotive.
The race program was fast and furious as the US 131 Motorsports Park crew kept the racing safe and exciting, according to Lane Automotive. The two classes-Big Tire and Small Tire-and the second-chance Edelbrock Challenge were all apart of the program.
The first final of the night saw July's Big Tire runner-up, Bryant Goldstone in his red AMC Javelin get redemption by out running the Camaro of Philip Smith. Goldstone collected $5,000 for the effort.
Greg Seher took the Small Tire win, as Ryan Hendrickson could not answer the call to the line. The win for Seher put $5,000 in his pocket and made up not making it to the line for the final pairing at the July event.
The final run of the night saw a Big Tire versus Small Tire battle for the Edelbrock Challenge title. After giving up nearly 0.80 seconds at the start, Jimmer Kline in his '66 GTO drove around the Small Tire '69 Camaro of Danny Garbarino. This was Kline's second $1,000 Edelbrock Challenge win of the season.
"This was Lane Automotive's first time supporting No-Prep drag races," said John Berglund, Lane Automotive advertising manager. "Thanks to the support of the fourteen marketing partners, we were able to put a small team together from inside Lane Automotive to promote and assist with the event as well as find a race track and run the first event all in less than a month. Drag racing is a very important market for our company. The No-Prep series along with the US 131 Motorsports Park Bracket Series keeps a strong relationship with current customers and is a gateway for new business."
The No-Prep Triple Crown presented by Lane Automotive was supported by several partners, including Allstar Performance, Edelbrock Performance, Fragola Performance, US Gear, MAHLE Motorsport-North America, QA1, Scat Enterprises, SCE Gaskets,Total Seal, Moroso, King Engine Bearings, Powermaster, CVR Performance, and Eagle Specialty Products along with US 131 Motorsports Park.