News
Welding Past to Present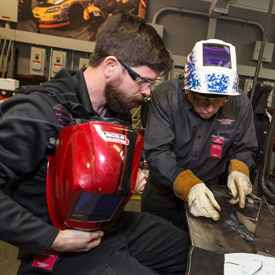 Lincoln Electric for more than 100 years has been the top dog of welding education and is currently maneuvering to remain on top.
Since 1917, Lincoln Electric's welding school has produced over 100,000 trained welders. The school took off after training WWI soldiers for the European Theatre and was later one of the first institutions to train women during WWII.
Growing Pains
But Lincoln Electric didn't get this far by sticking with the pack, which is why the company is now growing its program offerings and facility space. Last month, the final beam was placed for its new welding training center. According to Jason Scales, manager of education solutions, the company needed to keep up with the maturing industry.
"As the need for welders kept growing, the capacity of our school kept shrinking. We started to turn away more than we could intake to teach them how to weld, so we knew we need to upgrade our weld school," Scales said. "When we decided to do that, we looked at the whole welding industry, from the teachers all the way to the students, and thought that if we're going to make a significant investment, we need to invest in the total program, not just a part of it."
Conceptually, the project was started two years ago. During the early stages, Scales said there was an element of having to predict the unknown. Because the industry is advancing so rapidly, Lincoln Electric considered several questions, such as: How to adapt to new technologies; and how to design its space to be flexible for new processes?
New Technology
Vertex 360, a virtual welding simulator, is an example of new technology currently transforming Lincoln Electric's methodologies. Scales said the simulator is a game-changer.
"If I'm going to teach someone how to weld, typically what I would do is take them out to a welding booth and get a welding helmet on them. But when that's the case, you really can't see a lot-once I strike the ark, you can see that ark, you can see that weld tunnel, but you really can't see what I'm doing," he said. "You can't see how I'm standing, my position to the table, the torch or anything like that.
"Using the virtual welding simulator, I can show all that in real time. Instead of me drawing on the board like I used to, I can have a student come to the front of the classroom, try a weld, record that weld, and then we can start breaking things down, all while the students are sitting in the classroom, completely safe, with nothing obstructing their view.
"We can really enhance the learning environment that way," Scales said.
Changing Times
A decade ago, the welding classroom was almost completely skills-focused and students weren't spending a lot of time in the classroom, according to Scales. Now, Lincoln Electric spends more time developing students' knowledge base and teaching theories. This is something that has directly impacted the design of the classroom.
The Lincoln Electric welding training center is planned to be fully operational by fall, however, some newer programs that will offer an expanded, more comprehensive list of welding classes for instructors may not launch until the summer of 2018, according to the company. For now, Scales said, Lincoln Electric is zeroed in on just getting the training center doors open.
Once completed, the Train the Trainer Program will feature several different workshops.
Teaching The Teacher
The Teacher Observer Program is open to any instructor in the U.S. to sit in on welding classes as a student.
"We'll open the books and show them exactly how we do it and what we do, and then they can work on enhancing their skills with our instructors," Scales said.
The Welding Educator Workshop is where welding instructors can learn new techniques to teach welding skills, knowledge and theory behind welding, all while learning new technology.
Beyond the Booth concentrates on training the new generations, covering modern teaching strategies and how to effectively give demonstrations, deliver lectures, and lead group activities.
"We want to stay at the forefront of welding instruction-what is the best way that we can teach that next generation of welders? What new tools and resources can we develop to teach that next generation of welders? It's our commitment to the welding industry," Scales said. "It's not about producing a next generation of welders, but also how we help the current welding workforce and professionals to get better."
Click to track the progress of Lincoln Electric's new facility.