News
WD-40 Seeks Builder for Special SEMA Project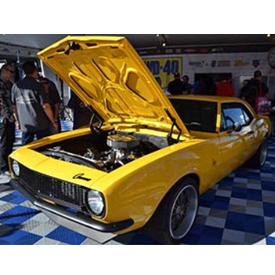 WD-40 Co. is once again commissioning a vehicle build to showcase its brand at the SEMA Show. The car, which will be owned by SEMA Cares, ultimately will be auctioned through Barrett-Jackson to benefit SEMA Cares and ChildHelp.
The deadline for project proposals is Monday, June 12.
In past years, the WD-40 builds have generated an annual average of more than $110,000 in donations to the charities garnering an average of 7 million media impressions.
WD-40 is seeking a builder or shop to work with on the vehicle for the Oct. 31 to Nov. 3 SEMA Show. The company has an extensive list of requirements for the build and the request for proposal.
According to WD-40, the vehicle build should:
Generate media (traditional and social) before, during and after the show. The vehicle should stand out with innovative design, parts and accessories. WD-40 Co. will lend promotional support in addition to that generated by the selected builder
Showcase uses for WD-40 brand products during the build/restoration process, as well as maintenance. The build should demonstrate that WD-40 brand is more than the original blue-and-yellow can, offering a variety of products best suited for multiple needs, including the WD-40 Specialist and WD-40 Greases lines. (Note: WD-40 Co. believes a restoration build, versus a new car, is ideally suited for this project due to an older vehicle's ability to showcase uses for WD-40 Brand products.)
Leverage the builder's relationships to bring added value and secure donations (parts, accessories and in-kind support) for the car build, ultimately increasing the value of the vehicle and generating significant return for the SEMA Cares Foundation
WD-40 Co. also is looking for a valued partner to:
Design and develop a concept for building a 50-state, street-legal off-road vehicle
Manage sourcing of materials and oversee any fabrication, installation or work done to the vehicle
Set and abide by a mutually agreed-upon timeline of activities, with a completion date prior to the SEMA Show
Submit monthly status reports leading up to the Show as specified in the contract. Reports should include the documentation of the car build's key milestones via photos, videos and updates that can be shared by WD-40 Co. in its promotional support plan. Monthly reports should include WD-40 Brand product uses, modifications to the vehicle, and social and traditional media exposure as generated by the build partner
Leverage his or her relationships to bring added value and secure donations (parts, accessories and in-kind support) to the car build, as specified above
Bring promotional support to the build showcasing the WD-40 brand and logo (via social media and/or other marketing tactics at the discretion of the build partner)
Purchase and maintain $3 million in general liability, $3 million in automotive liability, $1 million in employer liability and demonstrate worker's compensation coverage. An umbrella policy may be used to achieve coverage limits
The budget for the build, according to WD-40 includes $10,000 to $15,000 for project management and $25,000 to $45,000 for car purchases, labor and fabrication costs.
Request for Proposal
The request for proposal includes a two-step process. During both phases, WD-40 Co. will evaluate potential build partners against his or her ability to meet the above criteria and expectations.
Part 1:
Email a summary, no longer than two pages, describing how the builder will meet the above goals and criteria for the build partner. In addition, WD-40 Co. asks for an overview of the builder's vision for the vehicle build, including a sketch, as well as ideas for type, year, and model of the 50-state, street-legal, off-road vehicle and theme.
WD-40 Co. will review proposals and select three to five builders to submit a proposal during Part 2, which is invitation-only, and a stipend of $500 will be allocated to each builder asked to submit a proposal.
Part 2:
Additional details/support for how builders will meet the goals and criteria are outlined here. Part 2 should include:
A detailed project proposal, including color rendering.
Proposed vehicle modifications.
A promotional support plan, including estimated impressions.
A breakdown of estimated related costs (within the budget specified above).
An estimate of value-added partners/sponsors/donations that you can bring to the table.
An estimate of the total value of the completed vehicle.
The Part 2 submission deadline is Seven to 10 days after notification of finalists.
Submission Guidelines
Responses to the request for proposal should be submitted via email to Teresa Siles at ts@nstpr.com by the deadlines listed above. The award recipient will be notified in mid-J