News
VOXX Electronics Expects Strong Sales for New Back-Up Camera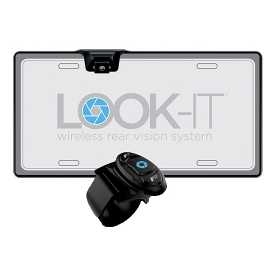 VOXX Electronics Corp. (VEC) said it has debuted a revolutionary wireless back-up camera. The LOOK-IT powered by Lightwave Technology backup camera combines wireless smartphone technology with a high-tech built-in license frame camera.
VOXX Electronics will be the exclusive U.S. distributor for the LOOK-IT product.
LOOK-IT wireless back-up camera provides users with a do-it-yourself, all-in-one back-up camera and monitor solution, according to VOXX.
LOOK-IT will help improve back-up safety, reduce blind spots and assist in changing the way drivers park their vehicles. The system connects wirelessly to a smartphone and turns an iPhone or Android device into the display, allowing drivers to view the footage directly on their smartphone. The camera provides smart grid line calibration for better back-up maneuvers and can be adjusted with various camera angles to fit any vehicle's size. The IP67-certified single-piece waterproof molded design license plate frame includes a built-in camera and houses a replaceable battery that can power the camera for up to four years, according to VOXX. Since the camera communicates with the smartphone over a wireless connection, there's no need to connect wires to the vehicle.
"With consumer awareness for in vehicle safety products at an all-time high coupled with both a DIY or hardwired application, we feel that this product is ideal for all distribution channels and should be a good seller in Q4," said Aron Demers, senior vice president of VOXX Electronics Corp. "VOXX remains dedicated to delivering safety accessories to the aftermarket and continuing to grow the Advanced Driver Assistance System category. With the introduction of LOOK-IT we can offer drivers an affordable and easy solution to upgrade their vehicle to include these new features, without the need to replace their rear-view mirror or existing radio."
To activate the system, the user presses a button on the QuickView patent-pending remote mounted on the steering wheel or dashboard and instantly unlocks and opens the app displaying the image. Allowing the user to focus and keep their eyes on the road ahead, the QuickView remote comes with two auxiliary buttons that are programmed to launch Google Map and Apple map. In the short future,  user's will be able to launch their preferred APPS.
For more information, visit voxxelectronics.com.