News
Turn 14 Distribution Raises Money to Fight Cancer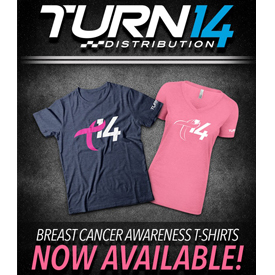 Turn 14 Distribution has begun an initiative to raise $20,000 for breast cancer awareness.
"While it is easy to get caught up in day-to-day business, I believe it is vitally important that we stay connected to the issues beyond," said Jon Pulli, CEO of Turn 14 Distribution. "Cancer kills more than a half a million people in the U.S. every year. Turn 14 Distribution has decided to launch an array of fundraising initiatives to donate to research for a cure. In addition to exclusive products from Perrin Performance and Rally Armor, which will have a portion of proceeds donated, Turn 14 Distribution's own T-shirt designs will be sold for $20 each with 100 percent of the proceeds donated."
Turn 14 Distribution's internal marketing department has designed women's and men's breast cancer awareness T-shirts that will be available during the month of October. All proceeds from the shirts will be donated to Stand Up To Cancer, an initiative created to accelerate innovative cancer research that will get new therapies to patients quickly and save lives.