News
Turn 14 Distribution Becomes Sole U.S. Automotive Distributor of Akrapovič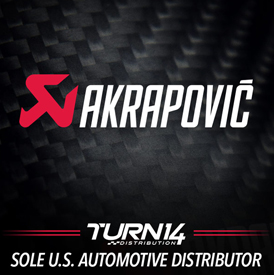 Turn 14 Distribution has become the official sole U.S. automotive distributor of Akraprovič, a leading premium exhaust system and carbon fiber product manufacturer. With the addition of Akraprovič to its product offerings, Turn 14 Distribution further establishes itself as an industry leader in the European automotive aftermarket, according to the company.
"Akrapovič is world renowned for its leadership in titanium metallurgy, award winning design, and distinct sound. Turn 14 Distribution is proud to partner with Akrapovič as the sole U.S. automotive distributor," said Jon Pulli, CEO of Turn 14 Distribution.
Akrapovič is a pioneer in the innovative use of titanium and super-alloys, according to the company. The brand is at the forefront of carbon-fiber component development and production. Akrapovič exhaust systems are renowned for increasing performance, having an unmistakable sound, innovative design, lightweight technology, quality workmanship, and durability.
Founded in Slovenia by former motorcycle racer, Igor Akrapovič, the brand has grown to international prominence, winning major world championship titles and setting the highest design standards, which have led to multiple Red Dot awards (for outstanding international product design and communication), according to the company.
Increased performance, user-friendly controllable power delivery, signature sound, and durable lightweight exhausts are all directly related to the research, development, and testing that every Akrapovič exhaust is subjected to in the racing arena. The company operates from state-of-the-art production facilities and technologically advanced R&D facilities in Slovenia, which include an in-house titanium foundry, a metallurgical laboratory, several motorcycle and car dynamometers, and high-tech production machinery.
Akrapovič has over 1,000 employees and markets its products in more than 80 countries worldwide.