News
Turn 14 Distribution Adds HKS To Line Card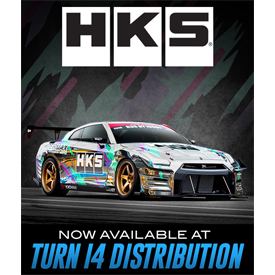 Turn 14 Distribution is now one of two master distributors of products from the legendary Japanese tuning powerhouse HKS. With the addition of HKS to its line card, Turn 14 Distribution continues to expand its assortment of quality highly sought-after products that solidify it as the leader in aftermarket performance parts distribution.
"HKS has a rich heritage of offering high quality products for the aftermarket. We are honored to partner with them as one of two Master Distributors here in the U.S." said Jon Pulli, CEO of Turn 14 Distribution.
HKS specializes in aftermarket high performance auto parts engineering and manufacturing, and perhaps is the most known aftermarket brand in the world. Formed in 1973, and named after the founders Hasegawa, Kitagawa, and Sigma, HKS began tuning engines and cars with a vision to tune and manufacture high performance engine components and turbo kits that surpasses OE Manufacturers, according to the company.
It's been 40 years since HKS was established and developed the industry's forefront aftermarket products such as turbo kits, original mufflers, suspension, electronics and much more. HKS is always making new innovations in performance aftermarket tuning products, according to the company. The performance aftermarket is the root and fundamental strength of HKS.