News
Tint World Expands into Fort Myers, Florida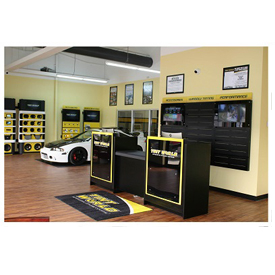 Tint World Automotive Styling Centers has opened a new location in Fort Myers, Florida. Owned and operated by Mark and Dana Hamilton, the new store is the 13th Tint World location in Florida and will provide residents with a variety of services, including mobile electronics and car stereo upgrades, vehicle customization, automotive, residential and commercial window film, as well as marine audio and styling.
"Mark's a retail veteran and knows how to run a customer-oriented business that offers a great experience," said Charles J. Bonfiglio, Tint World CEO. "He's a perfect fit for the Tint World family and has a great opportunity to give the people of Fort Myers a professional, reliable location for all their automotive styling and customization needs."
Hamilton always had a passion for cars, and when he and his wife attended a Tint World Discovery Day, they both knew Tint World was the next step in their journey to business ownership.
"If you had given 20-year-old me a million dollars and asked me to open my dream business, Tint World would just about be it," Hamilton said. "Over my 25-plus years in retail, I've watched a lot of stores close and get bought out, but what really sold me on Tint World was its sustainability, even in the age of internet sales. Sure, you can buy a lot of automotive parts and products online-I've certainly done it-but if you can't install it yourself, you've got to go to an expert. We want our store to be the expert location for all your automotive needs in Fort Myers."
When setting up the new store, Hamilton approached the design the way he would want it if he was a customer.
"We want to make sure that everyone, from a mom who's there with her kids to a car enthusiast like myself, feels comfortable and knows they'll be getting great service as soon as they enter our shop," he said. "The showroom is clean and inviting with a comfortable sitting area for those who want to stick around while their car is worked on. We've even got a window from the showroom into the garage so even the most discerning customer can watch as their car is being worked on."
The all-new Tint World Fort Myers store is open Monday through Saturday. To find out more, call 239-800-9552.