News
Shurhold Introduces New Product Packaging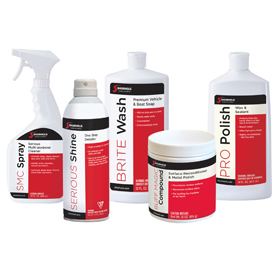 Shurhold Industries has launched redesigned packaging across its complete line of cleaning and maintenance chemicals. Aside from the new look, the move sunsets the familiar Yacht Brite logo.
While the Shurhold logo is still prominent on the design, the bold, modern packaging features a wealth of meaningful information, according to the company. The packaging is designed to let customers' eyes move naturally left to right and top to bottom to identify the product name, brief description and features. The familiar red, white and black corporate colors remain.
"With Shurhold and Yacht Brite packaging, we had two very different product characters," said Barry Berhoff, Shurhold Industries CEO. "Not only does the new packaging provide a clean, modern look, but it also unifies our brand identity."
For more information, call 800-962-6241 or visit www.shurhold.com/auto.