News
Shop Guy Wins Ultimate Experience with Earnhardt Jr.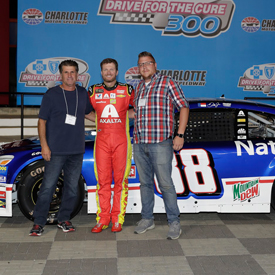 MAHLE Aftermarket Inc. recently awarded Scott Boynton the grand prize in the MAHLE Aftermarket Turn Knowledge Into Horsepower eLearning promotion. Boynton and guest were hosted by Dale Earnhardt Jr. and the Dale Jr. Foundation staff at Charlotte Motor Speedway, where he enjoyed a three-lap ride along with Earnhardt.
The grand prize also included a VIP experience at Charlotte Motor Speedway, tickets to both the NASCAR Xfinity Series and Monster Energy Cup Series races and tours of the pit and garage area and tour of the JRM Shop.
"It was a once-in-a-lifetime experience-from the tours at Charlottle Motor Speedway to the personal time with Dale Jr.," Boynton said. "The Dale Jr. Foundation team couldn't have made us feel more special. Plus, the added opportunity to ride along with Dale Jr. was just incredible! Many thanks to MAHLE for such an incredible experience."
The Turn Knowledge into Horsepower promotion was designed to encourage automotive professionals, such as counter people and technicians, to further educate themselves by completing the MAHLE Aftermarket eLearning courses.
"The courses not only provide product information on MAHLE Original gaskets and filters as well as Clevite engine bearings, but they also contain several video tutorials offering additional technical training tips for the field," said Jon Douglas, president of MAHLE Aftermarket Inc. "Education is key in the automotive aftermarket and is something we at MAHLE are very passionate about."
For more information visit www.mahle-aftermarket.com.