News
THE SHOP: Analyzing the Chassis & Steering Market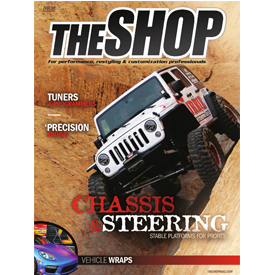 Your October issue of THE SHOP magazine is stuffed in a mail delivery person's satchel somewhere, heading your way. But wait no longer! The issue is available right now on our website for your viewing pleasure.
While you wait for the actual magazine to brandish your desk with the latest news, information and trends, you can get a head start on your reading. This month's featured content covers topics such as profiting in the chassis and steering market; trends in tuners and programmers; turning vinyl into consistent revenue; and our quarterly Precision Engine supplement for engine builders and shops.
Of course, you'll find much more in the October issue of THE SHOP. Enjoy the magazine when it arrives, and the digital version today.
Next month's November issue of THE SHOP magazine features the popular project vehicle showcase, which begs the question: Have you sent us your project vehicle info yet? Do not wait. Send project vehicle submissions to jwhite@nbm.com and abowe@nbm.com.