News
SCOSCHE Reveals New HeadsUp OBDII Add-on LED Display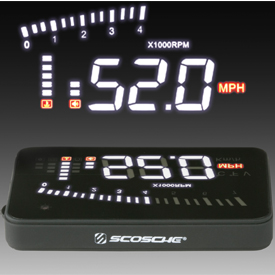 SCOSCHE Industries has debuted its new HeadsUp OBDII Add-on LED Display. The product is the latest addition to Scosche's recently introduced line, SAFETECH, which includes products designed to promote a smarter, safer driving experience.
The HeadsUp OBDII Add-on LED Display is designed to enable drivers to easily see their vehicle's speed, temperature and more directly on their windshield.
"We all know that taking your eyes off the road-"even (for) a couple of seconds-"can have serious consequences," said Chris Cowles, director of marketing at Scosche. "The HeadsUp OBDII Add-on LED Display is a small convenient display product for safer diving. This discreet display allows you to reduce the number of times you take your eyes off the road by showing your speed in MPH or Km/H, engine RPM and key status indicators right on your windshield. It's one of many new SAFETECH designed products you'll see from Scosche in the coming months."
The new HeadsUp LED Display enables the user to program alerts for when their vehicle reaches certain speeds, temperatures and voltages. It features a multi-color, 3-inch High Bright LED display, which auto-adjusts brightness to ensure maximum visibility for day or night driving. The HeadsUp LED Display works with all vehicles manufactured since 2001.
The HeadsUp OBDII Add-on LED Display (part number: HUD2) is now available.