News
Rydeen Offers New POP Materials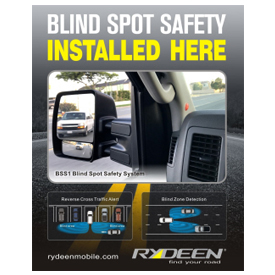 Rydeen Mobile Electronics of Torrance, California is now offering new in-store point of purchase (POP) items for retail dealers purchasing the new BSS1 Blind Spot Safety System.
Available now is a counter top display easel, as well as a floor standing BSS1 banner for all dealers and distributors who purchase the BSS1 system. Soon to arrive is a retail dealer window display to assist in attracting potential new customers to the store.  All of these items are provided for free to support the sales of the BSS1, according to Rydeen.
"These new POP items will be effective in creating in-store consumer awareness of the blind spot safety category and specifically the BSS1 from Rydeen" said Mike Northup, director of sales and marketing for Rydeen Mobile.
The BSS1 was introduced at 2017 CES.
"It works much the same as the OEM systems using the microwave radar technology for sensing traffic approaching in adjacent lanes specifically in the driver's blind spot." Northup said. "It sees what the driver may not see in the side view mirrors. It comes equipped with LEDs for visual alert and a beeper for audible alert. The GPS antenna is included for increased accuracy of driver alerts by sensing speed."
As an added bonus, the BSS1 gives a cross traffic alert when backing out of a parking space. The BSS1 and the POP is now available from Rydeen Mobile. To become a dealer or to locate distributors call Rydeen at 877-777-8811 or visit www.rydeenmobile.com.