News
Roush Yates Engines Aligns with Sharp to Enhance Productivity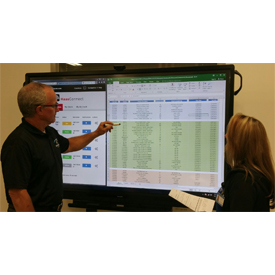 Roush Yates Engines has aligned with Sharp Business Systems of North America to form a new technology alignment to enhance its overall company performance.
"With the installation of the Sharp multifunctional printers and copiers, as well as the addition of the Sharp AQUOS BOARD interactive display systems, Sharp USA has enhanced our efficiency and productivity," said Doug Yates, president and CEO of Roush Yates Engines. "Sharp is a trusted industry expert that will advance our workflow efficiency and communication within our team."
The new Sharp multifunctional printers (MFP) are precision engineered for quick and easy setup, exceptional image quality, ease of operation, control and maintenance. The AQUOS BOARD interactive display allows several people to write on screen at the same time, and its wireless and video conferencing features will allow Roush Yates Engines to meet with anyone around the world. This technology will boost collaboration and interaction during planning and development meetings and gatherings with clients, partners and staff, according to Roush Yates Engines.
"Sharp has an unwavering commitment to quality and innovation which aligns with Roush Yates Engines' company goals, making this a win-win partnership," said Todd English, vice president of business development for Roush Yates Engines.
Learn more about Roush Yates Engines and Sharp Business Systems at www.roushyates.com and www.sharp-sbs.com.