News
Rotary Lift: Are Mobile Column Lifts Right for Your Shop?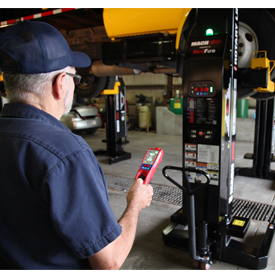 The versatility of mobile column lifts makes them increasingly popular with a wide range of customers, including fleets, car and truck dealers, and independent shops. But that doesn't mean they're the right choice every time, according to Rotary Lift. The lift manufacturer has provided the following five tips for determining if mobile column lifts are right for a shop's business:
Look at the vehicles you want to lift-Mobile column lifts are available with capacities from as low as 13,000 pounds all the way up to nearly 19,000 pounds per column. They can be used in sets of two, four, six or eight columns, with a total lifting capacity ranging from 26,000 pounds to more than 150,000 pounds. Adapters can be added to make it possible to use a pair of mobile columns to lift trucks by the frame. For a shop that does mostly automotive and light-duty truck work, a mobile column lift may be more lift than needed
Assess the services your shop performs-The type of services a shop performs and plans for the future is one of the most important factors in choosing the right lifts. Mobile column lifts are the most versatile of all heavy-duty lifts and can be used for most maintenance and repair tasks. However, it does take a little time to move and configure the columns versus other types of lifts. Shops depending on quick service and turnaround, an in-ground or drive-on lift may be a better choice. Similarly, mobile column lifts can't be used for certain tasks, like alignments, and are more challenging to use to do wheel and brake work. Another lift style may be preferable for these tasks
Evaluate available space-It's important to consider a shop's available space, traffic flow, vehicle lengths and turning radius. If space is limited, mobile column lifts can be a good choice because, unlike fixed lifts, they can be moved as needed throughout the shop or even outside, enabling empty space as revenue-generating repair, inspection or wash bays. A dedicated area to store the lifts when not in use, as well as outlets to charge the column batteries, are a necessity
Consider workplace efficiency-Mobile column lifts allow for an open floor plan, meaning less clutter for technicians to navigate and a cleaner-looking shop. Optional features like battery-powered and wireless units remove tripping hazards, and remote-controlled lifts can provide better visibility to the entire vehicle during the lifting process. Techs do have to take time to correctly set up the columns, and wired models will have cables on the floor that stretch between columns
Understand the overall cost of ownership-Mobile column lifts generally have the lowest upfront cost of any heavy-duty lift, plus there are no installation costs. Top-quality manufacturers will provide support and offer products through distributors who are fully equipped to provide installation, service, inspections and repairs to minimize any downtime.
Rotary offers its Buyers Guide: Mobile Column Lifts free of charge. The guide examines features and considerations to help owners and operators determine if mobile column lifts are right for their shops.www.rotarylift.com/LIFTS/Mobile-Columns.