News
Rotary Introduces Broad Line of Professional Tire Changers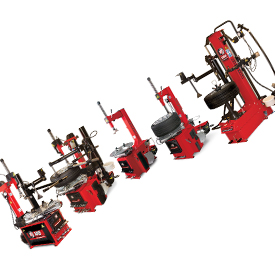 Rotary has come out with a new line of professional tire changers to meet any automotive shop needs. The line includes leverless, tiltback and swing-arm models.
The new Rotary tire changers, with descriptions from the company, include:
R1150 Leverless: Leverless tire changer that offers a safe and efficient way to change a wide variety of tires and wheels. Featuring the patented Auto-Touch Function, the risk of marring a wheel or damaging a bead is non-existent because all contact with the tire and wheel is made on durable, non-abrasive components. Handles a rim capacity range of 10 to 30 inches and a maximum tire width of 15 inches
R145 Tiltback: Featuring a double-acting bead breaker cylinder, the R145 Tiltback is designed to work on low-profile and large-sized steel or alloy rims. With an extra-wide heavy-duty frame, the pneumatically tilting column ensures peak rigidity to prevent rim damage. Has a rim clamping capacity range of 10 to 28-½ inches and a maximum tire width of 17 inches.
R145D Tiltback VSC: Featuring an electric motor inverter, the R145D is an automatic tire changer that provides the ability to regulate the table top rotation speed, reducing the stress on the bead to avoid damaging the tire. Designed for large and wide tires, the R145D is equipped with the Fast Inflation (FI) configuration for tubeless tires.
R146 Swingarm Pro: Designed for the high-volume tire center, the R146 high-performance model provides the torque necessary for today's difficult assemblies. The large and reinforced frame adds greater rigidity to the structure and table top, and the gear box is installed between two steel plates to avoid flex during operation. The extra height of the vertical post and tool shaft allow operation on wheels with a maximum width of 15 inches and a rim clamping capacity range of 10 to 28-½ inches.
R1401 Swingarm Shop: Features heavy-duty swing arm structure. The exclusive 110v single-speed motor provides needed torque and the rigid self-centering chuck with a wide clamping range handles a variety of needs. The R1401 is equipped with a galvanized, double-operating bead breaker cylinder and is suitable for tires with a maximum width of 12 inches.