News
Roadwire Cares Reaches At-Risk Children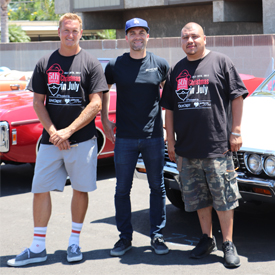 Roadwire Cares, the nonprofit charity of Roadwire Inc., recently teamed up with Olive Crest to support this year's Christmas in July event, bringing joy and hope to 400 at-risk Southern California children.
The event, held July 29 at Olive Crest's Orange County facility, brought together a community of SEMA-member companies, car builders and enthusiasts, as well as the leadership and staff from Roadwire and Olive Crest.
The children, most of whom have suffered hardship in their young lives, were treated to a memorable day of fun activities, complete with toys, a slot car derby, face painting, a bounce house, and a photo booth. And to the youngsters' added delight, a chance to judge the inaugural Kids Choice Award and select a 2016 Chevy Camaro SS as best in show among 50 customized rides on display.
"There is nothing as heartwarming as bringing joy to children who have experienced hardship and disappointment," said Dave Edmondson, senior vice president of Roadwire Inc. "Olive Crest performs extraordinary work with children and families. It was a privilege to partner with them and another testament to our commitment to provide compassionate aid to those less fortunate."
Roadwire Cares was established by Roadwire as a 501(c)(3) nonprofit organization dedicated to providing humanitarian aid.
"Days like this are special for Olive Crest kids," said Jaime Zavala, Olive Crest's executive director. The nonprofit organization is devoted to preventing child abuse, to treating and educating at-risk children, and to preserving families. "The work we do is challenging and heartbreaking, and it takes a village to bring healing to children who've been abused and neglected. We are eternally grateful for the partnership with Roadwire to provide a memorable experience."
For more information, visit www.Roadwire.com, or call 877.ROADWIRE.