News
Ringbrothers to Unveil Trio of Custom Vehicles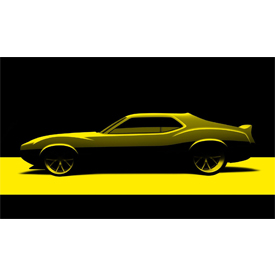 Ringbrothers will unveil three custom-built vehicles at the 2017 SEMA Show, including a 1969 Dodge Charger, a 1972 AMC Javelin AMX and a 1956 Ford F-100 pickup truck. The Charger and the Javelin builds represent first-ever Ringbrothers creations for those marques.
On Oct. 31, the brothers will make their Mopar debut with the 1969 Dodge Charger Defector. Scheduled to be unveiled at the BASF booth (No. 20353) in Central Hall at 11 a.m., this one-of-a-kind Charger incorporates more than 4,700 hours of custom body work, including a body shortened by 2 inches and a chassis lengthened by 3 inches. The Charger is powered by a Wegner Motorsports 6.4-liter HEMI and features a Flowmaster exhaust, Royal Purple fluids, custom HRE wheels and is finished in a BASF Glasurit Waterborne paint custom color called Greener on the Other Side.
At 3:30 p.m. that afternoon, SEMA attendees will have a first look at the Prestone 1972 AMC Javelin AMX Defiant! in the Prestone booth (No. 30321) in South Hall. This first-ever Ringbrothers AMC build has been entirely modified utilizing carbon fiber throughout the vehicle including the hood, front fenders, grille and the front valance. The Javelin is powered by a Wegner Motorsports 6.2-liter HEMI Hellcat motor which, when combined with a Whipple 4.5-liter supercharger, generates more than 1,000 horsepower. The Javelin also features Flowmaster exhaust, HRE wheels, Baer brakes and a stunning BASF Glasurit Waterborne paint job named Jalop Gold.
The third reveal, a 1956 Ford F-100 Pickup Truck named Clem 101, will take place in the Ringbrothers booth (No. 23283) in Central Hall at 9:30 a.m. on Wednesday, Nov. 1. Designed by Jim and Mike Ring, the F-100 has been completely overhauled, incorporating a 5-liter Coyote crate motor and a Flowmaster exhaust. Additional features include a custom-built box frame and widened rear fenders to accommodate the Nitto tires and HRE wheels. The pickup is finished in custom Speedy P Green BASF Glasurit Waterborne paint.
"These three cars are so different from the cars we've brought to SEMA before," said Ringbrothers co-founder Jim Ring. "The Charger is the first Mopar we've ever custom built and is also not something we usually do. The customer wanted it to look restored, but the entire body was slightly modified. We are also excited about debuting a truck at the show for the first time – this truck was a personal project for us and we can't wait to pull the cover off it in our booth."
"I'm most excited to show everyone the Prestone AMC Javelin," added company co-founder Mike Ring. "We have a personal history with this specific Javelin and we are so proud of all the work we've done on it – the only thing original left on this car is the roof!"