News
Right-Hand-Drive Jeep Wrangler Performance® Suspension Kit Now Available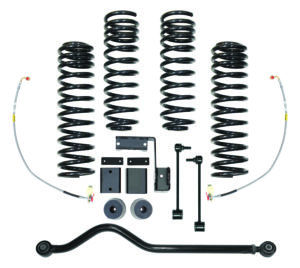 Rancho's offering of performance suspension systems for the Jeep Wrangler JK now includes a 3- to 3.5-inch progressive sport kit for right-hand-drive 2017-'07 models. The new Rancho Jeep Wrangler JK kit is on display at the SEMA Show New Products Showcase exhibit this week.
The new Rancho system includes progressive rate front and rear coil springs to provide enhanced on- and off-road ride characteristics; adjustable track bars that allow for precise centering of front axle, easing fit and improving overall performance; and exclusive, maintenance-free Rancho D2 high-articulation bushings that self-center and are completely grease free, according to the company.
"This new right-hand-drive Rancho Jeep JK system adds ground clearance and will help to improve off-road performance and maneuverability," said Michael Sype, product manager for Rancho. "Rancho continues to deliver unique, performance-driven solutions to Jeep owners."
High-strength, heavy-duty steel sway bar links that provide added control and optimal roll and sway characteristics also are included, according to the company. Track bar relocation brackets and extended length stainless braided front brake lines complete the kit. All Rancho brackets are manufactured using high-strength, low-alloy steel.
Visit www.GoRancho.com for additional details.