News
Report: The Most Searched Classic by Women Car Collectors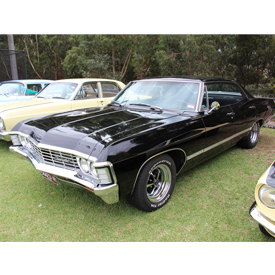 The 1967 Chevrolet Impala is the most searched-for collector car among the growing audience of female enthusiasts, according to a report released by ClassicCars.com.
Revered among classic car aficionados, the Impala has traditionally been a top-searched vehicle on ClassicCars.com. In August 2016, the Chevy surpassed the iconic Ford Mustang to become the most searched-for vehicle among the site's three million unique monthly visitors.
Experts at ClassicCars.com attribute some of this surge to increased popularity among female collectors, who now account for 14 percent of site visitors. In October, ClassicCars.com drew parallels between the popularity of the '67 Impala and the CW show "Supernatural," which prominently features a black 1967 Impala. The popular series maintains a dedicated audience, 80 percent of which is female.
Following the Impala, the top-searched vehicles by women are the 1957 Chevrolet Bel Air and the 1965, '66 and '67 Ford Mustang, respectively. The vehicles women look for, according to ClassicCars.com, are considered methodical choices: attractive, drivable, simple to repair and easy to maintain.
In comparison, men search for vehicles that are fast and loud, as reflected by their top five searched cars: the 1969 Dodge Charger, 1969 Chevrolet Camaro, 1967 Shelby GT500 Mustang, 1957 Chevrolet Bel Air and the 1969 Ford Mustang.
Both men and women can agree that the legendary Bel Air is a great collector car for everyone with its iconic good-looks, speed and easy wrenchability.
"We are dedicated to making our platform accessible to all genders, age groups and car fans independent of which years, makes and models they love," said Roger Falcione, president and CEO of ClassicCars.com.