News
Rear View Safety Introduces Advanced 360-Degree System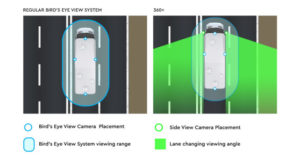 Brooklyn, New York-based Rear View Safety has introduced its 360+ Bird's Eye View System with lane changing cameras.
The 360+ erases blind spots and assists with parking navigation on narrow roads. It is also equipped with two side cameras to help with lane changes and highway driving.
The omni-directional perspective from the 360-degree cameras create a bird's eye view of the vehicle, while ultra-wide angle side cameras are activated with vehicle's turn signals. The system also has an optional 360-degree view controller for easy access while driving.