News
Rancho Expands Applications for 4-inch Performance Suspension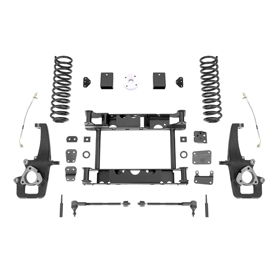 Owners of late model Dodge Ram 1500 pickups using EcoDiesel technology can now experience the enhanced performance benefits of a lifted ride height with the new Rancho 4-inch suspension system, engineered for use on 2017-'13 Ram 1500 4WD trucks using either gas and diesel engines. The new suspension kit provides an additional 4 inches of lift and is designed to offer drivers uncompromising on- and off-road performance, according to Rancho.
Each kit features Rancho's fully boxed welded subframe, designed to offer superior strength, along with ductile iron extended-length steering knuckles. The system is designed to accommodate up to 35-inch tires, with minor trimming. The new system replaces the RS66401B kit, which offered coverage for 2013-16 Ram 4WD gas models only.
Each suspension kit includes a pair of inner and outer tie rod ends, brake lines, sway bar extensions, extended-length coil springs (rear) and other required hardware for installation.
For additional information, visit www.GoRancho.com.