News
Pioneer Debuts Z-Series High Performance Speakers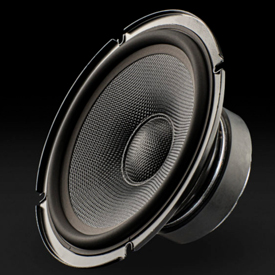 Pioneer Electronics USA has introduced new high-performance automotive loudspeakers. The new Z series of speakers and subwoofers and the next generation D series speakers and subwoofers are engineered to reproduce music in its purest form and allow the listener to experience the music as the artist intended, according to the company.
"Although what the automobile of the future looks like is undefined, one thing remains clear: the car will always be one of the most enjoyable environments to listen to music," said Ted Cardenas, vice president of marketing for Pioneer Electronics USA. "Sound is much more than just data; music inspires every one of us and is indeed something most of us cannot live without. Pioneer is passionate about music and sound, and this passion is exhibited in each product we create. We don't just want you to listen to your music, we want you to hear more."
Z High Performance
Pioneer's Z speakers are available in October and are availabel as a 6.5-inch two-way component system and as a 6.5-inch two-way coaxial system.
The Z is based on highly advanced technology developed by Pioneer, employing carefully selected materials and parts, benefiting from decades of automotive loudspeaker design theory and testing ability, according to the company. Following Pioneer's open and smooth sound concept, the Z series of automotive loudspeakers features smooth off-axial frequency response, directivity and extended frequency range engineered specifically to produce dynamic, accurate sound quality for the car. The result is a purity of sound that achieves unprecedented audio artistry, according to the company.
Features, according to Pioneer, include:
Designed for Hi-Res Audio-The quality of music recordings available to listeners has evolved. Hi-Res Audio recordings contain significantly more data compared to a standard CD recording and require a loudspeaker that is capable of smoothly reproducing frequencies of 40kHz or higher
29mm Aluminum Alloy Balanced Dome Tweeter-The Z tweeter's aluminum alloy diaphragm allows the tweeter to remain pistonic and linear at ultrasonic frequencies. The unique diaphragm shape, developed using Harmonized Synthetic Diaphragm Optimum Method (HSDOM) computer analysis, accurately controls differential vibration produced by the diaphragm and improves high frequency dispersion. Pioneer's Vertex Drive System improves the mechanical coupling of the voice coil and the tweeter diaphragm, reducing distortion and coloration caused by low damping and increasing power handling
Dual Layer Cone Construction-Twaron is a synthetic aramid fiber that is very strong, heat resistant and rigid when woven into a cloth material. Strength and rigidity are important to keep cone shape at higher powers and maintain responsiveness. Both the TS-Z65C and TS-Z65F are built with Twaron. The TS-Z65CH features a dual layer cone constructed with both a Twaron and a cellulose layer, combining the strengths of both materials. Cellulose fibers are naturally self-damping and reduce unwanted resonance. The result is fast response and clear bass, with low coloration and distortion
Compact Swivel Tweeter with Tri-Position Mounting Kit-The positioning and mounting location of the tweeter is crucial to the stereo imaging of the system and the overall listening experience. To ensure installation flexibility, the Z component system tweeters are extremely compact and feature a unique swivel mount that allows precise aiming of high frequencies. Pioneer's included tri-position mounting kit provides the flexibility to mount the tweeter using a variety of methods: flush mount, surface mount or bracket mount
Z Subwoofers
The Z subwoofer uses much of the same highly advanced technology as the Z full range loudspeakers, according to Pioneer.
Z subwoofers are available in December and come in two varieties: 10-inch single 4 ohm voice coil and 10-inch single 2 ohm voice coil.
Combining high fidelity and high output in a compact, shallow design, the Z subwoofer offers both high performance and near limitless installation flexibility. As a result, the placement of the Z subwoofer can be optimized for sound quality and bass reinforcement, unlike conventional subwoofers that must be installed where they physically fit, according to the company.
Other features, according to Pioneer, include:
Hi-Res Audio Ready-Even in the sub-bass region, Hi-Res Audio recordings require a subwoofer that is capable of extremely high dynamic range and low distortion that integrates smoothly with the mid- and high-frequency speakers. The Z subwoofers are designed to take full advantage of Hi-Res Audio recordings, with wide dynamics, extended frequency response and extraordinarily accurate and detailed bass
Twaron Subwoofer Cone Construction-Subwoofer cones created with Twaron are rigid and low mass with excellent damping characteristics. Strength and rigidity are important to maintain cone shape during challenging bass notes, while damping is critical to improving the responsiveness and signal accuracy. The low mass of an aramid fiber cone improves both sensitivity and the speed of the Z subwoofer, increasing output and power handling
Shallow Basket with Oversized Cone and Magnet-Subwoofers require an extremely strong basket that holds the cone, suspension and motor structure together in perfect alignment even during high excursions at low frequencies. The Z subwoofer features a shallow basket for installation flexibility, a low Q design for high performance in small enclosures, an oversized cone and a motor structure with a powerful 67.7 ounce magnet
D High Performance
The D series of automotive loud speakers provides broad and balanced frequency response with a wide sound stage, ambience and amazing fidelity for the listener, according to Pioneer.
The D subwoofer combines bass quality and bass quantity with high power handling and installation flexibility to produce deep, powerful and accurate bass, according to the company. It delivers performance in both acoustic suspension (sealed), and bass reflex (ported) enclosures. With the D subwoofer, the driver and passengers feel the music rather than just listen to it.
The D series is available in October.