News
Philips Offers X-tremeVision LED Fog Lamps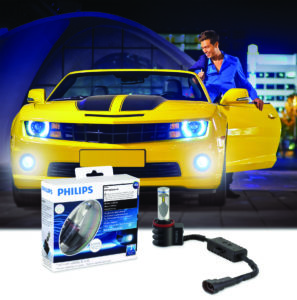 Lumileds, an exclusive supplier of Philips automotive lighting products, offers domestic coverage for the Philips X-tremeVision LED fog lamps. These advanced LED lamps are designed as an easy plug-and-play replacement for the H8, H11, and H16 halogen fog bulb applications found on popular late model vehicles from Buick, Cadillac, Chevrolet, Chrysler, Dodge, Ford, GMC, Jeep, and Lincoln, according to the company.
The Philips LED fog lamp delivers a bright, white 6000K light that matches perfectly with the color of Xenon and LED headlights and Philips CrystalVision ultra upgrade headlight bulbs, according to Lumileds It features a patented, 'SafeBeam' technology that eliminates glare to other drivers by creating the same beam pattern as standard halogen fog lights. This technology ensures that the light emitted from the LED fog lamp is directed onto the road and not into the eyes of oncoming drivers.
Philips X-tremeVision LED fog lamps are made with an AirFlux design, which provides constant cooling and ensures the highest light quality and longest possible service life. This design also leaves ample space for the best optical lenses available in order to deliver a smooth, inclusion-free beam with no shadowing effects.
Applications include popular models from Buick (Allure to Verano), Cadillac (CTS to XLR), Chevrolet (Camaro to Trax), Chrysler (200 and 300), Dodge (Avenger to Durango), Ford (C-Max to Taurus X), GMC (Acadia and Terrain), Jeep (Compass to Renegade), and Lincoln (MKS to MKZ. Applications are also offered for Dodge Sprinter and Ford Transit Connect.
For more information, visit philipsxtremevisionled.com or call 800-257-6054.